Nora Ephron is a pillar of New York culture. As a ground-breaking female writer/director, she helped define the New York romantic comedy with films like When Harry Met Sally, Sleepless in Seattle, and You've Got Mail. She won us over with her hilarious, candid prose in best-sellers like I Feel Bad About My Neck and the novel Heartburn. Although we lost Ephron in 2012, we can celebrate her by visiting some of iconic New York locations where she worked and lived. Below is an Ephron-themed tour, including filming locations and some of the writer/director's own former residences.
A Tour of Nora Ephron's New York: The Upper West Side
If you can only visit one neighborhood in tribute to Ephron, go straight to the Upper West Side. Ephron herself wrote she was compelled to "make a religion out of my neighborhood." In her essay collection I Feel Bad About My Neck, Ephron pens a love letter to the perfectly imperfect rent-controlled apartment in New York in "Moving On." Ephron's own rent-controlled place was located in the historic Apthorp building at Broadway and West 79th Street. Ephron claims she took "Ten steps in and I said, 'I'll take it.'" This began a love affair with the place that lasted for over a decade. You'll know the Apthorp by the impressive wrought-iron gate and central courtyard, visible from the sidewalk.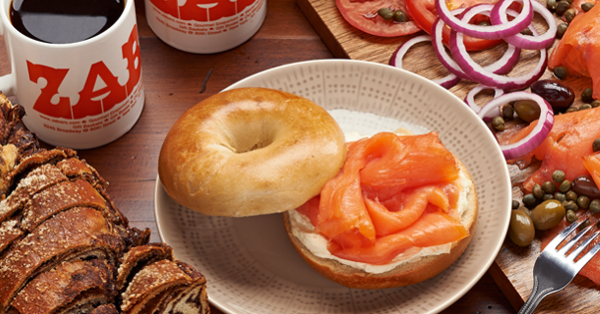 Just two blocks north is the quintessential Upper West Side grocery store: Zabar's. In You've Got Mail, Kathleen Kelly (Meg Ryan) visits the store and runs into her nemesis Joe Fox (Tom Hanks), who winds up helping her brave a treacherous cash-only line manned by Rose, the stern cashier. Grab a couple of souvenirs while you're here! There are tote bags and coffee mugs aplenty, but we're more partial to the Rugelach pastries and unbeatable coffee beans, which are roasted in-house.


At Cafe Lalo, located on West 83rd Street at Amsterdam Avenue, you'll want even more dessert and coffee. This quirky cafe full of cake, pie, and cheesecake is where Kathleen Kelly waits for her e-friend to show up with a rose in her copy of Pride and Prejudice. Come during the afternoon and/or on a weekday, as the movie made this a very happening spot in the neighborhood!
Finally, walk west to take a look at Kathleen Kelly's beautiful apartment building: 328 West 89th Street at Riverside Drive. Closer to the water is the gorgeous Riverside Park, a long, slender strip of green space along the Hudson River where Upper West Siders go to bike, jog, and occasionally find out the man of their dreams was right there all along. That's right, You've Got Mail ends with a scene in this park, next to the West 91st Street garden.
A Tour of Nora Ephron's New York: The Upper East Side & Midtown
Temple of Dendur, at the Metropolitan Museum of Art.
As far as Ephron's dialogue is concerned, one of her most quotable scenes occurs at the Metropolitan Museum of Art's Temple of Dendur. In When Harry Met Sally, Meg Ryan and Billy Crystal are walking alongside this relic of an ancient Egyptian temple. Crystal says, "You know, I have a theory that hieroglyphics are just an ancient comic strip about a character named Sphinxy." Come check out this beautiful space in the Met, which distinguishes itself with the wall of pure glass beside the temple, giving a crystal-clear view of Central Park.
Further downtown is Tender Buttons, a store Ephron reputedly loved and where she shot a scene in the film Julie & Julia (a 2009 film she wrote and directed). This lovely shop on East 62nd Street sells buttons and takes its name from Gertrude Stein's seminal 1914 poetry collection.
At 57th Street and 5th Avenue is the one and only Tiffany & Co., where Bill Pullman and—who else?—Meg Ryan select their wedding china in Sleepless in Seattle ("Eight is too few…Twelve is too many.") Then have a champagne cocktail at Bar SixtyFive high up in 30 Rockefeller Plaza. This room with a view is where Meg Ryan's character in Sleepless realizes she's with the wrong guy and races to catch her true love before he's gone for good.
And where does she run? To the top of the Empire State Building, of course. This 1931 landmark is the tallest building in the city and a breathtaking experience, whether you're meeting the love of your life (i.e. Tom Hanks) or taking in the sights.
A Tour of Nora Ephron's New York: Downtown
Though Washington Square Park has been renovated since When Harry Met Sally was filmed, the white marble arch still anchors the park. It's also where Sally drops off Harry at the beginning of the film, and the characters assume they'll never see each other again. Take a load off and listen to some world-class street music at this downtown landmark near NYU.  
Nora Ephron's first New York apartment is located at 110 Sullivan Street. She describes it as "a horrible brand-new white-brick" where she paid $160 per month in rent (!). Though the area didn't have much to offer Ephron at the time, it's now in the heart of SoHo.
As you walk along Houston to the final location, find 295 Lafayette. That's the Puck Building, the filming location of two key scenes in When Harry Met Sally. The first is Jess and Marie's wedding (that wedding dress is proof this film was shot in the '80s!), and the second is the climactic New Year's party from the end of the film.
On the edge of the Lower East Side is Katz's Delicatessen, the filming location of Ephron's most famous scene. Meg Ryan delivers a hilarious and very loud performance at a table now marked with an arrow dropping down from the ceiling. The famous line, "I'll have what she's having," caps the scene perfectly and shows that Katz's is the best New York deli in the business.