Long-awaited Broadway blockbusters; adored stage and screen performers; the world's best theatre companies stretching from one end of the island to the other…welcome to February, Manhattan-style. Here, even frigid pre- and post-Valentine's Day temperatures don't stand a chance against the sizzling love fest sweeping New York's stages this February.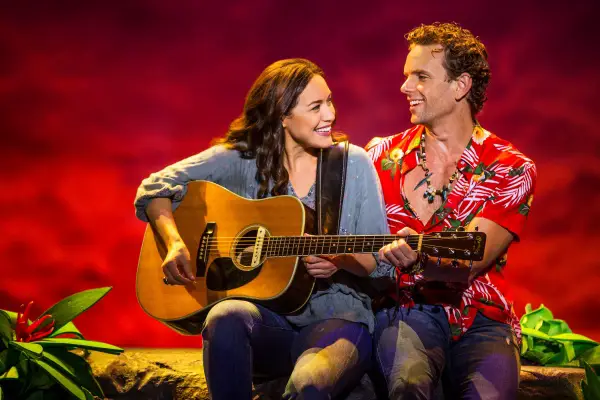 The first new mega-musical to dock on the Great White Way in February—kicking off previews on the 16th—is the Jimmy Buffett jukebox getaway Escape to Margaritaville. Teeming with Buffett classics, the show, not surprisingly, is set on an island paradise. Worth noting: at the helm of the Broadway newcomer is Christopher Ashley, last year's Tony-winning director for current white-hot ticket Come From Away.
On the flip side of the climate spectrum comes Disney's latest animated triumph to transfer to Broadway, Frozen, a musical with two beautiful princesses at opposite ends of a breathtaking adventure tale that, buzz has it, features the season's most mind-blowing scenic creations. Think glacial wonderland laced with an irresistible combo of peril and whimsy. Advice: reserve tickets as far in advance as parentally possible. Frozen arrives at the St. James Theatre on February 23rd.


Meanwhile, a couple of Pulitzer Prize–winning dramas are on premium tap—both boasting legendary (and I would add, must-see) stars. 
With deafening buzz, Tony Kushner's magnum opus, Angels in America, returns to Broadway in a scorching new production led by Tony winner Nathan Lane (The Producers; The Birdcage) as Roy Cohn, and Oscar nominee Andrew Garfield (Hacksaw Ridge) as Prior Walter. Because Angels is made up of two plays—Part One: Millennium Approaches and Part Two: Perestroika—theatregoers really need to check out the options available online and plan accordingly.
At the end of the month (February 27th), Three Tall Women by Edward Albee makes its Broadway debut. A brilliant casting coup was clearly in play when landing the trio of actresses, since all have stunning stage cred. Laurie Metcalf—known for playing Sheldon's mom on The Big Bang Theory and Marion McPherson, Saoirse Ronan's mom in Lady Bird—took home a Tony last season for her performance in A Doll's House, Part 2. Then there's Alison Pill (The Newsroom; American Horror Story; The Family), who picked up a Tony nomination for her Broadway debut in The Lieutenant of Inishmore. As for the third tall woman, bravos echoed over Glenda Jackson's return to the New York stage after 30 years. The iconic Brit is the only individual to have served as a Member of Parliament and won an Oscar…two actually (Women in Love; A Touch of Class).
Image: © Marc Brenner
And speaking of Brits on Broadway, do not miss the opportunity to see Oscar-winner Mark Rylance (Bridge of Spies) in Farinelli and the King, another spellbinding performance by one of the world's most celebrated actors—and one that will no doubt put him in the running for his fourth Tony Award in 10 years. Running through March 25th only.
TICK TOCK
Farinelli is not the only show to be bowing out due to a "limited engagement," nor can stars with other commitments be locked into open-ended contracts. And, since theatregoers don't want to miss a favorite performer or show (especially by a day or two), here are a handful of cut-off dates impacting the near future.
Latin History for Morons, starring observational humor raconteur John Leguizamo, takes on the absence of historic Latino role models in his latest solo show. Divertidísimo (aka "hilarious") on all counts. Through February 25th.
Next to depart is another one-man not-to-be-missed, John Lithgow: Stories by Heart, in which the Tony-winning actor (known to TV audiences for his Emmy-nabbing performances in The Crown and Third Rock From the Sun) lovingly recreates two stories from his childhood, one by Ring Lardner, the other by P.G. Wodehouse (closing March 4th.)
Photo by Embry Lopez.
Grammy Award-winner Kirstin Maldonado, of the hit acapella group  Pentatonix, has signed on to play leading lady Lauren in Kinky Boots from February 2nd through April 8th. Swedish superstar recording artist Peter Jöback is the most recent man behind The Phantom of the Opera's mask, but only through March 31st.
And over at the Broadway smash Waitress, Grammy winner Jason Mraz will remain with the show playing Dr. Pomatter through February 11 opposite the show's Grammy- and Tony- nominated composer and lyricist Sara Bareilles, who is slated to be with the show until February 25th.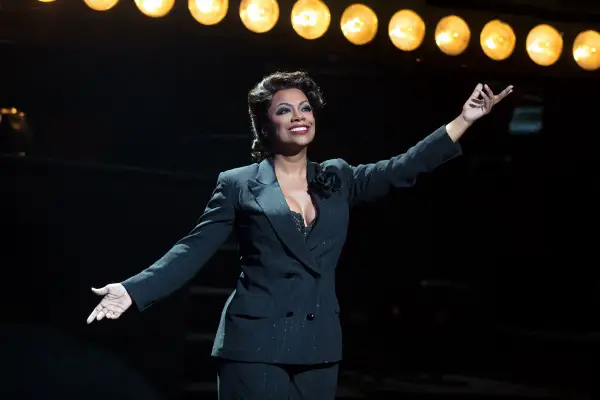 Speaking of Grammy winners, Kandi Burruss of Bravo's Real Housewives of Atlanta is making her Broadway debut as Chicago's sassy showstopper Matron "Mama" Morton. Her stint is up on March 11th. 
Finally, Off-Broadway, fans of the Harry Potter films might want to head to the Irish Repertory Theatre where you can catch Evanna Lynch, who played Luna Lovegood on screen, in the critically acclaimed Disco Pigs—a far cry from Hogwarts, despite its name (scheduled closing date March 4th).