Whether you're a casual viewer or a die-hard cinephile, there's plenty of Oscar fun to be had in 2020 in New York. And it's coming up fast; the 92nd iteration of the Academy Awards will take place on Sunday, February 9. That means you have just under two weeks to catch up with Parasite, stream all 3 hours of The Irishman, and see nominated short films at IFC. Check out these nine screening parties, hosted at bars and restaurants throughout the city, for ballot contests, red carpets, and lots of movie love.
Oscar Parties NYC: Oscar Wilde
Chelsea's Oscar Wilde will, fittingly, host an Oscars party again this year. The ultra-Victorian bar will show the ceremony on four screens around the large space and charge no cover for guests. However, if you'd like a great seat you can reserve tables for a fee or tab minimum. With lots of flair like smoked cedar planks and such, the bartenders will be serving signature cocktails based on the films and the festivities. 45 W. 27th St., 212-213-3066, oscarwildenyc.com/oscars-viewing
Oscar Parties NYC: Osteria Morini
Pasta pairs well with just about everything—including the Academy Awards. Come to Soho for Osteria Morini's annual screening party, and get discounted pasta after the show starts at 8pm. That means $12 risotto with porcini mushrooms and parmesan, which tastes terrific whether your Best Documentary Short pick wins or not. You can also enjoy discounted food and drinks at the bar during the screening. 218 Lafayette St., 212-965-8777, osteriamorini.com
Oscars in NYC: Littlefield
Visit the fun-filled venue Littlefield for a red carpet experience complete with (pretend) journalists and glam shots at the photo booth. The Gowanus hotspot will also hand out free champagne to those who RSVP, and they'll give a prize to the most accurate ballot. Themed cocktails, tacos, and free popcorn will also be on hand. No cover. 635 Sackett St., hey@littlefieldnyc.com, littlefieldnyc.com
Oscar Parties NYC: Ardesia Wine Bar
Hell's Kitchen's slick wine bar, Ardesia, welcomes your film fandom on the evening of the 9th. Have a glass of Merlot and munch on some free popcorn as you lobby for your ballot picks (ScarJo winning Best Actress and Best Supporting? Unlikely, but you do you). The ballot winner will take home a $75 Ardesia gift card. RSVP recommended. 510 W. 52nd St., 212-247-9191, ardesia-ny.com
Oscar Parties NYC: Huckleberry Bar
Looking for a party near East Williamsburg? Head to neighborhood favorite Huckleberry Bar to see the celeb-packed Oscars ceremony. Bank all your ballot hope on Little Women or Joker, and grab happy hour-priced drinks at the bar throughout the night. There will even be a drinking game to keep the night interesting. 588 Grand St., 718-218-8555, huckleberrybar.com
Oscar Parties NYC: Times Square Plaza
Utilizing the power of Verizon 5G Ultra Wideband, Verizon will use a 360-degree camera to transport fans from Times Square in New York City to the Oscars Red Carpet in Hollywood. Fans can step into a 5G Portal where they will be "transported" to the famous Dolby Theatre runway in Hollywood. The 5G Portal experience puts viewers in control of how they view and engage with the red carpet and their favorite celebrities in a unique new way. cityguideny.com/event/Times-Square-Plaza-2020-02-09-2020-02-09
Oscar Parties NYC: The Long Acre Tavern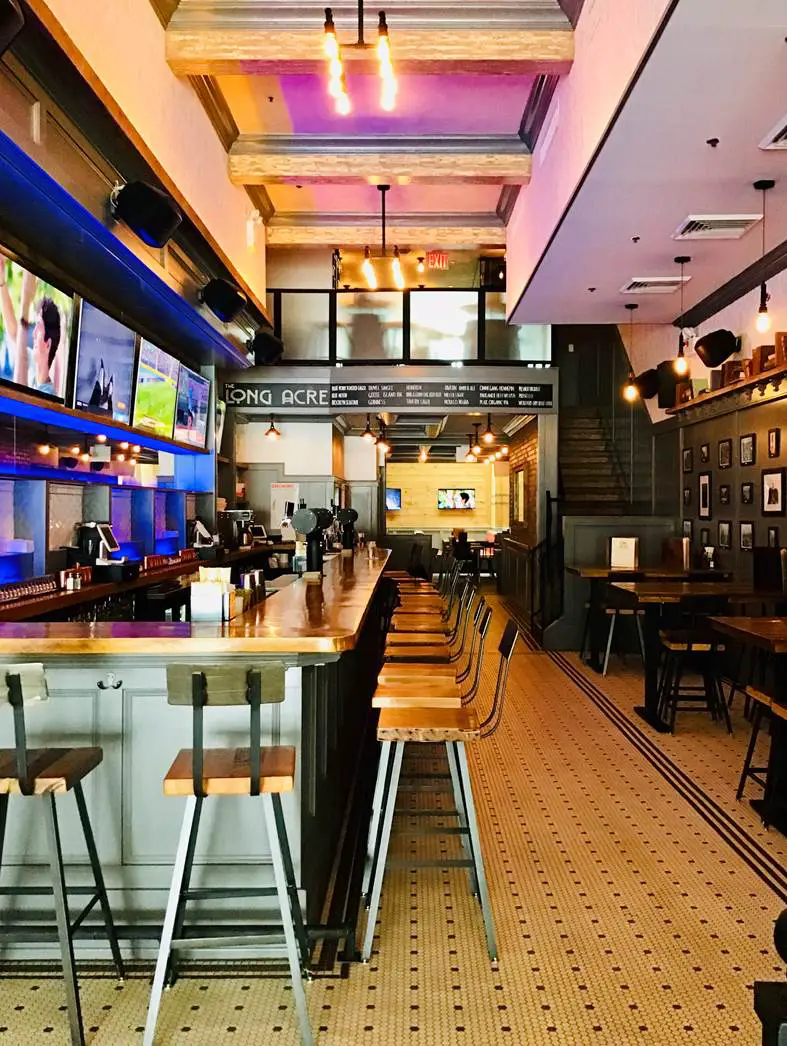 Sophisticated Times Square newcomer The Long Acre Tavern will be dedicating some of its state-of-the-art audio/video TVs to Oscar viewing this Sunday night. While you're there, you'll also find classic American fare with a modern upgrade, including burgers, salads, sandwiches, filet mignon, and much more. The Long Acre Tavern also serves craft beer and old-school cocktails. 146 W. 47th St., 646-649-3587, longacrenyc.com
Oscar Parties NYC: Metrograph
The cinephile's palace, Metrograph on the Lower East Side, will screen the Oscars again this year. See if Leo will take home his second Best Actor trophy on the four screens showing the ceremony. You can also eat dinner in their theaters during the show, as well as sip drinks from the bar. No cover. 7 Ludlow St., 212-660-0312, metrograph.com/oscar-night-2020
Oscar Parties NYC: Tavern on the Green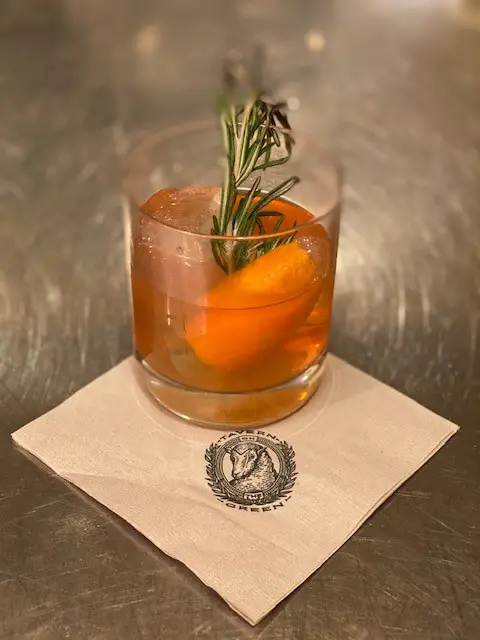 Central Park icon Tavern on the Green provides a glamorous setting to mark this year's Academy Awards. Although they won't be showing the ceremony, Tavern on the Green will be pour out three new, original cocktails inspired by this year's top Oscar nominees. Possibilities run from The Irishman (orange-infused Jameson Irish Whiskey, Zirbenz Stone Pine Liqueur, and Peychauds Bitters) to the Little Women (Bombay Sapphire Gin, St Germain, pomegranate shrub, lemon, egg whites, and edible flowers) to the Marriage Story (Rujero Singani, Giffard Fruit de la Passion, and a blend of pineapple, cranberry, and lime juices). The themed drinks, which synch with the films in look and taste, are available for the full month of February. 1 Tavern on the Green, 212-877-8684,
tavernonthegreen.com
Oscar Parties NYC: Club Cumming
Get your ballot on at Alan Cumming's East Village cabaret, Club Cumming. Drag queen Novaczar will host this screening extravaganza, which will include live musical performances of Best Original Song nominees. That means you'll get a little Randy Newman from Toy Story 4 and the new power ballad "Into the Unknown" from Frozen II. 505 E. 6th St., 917-265-8006, clubcummingnyc.com
Oscar Parties NYC: Strip House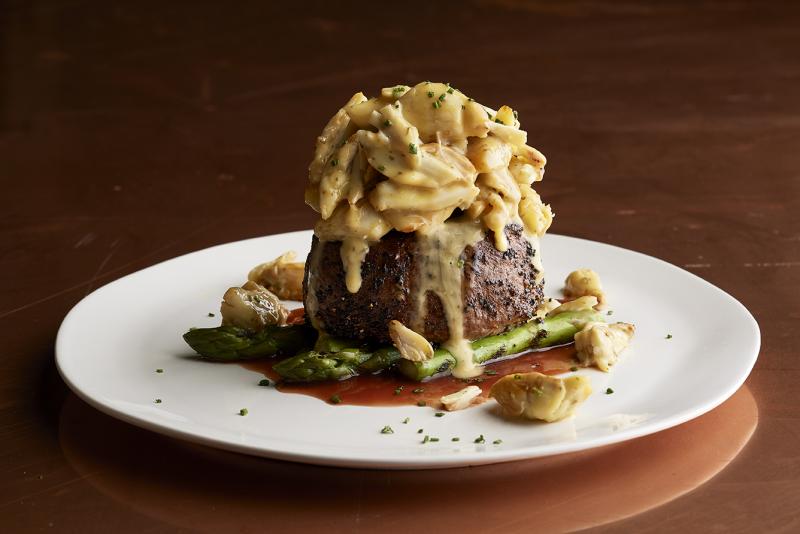 Strip House brings soaring steak to a bi-level space near Bryant Park. The interior is siren-red and accented with vintage black and white photography, but the star of the show is steak. Although they won't be showing the awards ceremony, this Sunday you can get a specail dish: Strip House's Colossal Crabmeat Oscar. Top any of the house's steaks with a 4 oz. crab topper, baked with whole butter, roasted asparagus, a touch of Bordelaise sauce and topped with Béarnaise. Strip House Midtown, 15 W. 44th St., 212-336-5454, striphouse.com/venues/midtown; Strip House Downtown, 13 E. 12th St., 212-328-0000, striphouse.com/venues/downtown
Oscar Parties NYC: Wicked Willy's
A Caribbean oasis in the West Village, Wicked Willy's is hosting a watching party on many of its HD TV screens and a massive 20-foot projector with surround sound. Sultry specialty cocktails and flowing glasses of champagne will be part of the mix. Red Carpet arrivals starts at 6:30pm (the awards ceremony goes off at 8pm). 149 Bleecker St., 212-254-8592, wickedwillys.com
Oscar Parties NYC: Q.E.D.
The Astoria, Queens comedy and performance venue Q.E.D. invites movie lovers to its Oscar Watch Party. Strut the red carpet, fill out a ballot, and enjoy some comedic interludes during the commercial breaks of the ABC broadcast. Prizes for ballot prowess will include swag from Museum of the Moving Image, Letlove Inn, and Ample Hills. Tickets are $7 through February 7 and $10 afterward. 27-16 23rd Ave., 347-451-3873, qedevents.eventcalendarapp.com
Oscar Parties NYC: Two E Bar/Lounge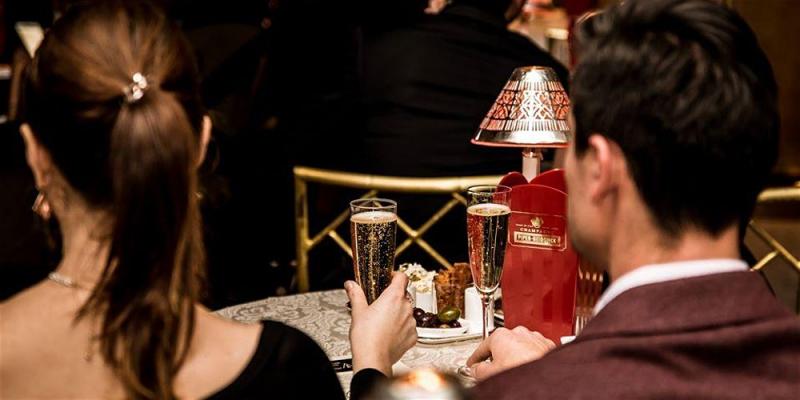 For a swank take on Oscar night, join Two E Bar/Lounge at The Pierre, A Taj Hotel, New York as they roll out the red carpet for their Oscars Viewing Party. Enjoy Piper-Heidsieck's official Awards Season Champagne, cocktails inspired by this year's nominees for Best Picture, and a classic cinema-themed menu. There are also DJ mini sets during the commercial breaks, an evening-long raffle, and unlimited concessions included in the cover price. Black tie encouraged. 2 E. 61st St., 212-940-8113, thepierreny.com