"Chill" and "NYC" aren't two words you normally think of together, but it is possible to relax in New York. Even locals get in on that action—with schedules packed and so many places to go and things to do in New York, it's no wonder that many are yearning to slow down and reconnect. Studies show that meditation helps with everything from stress to fatigue and "monkey mind," the state when our minds jump from topic to topic, depriving us of much-needed inner peace. Those feeling the need to unwind can visit one of New York City's many meditation spaces or soak away their stresses in a flotation tank, which invites guests to unwind in darkness as they float in a tranquil pool of heated water. Heavenly!
ChillSpace NYC
Wellness spa Chill Space NYC offers floatation therapy, which it describes as the "gateway to a modern meditative state." Also known as Reduced Environmental Stimulation Therapy (REST), this technique triggers the body's natural relaxation response. The spa's founder, Dr. Joshua Kantor, has 20 years of experience in helping patients achieve health and overcome pain, illness, and disease. Carried by the buoyancy of healing Epsom salt, guests are enveloped in darkness as they float in a serene pool of water, which is heated to 94 degrees. As they relax, mind and body begin to slip into a deeper state of consciousness.
124 E. 40th St #603, 212-661-3400, chillspacenyc.com
Floating Lotus
Those seeking a more unusual relaxation experience can explore the flotation technique offered at Manhattan's Floating Lotus. This sensory deprivation healing treatment promotes physical, mental, and emotional well-being, as well as spiritual growth. The space features different float rooms, which welcome guests to unwind in a tub filled with warm water and Epsom salt. There, they will relax and float in silence. Studies indicate that flotation therapy delivers wide-ranging benefits including reductions in stress, chronic pain, swelling, headaches, depression, and insomnia, all while lowering blood pressure and improving skin. Soak it in!
9 W. 56th St., 212-600-0220, floatinglotus.com
Inscape
Delivering immersive meditation and relaxation experiences, Inscape invites those seeking some serenity into its studio. (It also offers an iOS app.) Merging tradition with modern thinking, and modern technology, the studio aims to reduce distractions through movement and breathing. It uses guided meditation and sound to facilitate optimal meditation and relaxation. Its mission: to inspire, empower, and assist its visitors in finding balance. Zen.
45 W. 21st St. #1, 646-952-0706, inscape.life
Kadampa Meditation Center
With several locations in New York City and the surrounding areas, Kadampa Meditation Center also has a peaceful sanctuary in the Chelsea area. Established more than 20 years ago—before this lifestyle movement gained momentum in America—the space offers guests an opportunity to explore and practice Buddha's teachings. Based on the books of the modern-day Buddhist teacher Ven. Geshe Kelsang Gyatso, the center presents teachings in an accessible manner that can easily be integrated into modern lives.
127 W. 24th St., 212-924-6706, meditationinnewyork.org
Massage Envy
Another great way to relax in New York is with a professional massage. Massage Envy Midtown West is a nationally known provider of professional and affordable massage and Murad facial services. Offering full body customized massages with a full menu of massage modalities and enhanced offerings such as Sugar Foot Therapy, Aromatherapy, Deep Muscle Therapy, and a signature Hot Stone Massage that is out of this world! Massage Envy serves local Broadway performers and professional athletes, including famous New York Knicks like Patrick Ewing, Charles Oakley, and John Starks. You deserve it, too! 525 W. 42nd St. (btw. 10th & 11th Aves.), 212-473-3689, massageenvy.com/clinics/NY/Midtown-West.aspx
MDNFL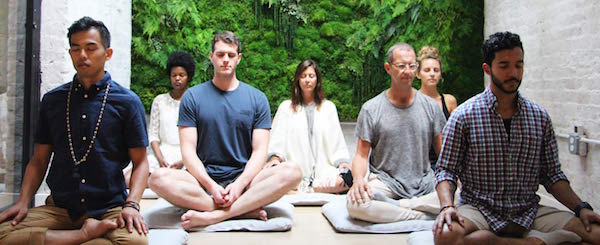 Brooklyn-based yogis and those simply seeking some relaxation can head to MNDFL, a new meditation space in Williamsburg that also has studios in Manhattan. Its expert teachers welcome everyone, even newcomers, to meditate in their chic oasis. Hailing from a variety of traditions, MNDFL's teachers offer simple techniques that are accessible to all. The studio's mission is to enable others to feel good. The staff is there to assist its guests in finding the ideal teachers and classes.
208 N. 8th St., Williamsburg, Brooklyn, 718-218-6060, mndflmeditation.com