The organization "Made in NYC" partners with businesses that make and sell their products within the five boroughs of New York City. These companies might weave carpets in the Bronx or make jams in Brooklyn or sew beautiful garments in Manhattan's Garment District. They prove New York is where industry happens, creating jobs and promoting city culture by keeping operations at home. Many of these companies also champion sustainable business practices by minimizing waste and using plant-based materials. Below are some brick-and-mortar stores—plus a couple of open-air markets—where you can find products made right here in the big city. Some are for wearing, others for eating!
Shop "Made in NYC": Grand Bazaar NYC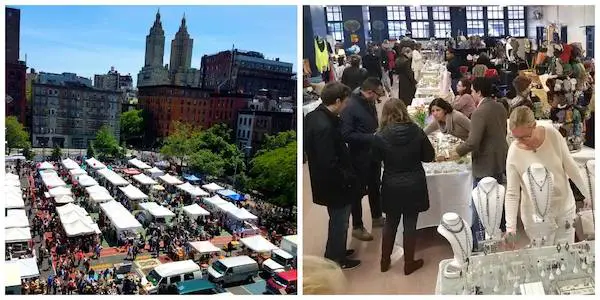 Every week on the Upper West Side, you can find local treasures at the Grand Bazaar NYC indoor/outdoor market. This tradition has over 35 years of history in the area and benefits local public schools. In winter 2017, "Made in NYC" partnered with Grand Bazaar for a pop-up market at West 77th Street that featured on local artisans of all stripes who create and manufacture their products in the five boroughs. You can still find city-made home goods, jewelry, clothing, and plenty of food  every Sunday from 10am until 5:30pm.
Shop "Made in NYC": Clothing & Jewelry Stores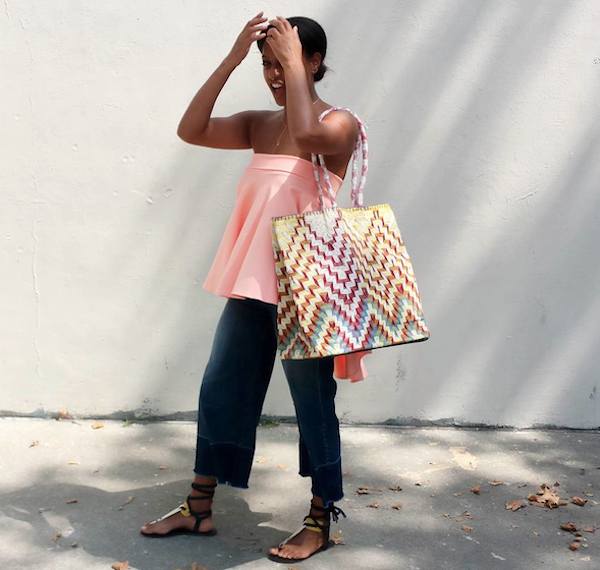 Check out this eco-friendly Alia Top and the Soweto Shopper, at Farai.
With "Made in NYC" fashion companies, the clothes, bags, and jewelry are designed and manufactured here in the city. The diversity and complexity of these designs reflect the incomparable creativity in the city and are well worth seeking out. Labels like Farai capture this perfectly, as they make sustainable women's clothes and accessories from upcycled and vintage fabric. With a similar ethic, Bhoomki has a storefront in Park Slope, Brooklyn, full of eye-catching patterns and sleek basics for women. In the market for local swimwear? Greenwich Hotel in Tribeca carries Estuaries swimsuits with their beach-meets-city aesthetics. Carrying clothes and accessories for men and women, Swords-Smith in Williamsburg carries local goods from labels like Fanmail, which champions sustainability and transparency in its production ethics. For Beyonce-endorsed jewelry, shop at Bergdorf Goodman or Broken English for Ariana Boussard-Reifel's exquisite pieces. Bey wore the designer's gold Despina cuff at her 2017 Grammy performance.  
Shop "Made in NYC": Coffee Shops
There's no shortage of coffee to be had in New York (Find a bodega or restaurant that doesn't sell coffee. We dare you.). But isn't it best when the beans are freshly roasted in the area? The richest cups of coffee can be yours at coffee shops like the purist's Cafe Grumpy, with locations in Chelsea, downtown, and throughout Brooklyn (fun fact: Lena Dunham's character works at the Williamsburg location in Girls). Get some work done or have a friendly chat at FIKA, with 9 shops in Manhattan, all south of Central Park. The dependable Joe Coffee has 15 boutique locations scattered throughout The Upper West Side, Midtown (there's one inside Grand Central), downtown, and beyond. Our favorite, however, is Brooklyn Roasting Company. With locations throughout its namesake borough and on West 23rd Street in Manhattan, BRC is where good vibes and great coffee always have a home.
Shop "Made in NYC": Bakeries & Sweet Shops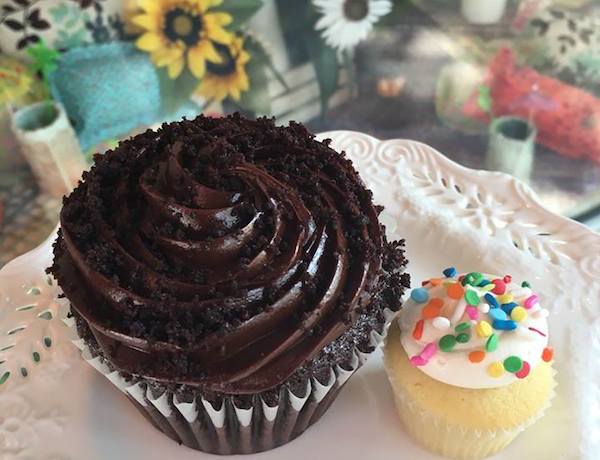 Enjoy a tasty treat at UES's Two Little Red Hens (Facebook)
Bakers and chocolatiers are making treats all over the city! Here's a short list of places to try. BeeHive Oven makes doughy, buttery biscuits and serves beer from its kitchen in Williamsburg, Brooklyn. BeeHive also participates in Smorgasburg, a gigantic weekly market full of local food vendors on the Williamsburg waterfront Saturdays and in Prospect Park Sundays. At Smorgasburg, you can enjoy plenty of local NYC talent and a very full stomach. In downtown Brooklyn, DeKalb Market sells "Made in NYC" products daily, both sweet and savory, such as Steve's Authentic Key Lime Pie and Ample Hills Creamery ice cream. Li-Lac Chocolates, another Brooklyn-based company, sells fine chocolate from its 4 stores in Manhattan (including one in Grand Central) and factory store in Sunset Park. Uptown, find the adorable Two Little Red Hens Bakery on the Upper East Side and have one of their red velvet cupcakes. Farther uptown, order your next cake from a neighborhood institution in Harlem with a life-changing German chocolate, Make My Cake.
Shop "Made in NYC": Grocery Stores
With 4 locations in Brooklyn and one on the Lower East Side, Union Market is a one-stop-shop for local groceries. Many "Made in NYC" members' delectable products are stocked on their silver shelves. You can find Fine & Raw chocolates (try the Almond Butter Truffle!); rustic, handmade Z Crackers; all-natural gum and mints by Simply Gum; miraculous gluten-free loaves by Free Bread; and dairy-free Chocolate Horchata ice cream by Jawea. Looking for local food and drink in Chelsea or DUMBO? Foragers Market also carries many of these products, along with produce from local farms, local meats, and much more.
For a full list of "Made in NYC" businesses, visit madeinnyc.org.