The weather outside may be chilly, but things will be heating up this winter inside New York City's theaters, as dancers and choreographers in all genres perform world-class work on the city's stages. From classic Nutcracker productions to cutting-edge modern dance works, here are the winter dance performances in New York city that should be on your radar.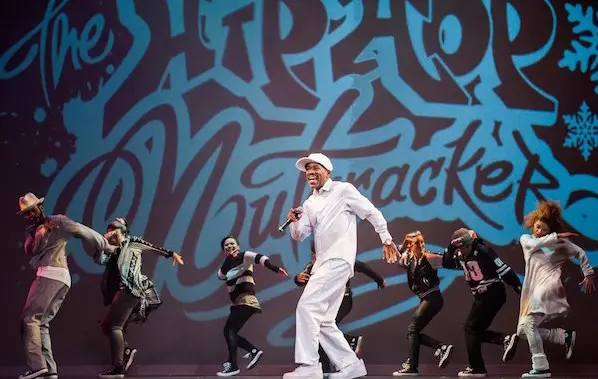 Hip-Hop Nutracker comes to Kings Theatre Dec. 23, with guest MC Kurtis Blow.


The holiday season has already arrived in New York City, and for dance fans that means one thing: it's Nutcracker time. New York's best-known Nutcracker can be found at Lincoln Center, where the New York City Ballet is presenting choreographer George Balanchine's famed take on the iconic ballet through December 30. But that's not the only Nutcracker in town – ballet lovers can also enjoy Dances Patrelle's Yorkville Nutcracker through December 9, as well as New York Theatre Ballet's Art Nouveau-styled take on the classic tale from December 14-16. Over in Brooklyn, modern dance company Mark Morris Dance Group will return to BAM with The Hard Nut from December 14-23, which puts a quirky, retro-modern spin on the beloved ballet. The Kings Theatre will present a special Brooklyn Nutcracker December 14, which combines ballet, hip hop and world dance styles, before hosting the The Hip Hop Nutcracker December 23 as part of the production's broader nationwide tour.
Mark Morris Dance Group performs The Hard Nut at BAM Dec. 14-16.
Once the holiday season comes to an end, however, there's still plenty of dance to look forward to. New York's performing arts scene comes alive in January with a full slate of festivals; dance fans can look forward to the festival American Realness from January 4-13, which will include more avant-garde contemporary performances, as well as the Joyce Theatre's American Dance Platform. The annual dance event will showcase companies performing a variety of styles, including contemporary and modern dance by Ronald K. Brown/EVIDENCE, Martha Graham Dance Company and Stephen Petrino Company; ballet by Philadelphia-based company BalletX; and hip hop performances from Raphael Xavier and Ephrat Asherie Dance.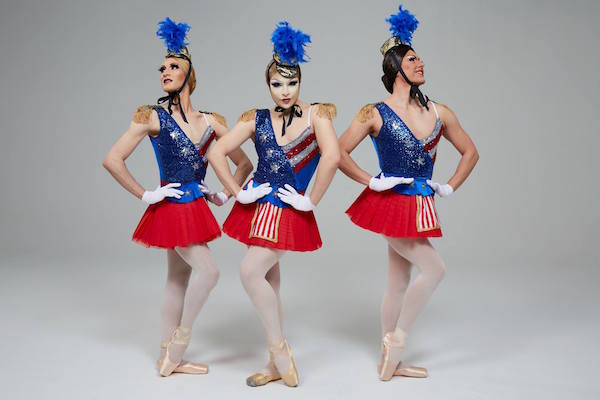 Les Ballet Trockadero de Monte Carlo will be performed at The Joyce Dec. 11-30.
The Joyce will have many dance performances to enjoy this winter beyond American Dance Platform, including a Cuba festival in January with performances by Malpaso Dance Company, Los Hijos Del Director, and Compañía Irene Rodríguez. During the holiday season, gender-bending Les Ballets Trockadero de Monte Carlo will bring their comedic takes on such ballet classics as Swan Lake and Stars and Stripes to the Joyce from December 11-30. A different sort of male troupe will then take residence at the Joyce from January 29 – February 3, as BalletBoyz presents the World War I-centered piece Young Men, before Camille A. Brown & Dancers brings dance inspired by the African Diaspora to the Joyce stage February 5-10.
After their Nutcracker season has ended, the New York City Ballet will return to Lincoln Center in late January to begin their winter season, which runs through March. The season will include the full-length ballet Sleeping Beauty, classic works by George Balanchine and Jerome Robbins, and the world premiere of a new ballet by resident choreographer Justin Peck.
Alvin Ailey Dance Theater turns 60. Photo: Paul Kolnick.
One of New York's other iconic companies, Alvin Ailey Dance Theater, is currently performing at New York City Center through December 30. The company's City Center run commemorates Ailey's 60th anniversary with premieres by some of the company's most popular choreographers, including a new work by Rennie Harris, Lazarus, which draws inspiration from Alvin Ailey's legacy and life. City Center will also host Nederlands Dans Theater as the Dutch company stops in New York to perform works both old and new from January 16-19. For a more intimate look at dance, join New York Times dance critic Alastair Macaulay at City Center's studios January 28. Macaulay will host a performance and discussion centered on such modern dance icons as Martha Graham, Merce Cunningham, and Paul Taylor, who have all performed on the City Center stage.
In addition to celebrating the masters, modern dance fans will also have chances to see new works on stages throughout the city this winter. New York Live Arts' slate of upcoming dance performances includes works by the feminist company DANCENOISE (December 12-15) and choreographer Zvi Gotheiner's ZviDance from December 19-22. Baryshnikov Arts Center will host the New York premiere of a new work by Belgian choreographer Anne Teresa De Keersmaeker from January 30 – February 3, giving New York audiences the chance to discover De Keersmaeker's postmodern work before she choreographs the upcoming Broadway revival of West Side Story. BAM will bring Brazil to Brooklyn this winter, as the Brazilian troupe Grupo Corpo performs from January 31 – February 2. The company will present two works, Bach and Gira, which will combine modern dance with ballet and Afro-Brazilian movements.