6 Women's Clothing Stores You Need to Check Out in NYC
January 5, 2018 - by Nina Furseth for RentHop
People come to New York City for the two s's—sights and shopping. When in NYC, you want to make sure to hit some of the not-so-typical clothing stores. Here are six women's clothing stores worth exploring.
1. Madewell
Madewell quickly became a favorite clothing store of mine because of the clean and simple design of their clothes. And they have everything a girl could want, under one roof. It's pretty similar to H&M in the way that the design focus is on keeping clothes classic and elegant, over breaking the rules of fashion. Madewell is all about everyday fashion, with an elegant edge.
2. O.N.A
New Yorkers live for independent brands and boutiques. That's why O.N.A has been added to this list. Located in Prospect Heights in Brooklyn, O.N.A. has been around since 2012. The store holds designs from local and emerging designers, concentrating on products that are produced in a sustainable matter.
3. Bird Brooklyn
Alright, so first of all the layout is super cute. Second of all, the store prides itself in not believing in following any fashion rules. If you're a lover of unusual prints and color, you'll probably love Bird Brooklyn. It is a bit on the pricey side, but think of it as an investment.
4. Old Navy
Yes, this is an American clothing chain but hey, at least it is American, right? Old Navy has a lot of good stuff, for women, men, and kids, at affordable prices! So if you're looking to not spend too much, Old Navy is a must.
5. Beacon's Closet
If you're one for thrift shopping, Beacon's Closet will be a dream come true. You'll be met with an abundance of clothes to go through once entering. Just be careful, it's hard to walk out without dropping some money here. Beacon's Closet quickly became a favorite amongst New Yorkers and the store also allows you to sell and trade clothes, as well as just buy.
6. Anthropologie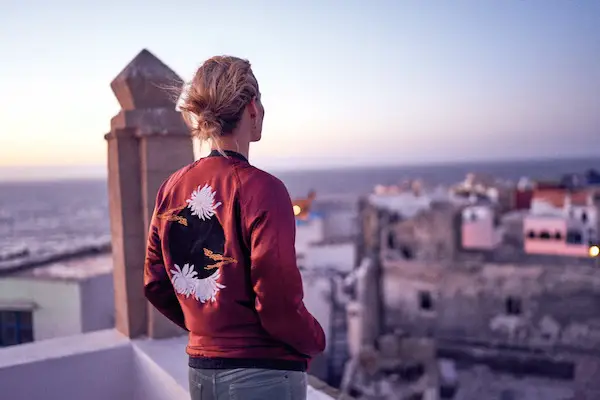 Again, another American chain. But it is a store you should not miss out on. You will find clothing, jewelry, decor, and much more, all in simple yet beautiful designs. Absolutely worth the visit if you've never been to Anthropologie before.
---
About the author: Nina is the Engagement and Corporate Communications Analyst for RentHop, a national apartment rental site based in New York City. She moved overseas from Norway three years ago and has since been living and working as an expat in New York, enjoying everything the city has to offer.
Looking for Free Group Planning Services?
Get free advice on planning your group's trip to New York.
RESTAURANTS

Multi-concept restaurant offering modern Japanese cuisine, a...

THEATER

In a heartbeat, 38 planes with 6,579 passengers were strand...

SHOPPING

The world's largest source of cameras, camcorders, and more ...

SIGHTSEEING

Sweeping, unobstructed, open-air views of NYC from the top o...