I realized I was a Broadway addict when I started singing show tunes along with my mother when I was four. I didn't see my first Broadway show until many years later, but that didn't stop me from immersing myself in the world of musical theatre. Flower Drum Song, West Side Story, South Pacific…growing up, all were my good friends, even though we had yet to meet in person. But once we did—and the excitement became reality—I was hooked. So when BroadwayCon launched in New York three years ago, it was like a personal invitation to indulge my passion for acting, dancing, singing, and the behind-the-scenes creative process—and to share it with similar-minded theatre freaks.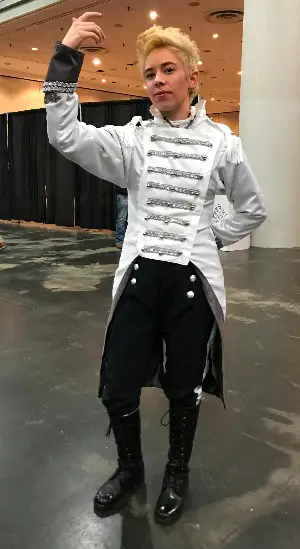 Anatole cosplay at BroadwayCon. Photo credit Meryl Pearlstein.
Over the last weekend this January, the third BroadwayCon conference convened at the Jacob Javits Center. Three days of panels, performances, workshops, meetups, singalongs, autographs, selfies, cosplay, star and show reunions, plus an expansive marketplace comprise the already iconic event.
It's easy to see why this go-as-you-flow format resonates with so many Broadway fans. Here you can reinvent your persona multiple times throughout the day, depending on which aspect of BroadwayCon you take part in.
Coming off a record-breaking Broadway season, this year's BroadwayCon made perfect sense for theatregoers. Interestingly, many out-of-towners had never seen a New York show prior to entering the Javits fray. No doubt BroadwayCon inspired them to check out one or more Big Apple musicals and/or plays before heading home. I'd bet on it.
Observed attendee Missy Rivera: "Theater today allows you to become someone else whether you act or not. It's a two-and-a-half hour escape to forget what's going on in the world. It's like exploring a new destination."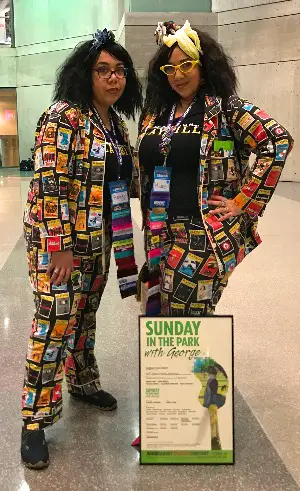 Cosplay at BroadwayCon. Photo credit Meryl Pearlstein.
To illustrate her commitment to theatre and its myriad joys, Rivera and her friend sported the same Playbill pajamas her idol Lesli Margherita (Matilda; Dames at Sea) wore at a previous BroadwayCon.
And they weren't alone in wearing their love of theatre. I had a group of enthusiastic Broadway cosplayers, among them Matilda, Elphaba, and SpongeBob, explain one of the more community-building aspects of the conference: the making and trading of BroadwayCon coupons. "We create badges at home, and then we all share and trade. It's like what you see at ComicCon or other conventions like these, but it's all related to theater. It challenges your creativity and helps share what you consider to be the important themes from Broadway."
PANELS AND PROGRAMS
In the Heights Reunites 10 Years Later, Christine DiPasquale Photography.
Over the course of the conference, I learned about women as theater critics (meaningful to me) and the difference between making a live musical on TV versus performing on a stage eight shows a week (the current retro rage). I had no idea that the TV version was performed in front of a live audience to replicate the on-stage feeling.
I was witness to an impassioned 10-year reunion of the cast of In the Heights in which Lin-Manuel Miranda (Hamilton) and his father explained the genesis of this Broadway-busting musical that shattered box office records and put out an ethnic type of show not seen prior on the Great White Way.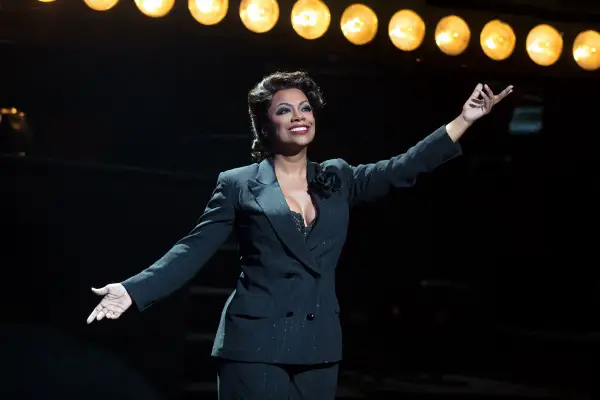 I took in a mixed meetup of original and new Chicago cast members. Veteran actors Joel Grey and Bebe Neuwith were joined by costume designer William Ivey Long, who reminisced about the changes required when the show moved from its minimalistic New York City Center's Encores! production to Broadway. The musical's newest Mama Morton, Kandi Burruss from Bravo's Real Housewives of Atlanta, talked about following leading ladies like Ann Reinking and Bebe as a first-time Broadway performer into the longest-running American musical on Broadway: 21 years and counting.
I was inspired by the timely "women in leading roles" panel of Tony winners and nominees: Vanessa Williams (Kiss of the Spiderwoman; Trip to Bountiful), Priscilla Lopez (A Chorus Line; A Day in Hollywood/A Night in the Ukraine), Ruthie Ann Miles (The King and I; Here Lies Love), LaChanze (Once on This Island; The Color Purple), and Janet Dacal (In the Heights; Wonderland). Offering a personal look at the challenges faced by ethnically diverse female actors, the panel also provided a glimpse into what is to come, with LaChanze singing part of a song from the upcoming Donna Summer musical, Summer, in which she plays one of three Donna Summer characters.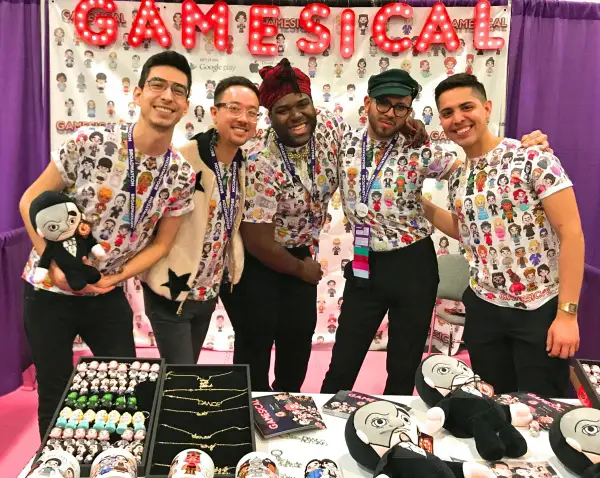 Marketplace at BroadwayCon. Photo credit Meryl Pearlstein.
ON STAGE
Kelli O'Hara wowed fans with her version of "Pure Imagination" during Friday's opening event.
The "First Look" program:
*  Provided an insider's peek at rehearsals for the Harry Potter and the Cursed Child smash coming from London this spring;
*  Showed off Disney's latest film-to-stage adaptation, Frozen;
*  Brought to light two new musicals, The Prom and Escape to Margaritaville; and
*  Looked at this year's revival of the 1980 Tony-winning drama Children of a Lesser God
The closing ceremony brought Denée Benton, who performed the show-stopping "No One Else" from her Tony nominated performance in Natasha and Pierre and the Great Comet of 1812 to thunderous applause.
---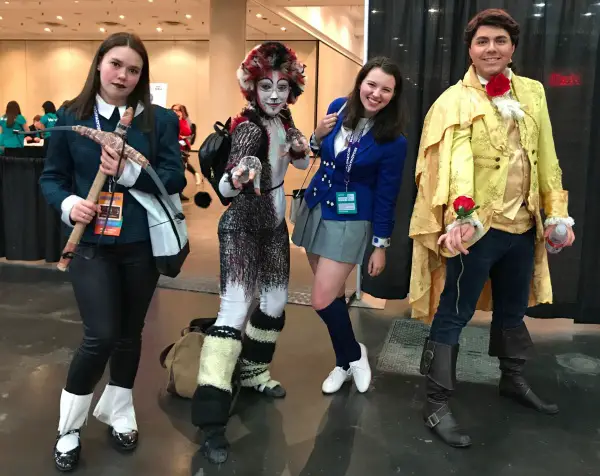 Cosplay at BroadwayCon. Photo credit Meryl Pearlstein.
BroadwayCon encourages participation from everyone. You don't have to be a mega-talent to participate in the sing-alongs, wear a costume and pretend you're Anatole from the Great Comet or Elsa from Frozen, or join a conga line to show off your "On Your Feet"-like moves. It's all part of sharing your love for theater with thousands of your new friends from around the world. 
In today's world, Broadway is synonymous with love, openness, sharing and caring. From Broadway Cares/Equity Fights AIDS to the Actor's Fund, from unbridled enthusiasm to realized creativity, and for the ongoing mission of encouraging talent and commitment, we applaud Broadway and BroadwayCon for keeping the theater scene diverse and vital. Perhaps Stephanie J. Block said it best, "Theater is a living, breathing thing. It changes every day and it's amazing." See you next year at BroadwayCon 2019.