No New York neighborhood has changed more than SoHo. Located directly south of Houston Street on the west side of Manhattan (bordered by Lafayette Street to the east, Canal Street to the south, Varick Street to the west), SoHo is a friendly, beautiful, and history-rich section of New York that is home to some of the best shopping, dining, and avant-garde art.
For most of the 20th century, however, SoHo was a rundown and neglected slum of manufacturers and wholesalers. The lack of substantial fire code laws and unsafe working conditions led to many dangerous and deadly fires. Firefighters dubbed the area "Hell's Hundred Acres."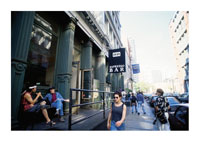 The large number of fires added to the popularity of a new concept in architecture: the use of cast-iron. The cast-iron buildings of SoHo were successful mergers of an old-world beauty and detail, as well as new-world mass production.

However, what started as a quick, cheap way of assembling buildings turned into one of modern architecture's greatest achievements. Early designers favored the "palazzo" style and copied the Italian Renaissance palaces. Architects were also influenced by the French Second Empire, Baroque balustrades, and Renaissance columns. A prime example of this is the Haughwout Building, located on the northeast corner of Broome and Broadway. Though decreed as landmarks in 1973, the beauty of these cast-iron buildings is often overlooked. 
Forced to relocate due to increasing rents and limited space, artists in the mid-1960s fled to the large, open loft spaces of SoHo. Attracted by the immense room, abundance of natural light, and low-to-non-existent rents, SoHo became the new headquarters for the New York art scene. Galleries quickly followed, bringing a substantial amount of money into the area—along with the new chic art crowd.


Today SoHo is trendy, eclectic, and always bustling with activity. Tourists and locals alike flock to this neighborhood for shopping on Broadway and galleries on Grand (which have, sadly, diminished due to rising rents). Stores range from national chains to unique boutiques, from Marc Jacobs to The Evolution Store: a shop that sells natural history collectibles usually found only in museums. 
There is also the New York City Fire Museum, which tells the history of the New York City Fire Department and the famous indie-movie Angelika Film Center multiplex. On Wooster Street is the world's first museum devoted to LGBTQ+ art and artists, the Leslie-Lohman Museum for Gay and Lesbian Art. The museum began as an exhibit in a SoHo loft in 1969, the year of the Stonewall Riots. Now Leslie-Lohman Museum houses the largest archive of queer art in the world. 
The eastern portion of SoHo is Nolita ("North of Little Italy"), which becomes the Lower East Side at Allen Street and Little Italy at Broome Street. The gloss of SoHo continues in Nolita, with chic boutiques lining Lafayette and a well-heeled crowd traveling on Prince Street. Find books and coffee at McNally Jackson Books, outdoor gear at REI, and cocktails at Mother's Ruin.
Established, thriving, and commercial, SoHo is certainly no longer the bohemian center it was in the 1970s. It has once again transformed itself into a shopping empire, and chances are it will transform again! 
Read our neighborhood guides on areas near SoHo like Little Italy, Chinatown, and Tribeca.
Dining in SoHo: For a list of our favorite restaurants in SoHo, click here.
5 Great Things to Do on a Day in SoHo
What's good to do on a day in SoHo? New York City has a tons of neighborhoods for you to explore. That's some of the appeal of the city, which often is the reason people come back for another visit, since they couldn't cover everything the first time around. No matter if this is your first time visiting the city, or your second, third, or more, a neighborhood you should be exploring is SoHo, if you haven't already! What's to see in SoHo? From shopping to dining and drinking, here are a few fun suggestions.—Nina Furseth
1. Do the obligatory walk up the shopping street, Broadway
When you're in New York City, you are bound to spend some serious money shopping. There is absolutely nothing wrong with that. And if you're in SoHo, you'll have endless opportunities to burn some money, at both international big names and locally owned boutiques.
2. Go for tapas at Boqueria
Who doesn't love tapas? If you haven't tried it, you definitely should. While it probably won't be as special as having tapas in Spain, it is pretty close. Boqueria has several locations throughout the city, including SoHo. The decor and interior is stylish and sleek and it is the perfect place for a night of snacking away on various dishes while chatting with friends over great wine.
3. Or milkshakes at Black Tap
The shakes at Black Tap are incredible and it should be a sin leaving the city without having one, or two, before heading back on that flight. While the restaurant and the food itself is also spectacular, it is the milkshakes that brings all the boys to the yard (and everyone else.) Full disclosure: Black Tap does not have a yard but they do have the most decadent milkshakes around.
4. The Handy Liquor Bar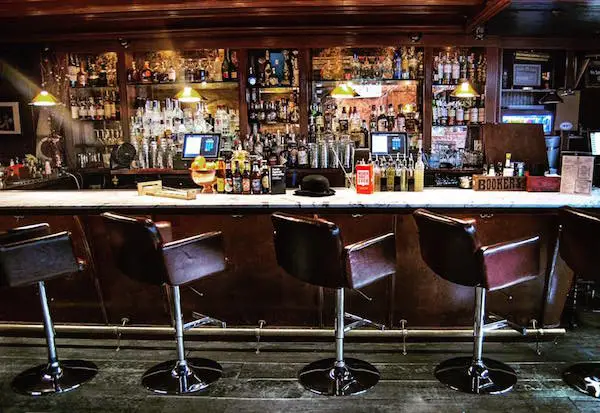 If you are looking for a cool, hip place to go out that is just screaming New York City, look no further than The Handy Liquor Bar. It's probably the best cocktail bar in SoHo. You'll be dazzled by the interior but you will want to stay because of the drinks and the atmosphere.
5. Brigadeiro Bakery
There will always be that one person in the group with a sweet tooth. Say no more, it is completely understandable. That's why this is such a great tip for things to check out in SoHo. The Brigadeiro Bakery will have tons of sweets for you to devour! The bakery has been open since 2014 and they offer the freshest baked goods. Remember to ask for their famous brigadeiros—a traditional Brazilian dessert.