You can't visit the Big Apple and not have at least one of your meals in an authentic Italian restaurant in NYC. While the options can sometimes be overwhelming (there is an entire neighborhood called Little Italy, after all), the Italian restaurants rounded up below will never let you down and have some of the best pasta in NYC. From Cucina 8½ and Becco to La Masseria and Patsy's Italian Restaurant, enjoy some homemade pasta and vintage restaurant aesthetics at any one of these 20 best Italian restaurants in NYC.
The 20 Best Italian Restaurants in NYC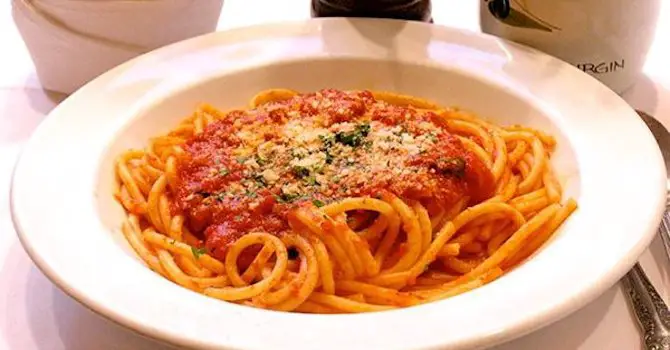 Patsy's is one of New York City's most special Italian restaurants, owned and operated by the Scognamillo family since 1944(!). That the food is mouth-wateringly delicious and authentic doesn't hurt either. Signature dishes at Patsy's include stuffed calamari (with shrimp, crab, and lobster in a tomato and garlic sauce), veal parmigiana, and chicken contadina (chicken cut into small pieces and fried with garlic, mushrooms, red peppers, and potatoes). As a restaurant in the Theater District, Patsy's also offers a prix-fixe pre-theater menu from 3-7pm.
236 W. 56th St., Midtown • 212-247-3491
Located Inside a sweeping space in the architecturally stunning Solow Building, Cucina 8½ offers an elevated experience of rustic Italian cuisine. Chef Michael D'Armi serves elevated takes on rustic Italian, drawing inspiration from New York and Italian traditions, with many tableside presentations. The pastas and pizzas are all prepared in-house. Looking for drinks after a Broadway show? Post-theater this is a great stop for the bar's Negroni variations, with smoking cocktails for aromatics.
9 W. 57th St., Midtown • 212-829-0812
La Masseria brings the Italian countryside to Manhattan, the name itself referring to the key structure on the farms in the Puglia region of Italy. Stone-covered walls, wooden ceiling beams, and white-linen tablecloths create a welcoming aesthetic at La Masseria, while the menu is just as lovable. Homemade potato gnocchi is used in the gnocchi al taleggio e radicchio, and the ravioli di Angelina combines homemade fresh caciotta cheese ravioli with a light tomato sauce, perfectly balancing out the flavors. 
235 W. 48th St., Midtown • 212-582-2111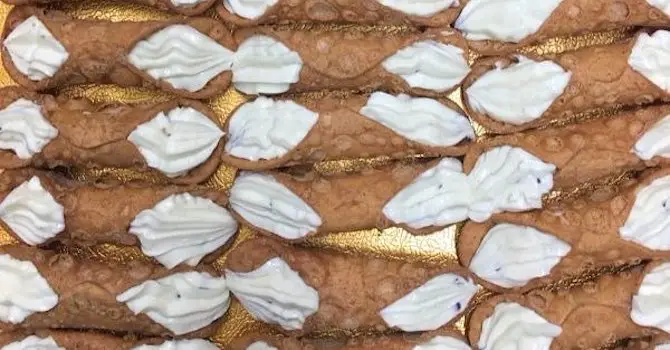 Home of the world's best cannoli (aka the Cannoli King), as vouched for by New York City locals, Caffé Palermo is a city staple, bringing in tourists and residents alike. Even if you're not a cannoli fan, there are plenty of other baked goodies at this NYC Italian restaurant for your choosing, including classic Italian ricotta cheesecake, chocolate mousse cake, homemade tiramisu, and classic New York cheesecake. And of course, don't leave without taking a photo with the giant cannoli. 
148 Mulberry St., Little Italy • 212-431-4205


Executive chef Pino Coladonato does not disappoint with his wide-ranging and flavor-infused spinoff of La Masseria. The tera mare (grilled baby octopus and cuttlefish on a bed of fava bean puree) and i cucuzielli fritti (fried zucchini) are our top picks for appetizers at Masseria dei Vini, while the coniglio alla caprese (oven roasted rabbit with fresh herbs and wine sauce) and fegato di vitello all'aceto di mirtilli (calf liver sauté with onions and blueberry vinegar) are not to be missed on the entrée menu. 
887 Ninth Ave., Midtown • 212-315-2888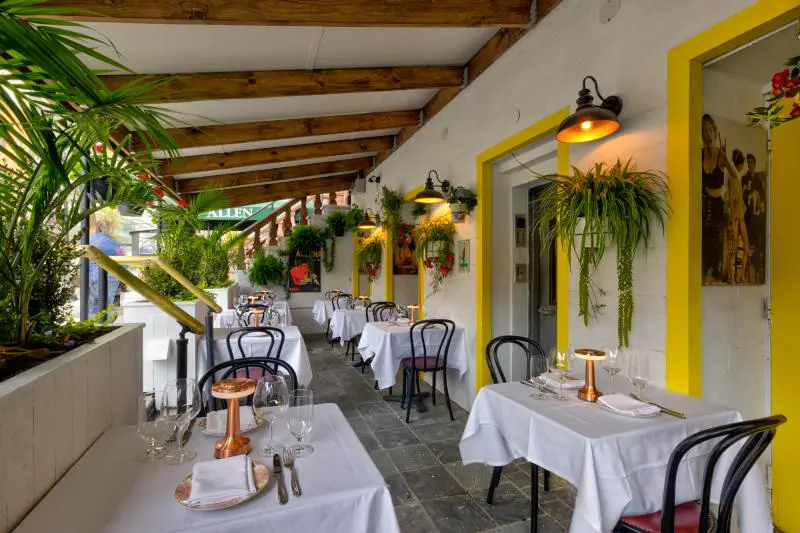 New to Restaurant Row in the Theater District, Sicily Osteria has a versatile set up, with a formal main dining room, a casual front room with a bar and bistro-style tables, and there's a lush patio garden oasis in back. Diners rave about the house's handmade pastas, traditional Sicilian street snacks, and seafood and meat dishes inspired by Sicily and the Mediterranean. Classic and Sicilian pizzas are fired in a rotating brick oven while desserts are all made in-house.
330 W. 46th St., Midtown • 646-609-3417
7. Olio e Piu
The menu at Olio e Piu features classic Italian dishes inspired by Neapolitan cuisine. With a focus on homemade pastas, hand-stretched pizzas, and more, this trattoria brings authentic dishes to the Village. Visit this Italian restaurant in NYC on the weekends for brunch, or stop by for dinner during the week and enjoy one of the weekly specials.
3 Greenwich Ave., Greenwich Village • 212-243-6546
8. Rezdôra
This Italian eatery's menu highlights handmade pastas, traditional dishes, and local veggies. What's more, Rezdôra received a Michelin Star in 2020 and was rated three stars by The New York Times. Can't decide what to choose from the menu (seriously, everything sounds delicious!), get the table to try the regional pasta tasting, and splurge for the wine pairing.
27 E. 20th St., Flatiron District • 646-692-9090
9. Beppe Trattoria
Beppe's inspiration is the Tuscan countryside, where the passion for fresh, seasonal ingredients coincides with a knack for hospitality. You'll find both here in abundance. Tuscan classics fill the menu at this Italian restaurant in NYC, like expert pizza, pasta, entrees, and desserts highlight the experience. Also look for a pre- and post-theatre prix fixe special, just $65 per person. 
234 W. 56th St., Midtown • 212-586-2403
10. Allora Ristorante
Allora Ristorante serves up classic Italian-American cuisine, and much of its menu is prepared tableside for an extra special experience. Order the bistecca di Manzo a la Diane (pan-fried steak), insalata alla Cesare, cotoletta d'Agnello (lamb chops), branzino, or one of the flambéed desserts to watch your meal created before your eyes. As for the ambiance, this place is all class, with a marble bar countertop, large floor-to-ceiling windows, and modern chandeliers hanging from above. 
145 E. 47th St., Midtown • 212-754-9800
Originally founded in 1908, Grotta Azzura is perhaps best known as being one of Frank Sinatra's favorite Italian restaurants. Grotta Azzurra presents patrons with an old-school charm that's longingly reminiscent of Little Italy's earliest days. Spaghetti Bolognese, manicotti, penne alla vodka, and gnocchi are some of the many traditional favorites you'll find on the menu. 
177 Mulberry St., Little Italy • 212-925-8775
Located in the heart of Greenwich Village, Monte's is a New York City staple beloved by locals and visitors alike. Headed by Chef Pietro Mosconi, dishes are inspired by his home region of Emilia Romagna. Cannelloni (spinach pasta sheet stuffed with veal, spinach, and cheese), gnocchi con burro e salvia (potato gnocchi with butter and fresh sage), frutta di mare over linguini (clams, mussels, calamari, scallops, salmon, shrimp, and garlic in a red or white sauce), and a range of other delicious Italian dishes are made fresh daily. 
97 MacDougal St., Greenwich Village • 212-228-9194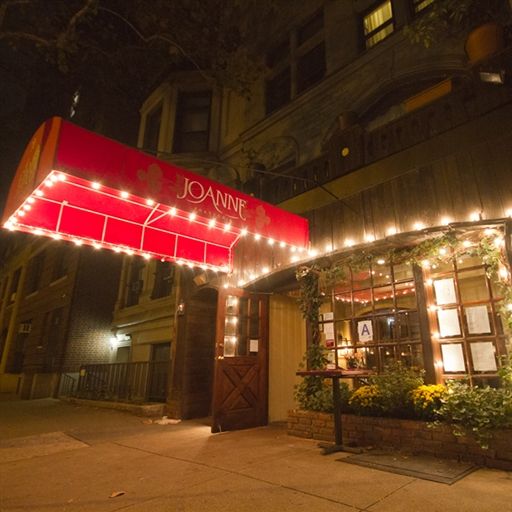 Authentic Italian fine dining in a comfortable space is what you'll find at the Upper West Side's Joanne Trattoria. Family-owned, with a skylit back patio adding to the atmosphere. Famous for meatballs, lasagna, and other New York City Italian classics, in addition to daily specials. There are also ingredients for take home at the Groceria. "Mangia bene vive bene."
70 W. 68th St., Midtown • 212-721-0068
Taking its inspiration from traditional sushi bars, Obicà is a casual Italian restaurant that has its very own mozzarella bar. Handmade products are prepared in view, and the food is worth writing home about. Obicà serves two varieties of Mozzarella di Bufala Campana DOP, as well as stracciatella di burrata. The menu includes contemporary takes on the likes of spaghettoni cacio e pepe, a selezione di salumi, and parmigiana di Melanzane in addition to its famed Mozzarella Bar. Additional location in Midtown East. 
928 Broadway, Flatiron • 212-777-2754
590 Madison Ave., Midtown • 212-355-2217
Villa Mosconi has been keeping its customers happy for more than 50 years, providing memorable dining experiences for everyone who walks through its doors. Pastas at Villa Mosconi are made fresh daily using a pasta machine directly imported from Italy, and you can taste the quality in their ziti, rigatoni, penne, spaghetti, and cappellini. Also worth ordering are the eggplant parmigiana and branzino, amongst the other noteworthy dishes that make up the menu. 
69 MacDougal St., Greenwich Village • 212-673-0390
If you want an authentic Italian coffee shop experience (and who doesn't?) Zibetto Espresso Bar is the place to go. In addition to incredible and authentic coffee (one look at the gleaming La Cimbali espresso machine behind the marble bar and you'll be assured they know what they're doing), you'll also find great breakfast and lunch fare, as in fresh salads and hand-pressed panini. As with the coffee here, ingredients are carefully chosen, reflecting the best providers in the world. Mozzarella, fontina, and soppressata are all imported from Italy. The prosciutto is mouth-meltingly tender, aged for 24 months. If you need a pick-me-up, Zibetto is your place. 
1221 Sixth Ave., Midtown • 212-332-2648
1385 Sixth Ave., Midtown • 646-707-0505
Il Cortile is a family-owned restaurant that's been a Little Italy institution since 1975. Exposed brick and ample greenery make for a special meal in the stunning atrium garden. Charming additional rooms are ready to host everything from intimate gatherings to large celebrations. A neighborhood staple, Il Cortile delivers the highest quality ingredients across a broad menu available for lunch and dinner seven days a week. Look for classics like homemade fettuccine with wild mushrooms and sweet sausage, flavor-packed puttanesca, veal scaloppine, and stuffed filet mignon in a rich tomato sauce.
125 Mulberry St., Little Italy • 212-226-6060
Owned and operated by a charming Italian immigrant family that has helmed various restaurants in Little Italy for generations, Lunella Ristorante is one of the best finds in the neighborhood. An extensive menu features favorites like stuffed clams, grilled polenta, baked ziti, grilled lamb chops, and specialties like lobster for two, served with clams, mussels, and calamari in a spicy marinara. On a nice day, the mahogany storefront slides away to open Lunella to the street.
173 Mulberry St., Little Italy • 212-966-6639
19. Rubirosa
When you're aching for a full meal, head over to Rubirosa to fill up on pizza, homemade pastas, and panini. They make a killer chicken parmigiano and meatball parmigiano panini if you're ordering individually. If you want to go family style, the Rubirosa Supreme pizza is an absolute must (tomato, homemade mozzarella, pepperoni, mini meatballs, and roasted garlic). 
235 Mulberry St., Little Italy • 212-965-0500
20. Becco
Opened by Lidia Bastianich and her son, Joe, the name Becco is derived from the Italian verb, beccare, which means to peck, nibble, or savor something in a discriminating way. And you'll do just that with any of the pastas of the day at this NYC Italian restaurant, or try the burrata, calamari, or any of the Italian-inspired entrees.
355 W. 46th St., Hell's Kitchen • 212-397-7597
—Katelin E. Walling contributed to this article.