If you've never bothered to see an Off-Broadway show during your time in New York City, then we think it's fair to say that you're missing out…big time. STOMP, a spectacular theatrical performance, is one of Manhattan's most beloved resident performances for its musical presence, and as you're about to learn—it's a show that everybody must see at least once in their lives (if not many, many more times).
The Premise
STOMP has long been a long-time favorite in the theatre circuit because of its hard-to-define genre. Not quite a musical, yet not quite a dance show, STOMP falls somewhere in between. As you may have guessed, the show incorporates plenty of stomp-style dancing, creating beats and a rhythm from the dancers' actual bodies rather than an orchestra. If that sounds captivating, it's because it is. Performers use everything form matchboxes and brooms to garbage cans and lighters to make their music, entrancing the audience with every show.
The Theatre
The Orpheum Theatre on Second Avenue has been home to the New York production of STOMP ever since it debuted in the city in 1994. Since then, over 5,000 performances have taken place here. It's rumored that the Orpheum was once a concert garden in the 1880; it was officially turned into a theatre by 1904, hosting Yiddish theatre, exhibiting films, and being used for theatrical performances such as Little Mary Sunshine before STOMP took over.
The Performers
NYC is currently hosting an all-star cast of STOMP performers. To make the shows even more exciting than your usual theatre show, many of the multi-talented performers actually rotate roles throughout the week, guaranteeing that you never have a bored actor. Alan Asuncion, Jordan Brooks, Kayla Cowart, Joshua Cruz, Marivaldo Dos Santos, Quinten Giglio, Desmond Howard, Tailor Lee, Carlos Thomas, Reggie Talley, and Tamii Sakurai currently star in the New York City Off-Broadway production of STOMP.
The History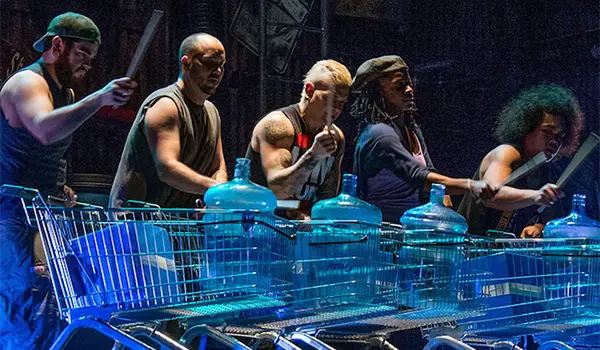 STOMP originated in the United Kingdom, where creators Luke Cresswell, John McAuley, and Steve McNicholas came up with the idea in 1991. The original STOMP show previewed at London's Bloomsbury Theatre and debuted at Edinburgh's Assembly Rooms that same year. The performances were wildly successful in the U.K., winning awards such as the "Critic's Choice" and "Best of the Fringe." The rest, as they say, is history.
Tickets

Tickets and premium tickets for STOMP can be purchased online (Ticketmaster), by phone (1-800-982-2787), and in person at the Orpheum Theatre Box Office. Performances occur Tuesdays at 8pm, Wednesdays at 8pm, Thursdays at 8pm, Fridays at 8pm, Saturdays at 3pm and 8pm, and Sundays at 2pm and 5:30pm. Everyone over the age of four is allowed admission. For more information, visit stomponline.com.