Sugi Acupressure is a Korean modality of bodywork therapy that aims to recruit and integrate various elements to bring about lasting healing of the whole person, rather than just alleviating symptoms temporarily.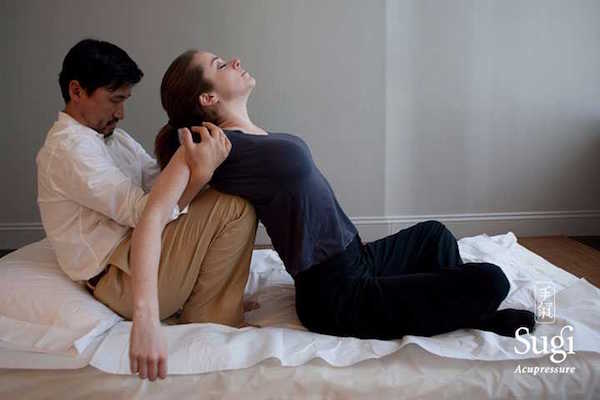 Injae Choe, PhD LMT, is a licensed massage therapist and a nationally certified therapist of massage and bodywork (NCTMB) with more than 20 years of experience specializing in the Eastern holistic style of manual therapy called Sugi ("hand energy") Acupressure. It is considered holistic, in the sense that it aims to recruit and integrate various obvious and not-so-obvious elements to bring about lasting healing of the whole person, rather than just alleviating symptoms temporarily. "Obvious" elements can include Dr. Choe working on readily identifiable sites of a physical ailment, or him coaching the patient to adopt better body mechanics to counteract years of poor posture; the "not-so-obvious" elements can mean Dr. Choe helping his clients change bad lifestyle habits and negative thought patterns.
Though Dr. Choe is primarily a bodywork therapist for his patients most of the time—using his hands to "replace the need for needles in acupuncture," as he puts it, he does also leverage knowledge derived from his PhD in psychology whenever appropriate to raise people's self-awareness. "True healing must mean regaining a healthy mind as well as a healthy body," he insists.
What can patients expect on a typical visit to Dr. Choe's office? A regular session is 40 minutes (cost: $120), though longer sessions are also common. Within that time frame, with the patient dressed in light clothing and lying on a comfortable floor futon, Dr. Choe usually starts by testing the muscle tone and joint flexibility on the posterior side of the patient's body; halfway through, he'll ask the patient to turn over, lying face up, so that he can further probe what's happening on the patient's head, shoulders, abdomen, quadriceps, etc. To a regular person, a Sugi Acupressure session as practiced by Dr. Choe may look like something in between a chiropractic and a relaxation massage therapy treatment. That Sugi also shares overlaps with Rolfing and physical therapy renders it even more versatile. Other than acute traumatic injuries, open wounds and severe thrombosis, there are hardly any health conditions for which Sugi is contraindicated.
"I can effectively treat just about any musculoskeletal condition, often making a noticeable difference within three sessions," Dr. Choe continues. "I feel that there are many other highly skilled practitioners of bodywork out there, but what I offer is a unique, powerful blend of both bodywork and lifestyle training, rigorously grounded in the best of eastern and western traditions of healthy living."
Dr. Choe started his apprenticeship with his father (who is now retired and based in Texas) in Sugi Acupressure more than 23 years ago and has been practicing it continually ever since. He values having attended England's most elite boarding school (Eton), then balancing it all out with advanced degrees from UC Berkeley, Columbia University and the New School for Social Research. "I feel like I've always been able to easily empathize with diverse groups of people as a result," explains Dr. Choe. "Especially in a place like New York, where the energy of the city inevitably creates so much stress for so many different kinds of people, I feel like I'm well positioned to make a real difference for them." In addition to his NYC clients, Dr. Choe sometimes takes appointments in Westport, CT, where he resides. Also, there are quite a few out-of-town clients who make a point of seeing Dr. Injae whenever they visit New York.
Sugi Acupressure, 7 West 45th Street, third floor

(Inside Kellman Center for Integrative and Functional Medicine)

, 646-823-5386, sugiacupressure.com