Smorgasburg, Brooklyn's premium outdoor food market, is a fantastic destination for unique foods. The food festival takes place every weekend from now until October, with Saturdays at East River State Park in Williamsburg, and Sundays in Prospect Park. Read on for our picks for some of the most original tastes at Prospect Park's Smorgasburg, from hollowed-out fruit drinks to buns made with ramen.
7 Unique Vendors at Smorgasburg: Ramen Burger
Ramen Burger takes a regular burger patty and places it in between a ramen bun. How do they pull off this trick? By taking ramen noodles and preparing them as if they were  a bun. The Original "OG" burger puts a certified Angus beef patty together with a homemade ramen bun, arugula, scallions, and their secret shoyu sauce. Super yummy? Indeed.


7 Unique Vendors at Smorgasburg: Yakisoba NYC
Yakisoba NYC is a vendor brought to Smorgasburg by East Village ramen veteran Rai Rai Ken that masters the traditional Japanese noodle dish yakisoba. It is delicious. At Smorgasburg they only serve their signature squid flavor, which can be topped off with a fried egg for extra richness.
7 Unique Vendors at Smorgasburg: Monk's Vegan Smoke House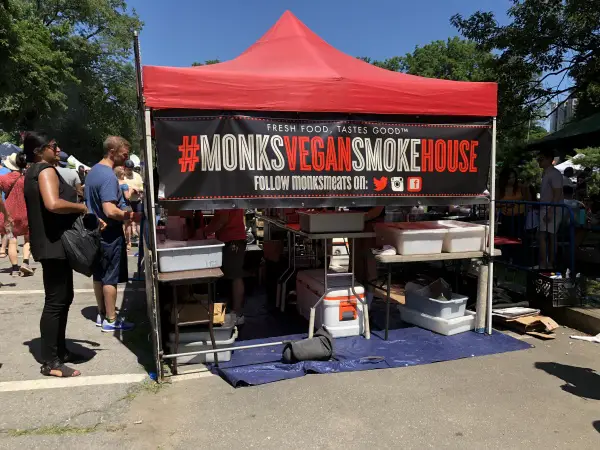 Monk's Vegan Smoke House serves up burgers, fries, and more, and they do it without the need for meat, egg, or dairy. Try the BBQ mushroom slider and chili cheese fries for a well-rounded pairing—we promise you won't even realize the meat and dairy are missing!
7 Unique Vendors at Smorgasburg: Home Frite
Home Frites serves up fries in a cone with three tasty options to choose from (original, truffle, and Dutch). Add the seven sauce possibilities and the combination possibilities seem almost endless. Truffle options include combinations like hand-cut fries joining parmesan, black truffle oil, and lemon garlic aioli. If that didn't sound delicious enough, Dutch counterparts come with hand-cut fries, curry ketchup, diced onions, and aioli. Original fries give you your choice of jalapeno cilantro, buttermilk ranch, curry ketchup, herbocado, lemon garlic aioli, chipotle ranch, and malt vinegar—and you have the option for an extra sauce. (Even without the sauces, the fries are pretty delicious just served plain.)
7 Unique Vendors at Smorgasburg: Chickpea & Olive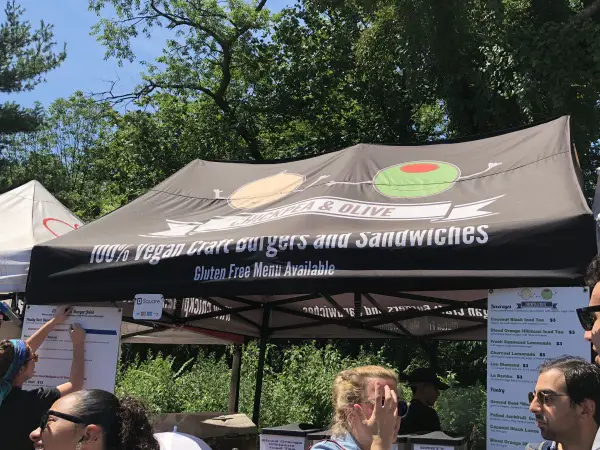 Another vegan place with first-rate food is Chickpea & Olive. Their vegan burgers, sandwiches, and beverages are 100% meatless and 100% dairy-free. They also have gluten-free options, and there's even a pantry.
7 Unique Vendors at Smorgasburg: The_Base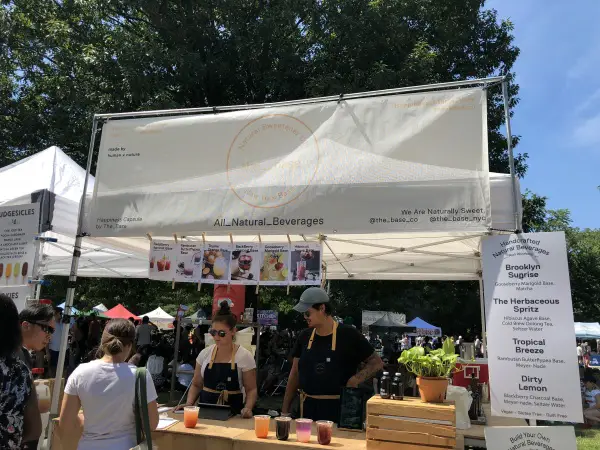 Food isn't the only thing that Smorgasburg offers. They also have a variety of exciting drinks: The_Base brings to the market all-natural beverages that are refreshing without any added sweeteners. They offer four flavors—Brooklyn Sunrise (gooseberry, marigold, matcha), The Herbaceous Spritz (hibiscus, agave, cold brew oolong tea, seltzer water), Tropical Breeze (rambutan butterfly-pea, meyre-nade), and Dirty Lemon (blackberry, charcoal, meyer-nade, seltzer water)—all of which are delicious (and all-vegan as well!).
7 Unique Vendors at Smorgasburg: John's Juice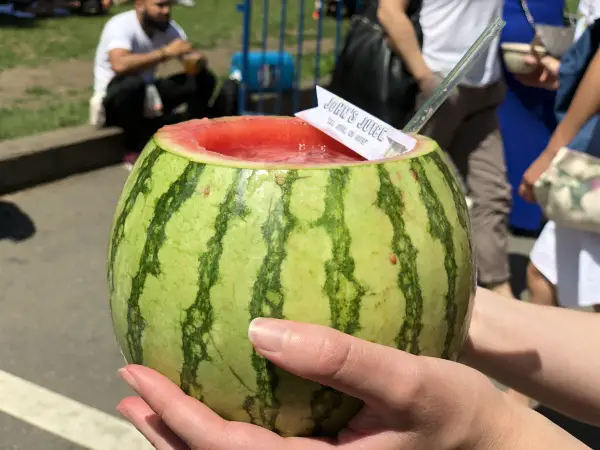 John's Juice serves up fruit juice in a way that involves minimal waste: each drink comes inside the juice's fruit base. There are five fruits to choose from (orange, pineapple, watermelon, grapefruit, and dragon fruit) as well as four mix-ins (strawberry, blueberry, raspberry, and agave) for a wide range of possibilities. They also offer a deal to all buyers of the pineapple and watermelon drinks: buy one and get the second half-priced when you bring back the container.
---
Sundays in Prospect Park, weekly from April to October. Located on Breeze Hill East Drive (at the top of the hill; enter at Lincoln Road). Also every Saturday at East River State Park in Williamsburg (90 Kent Ave., at N. 7th St.).