New York thrives on the diversity of languages, customs, ideas, and identities. A wide spectrum of bodies soak in the city too, including differently abled people. However, this busy city doesn't always slow down for those who require accommodations. We've compiled some information to aid a first-time visitor looking for accessible places to go.
Whether you require a ramp, a lift, information in Braille, or an ASL interpreter, businesses throughout the city value your access to the New York experience. The Americans with Disabilities Act (ADA), passed in 1990, also enforced the incorporation of ramps and other services in public and private spaces. While the city could still improve its accessibility, there's no reason not to plan ahead a little and let the city dazzle you once you arrive. Read on for accessible transportation, hotels, dining, sightseeing, and more.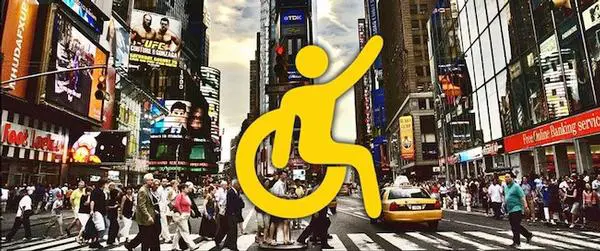 Special Needs NYC: Transportation
There are 90,000 wheelchair users in NYC, but less than 40% of New York's 13,000 taxicabs are wheelchair accessible (although recent legislation is enforcing a bump to 50% by June of 2023). You can hail wheelchair-accessible vans on any street in Manhattan or use a free 24/7 service called Accessible Dispatch. Just dial 311 (the city's information and service hub), text 646-400-0789, or download the Accessible Dispatch app to summon a wheelchair-accessible ride.
Uber has introduced UberWAV for disabled passengers, who can call cars to their location via the Uber app. Wheelchair- and scooter-accessible vans are available through uberWAV, and all service animals are welcome aboard. That's right—you can book WAV rides in advance! Just tap "Schedule" after setting your dropoff location. You can pre-book rides up to one hour in advance.
Via offers similar access to Wheelchair Accessible Vehicles (WAV). In the Via app menu, tap your name or photo to navigate to your account page. Toggle on Wheelchair accessibility. From there, pre-schedule your ride or book like normal.
New York's Metropolitan Transportation Authority (MTA) operates the largest fleet of accessible buses in the world. In fact, a recent report showed that 11.5% of all bus users were disabled and/or elderly. All buses have lifts or ramps to take scooters and wheelchairs, as well as priority seating for the elderly and disabled. Drivers routinely announce upcoming stops, but if you need assistance locating your destination, just ask.
Subways (also operated by the MTA) are the fastest way to get around the city. Unfortunately, the city has a long way to go before everyone can navigate the system with ease. Currently, only 25% of subway stations are accessible with elevators, Tactile-Braille signage, maps, and ticket vending machines. Stations and trains en route announce arrivals and departures, but the erratic audio quality could present challenges for the hard of hearing.
The MTA has posted a list of accessible subway stations throughout the five boroughs, with notes on elevators, ramps, and nearby bus connections. 
You can also get around the city in style thanks to High Quality Tours and their wheelchair-accessible Mercedes Sprinter vans. Unlike other area accessible vans, these have the lifts installed outside of the passenger area, making the interior of the van roomier and more comfortable. Fasteners and two sets of seatbelts ensure your wheelchair will remain secure during the ride. Another great feature of HQT is their private guided sightseeing tours from the comfort of these Sprinter vans. Tours are available in a wide range of languages.
From the moment you arrive at the airport, you can count on an accessible car or van to pick you up. Go Airlink NYC, Carmel Car & Limousine Service, Dial 7, and Super Shuttle all have accessible vehicles in their fleets. Just call their customer service numbers to discuss your specific needs.
Special Needs NYC: Hotels
A surprising number of NYC hotels offer accessible accommodations—even those built in antique structures. Don't let a steep set of stairs fool you; many offer portable ramps that can be put in place upon request. Check prospective hotel websites for specific information, or call before booking.
Special Needs NYC: Museums
New York's many cultural institutions are strongly committed to accessibility. An impressive example is the Intrepid Sea, Air & Space Museum, which offers a wealth of resources. Among them: multi-sensory experiences for visitors suffering from dementia; early opening times for children with autism; and special programs for learning-disabled and developmentally delayed people of all ages. Voice-interpreted and American Sign Language tours are regularly scheduled, supplemented with audio, video and tactile information guides. Most exhibits are wheelchair accessible, and a virtual tour simulates a visit to those that are not.
At the Guggenheim Museum, you will find brochures in large print and Braille, verbal descriptions of art for the visually impaired, infrared hearing aids, sign language-interpreted tours, ramps, closed captioning, and much more. The Guggenheim's impressive suite of services for the disabled are located here. There are a number of touchable exhibits at the American Museum of Natural History, plus special Discovery Squad tours for children on the autism spectrum, assistive listening devices, transcripts of certain shows, and sign language tours.
Special Needs NYC: Sightseeing
One of the best ways to experience NYC is from the water. All publicly operated ferries, including the free Staten Island Ferry, are ADA compliant. Circle Line and City Cruises are among the private operators with accessible docks and boats that accommodate limited mobility passengers on some decks. Contact them to discuss your specific needs.
Statue Cruises is the only ferry service providing on-site access to the Statue of Liberty and Ellis Island. Ferries are wheelchair-friendly and permit service dogs onboard. The Ellis Island National Museum of Immigration Museum provides tactile models of the island, Braille and large-print information, audio tours, and assisted-listening devices. The same services are available at the Statue of Liberty, where visitors in wheelchairs can also see inside the statue's skeletal structure at the pedestal level.
Hop on, hop off bus tours take you comfortably to attractions all over the city. It's best to contact the individual companies in advance to see which tour and type of vehicle will work best for you.
Special Needs NYC: Entertainment
Many NYC theaters and concert halls were built before the passing of the ADA, but many have been retrofitted to offer wheelchair seating. Most provide assistive listening devices, and some have ASL interpreted performances. Theatre Access is your one-stop shop for all Broadway shows, as it lists each show's accommodations for those with disabilities. These include wheelchair seating, accommodations for the visually impaired and hard of hearing, and resources for those on the autism spectrum.
Seat Plan has compiled accessibility information for 38 Broadway theaters to help you plan your visit to Wicked, The Lion King, and more. This includes information on step-free access, restrooms and wheelchair spaces—and their interactive seating maps include reviews and photos which help people see views from around the theater. 
The nonprofit Theatre Development Fund (TDF) distributes seats to visitors who are hard of hearing or deaf, have low vision or are blind, who cannot climb stairs, or who require aisle seating or wheelchair locations. Apply for free TDF Accessibility Membership in advance to access the tickets.
Hands On is a nonprofit serving the deaf and hard of hearing community with interpreted performances of Broadway, Off-Broadway, Shakespeare in the Park, and other productions.
Special Needs NYC: Dining
There are nearly 45,000 restaurants in NYC. True, some of them are as small as a closet, with stairs up to the entrance or down to the restrooms. Others are so loud that the hard of hearing might not enjoy their dining experience. But many are quiet, commodious, and accessible.
Boulud Sud is known as a wheelchair-accessible restaurant and an unbeatable fine-dining pick on the Upper West Side. Other wheelchair-accessible restaurants include the Mexican place Maya on the Upper East Side and the Turkish restaurant Sip Sak in Midtown East.
Rely on your hotel concierge and call restaurants ahead for more information on accessibility.
Special Needs NYC: Equipment Rental
Medical equipment, including mobility devices, can be delivered to your NYC hotel room. Scootaround will rent you an electric scooter, powerchair or manual wheelchair. Falk Surgical can supply you with a walker or wheelchair and a multitude of other devices.
A secret weapon for visitors of all abilities is the helpful spirit of New Yorkers. Stereotypes aside, the city's residents are usually eager to assist. Don't be surprised if you are offered help even if you don't need it; New Yorkers love to give advice!
Special Needs NYC: Further Planning Resources
Looking to plan more accessible travels around New York City ? Head over to accessibletravelnyc.com, a thoughtful and surprisingly beautiful resource guide for people with disabilities. The website serves to inspire and empower people with disabilities with accessible information to enjoy all the vibrancy New York City offers. It provides guidance on transportation, sightseeing, attractions, dining and more.