In drama, real time is a double-edged sword. Because it's theatre, momentum needs to be addressed. Because it's human, the individuals—characters—are more often than not required to evolve, in what? Ninety minutes? Wrap your head around that, Darwin. Intermissions just muddy the trajectory.
Kerry Washington and Steven Pasquale in American Son. Photo by Peter Cunningham.
American Son, Christopher Demos-Brown's provocative new work, is set in the waiting room of a Miami police station where Kendra, an African-American mother, looks for answers about her missing teenage son. Interestingly, the writer not only plays the real time card, he sets his story in the near future: "Shortly after 4:00 AM on a day this coming June," suggesting that tomorrow will be as socially unbalanced as today… and yesterday. You can't erase history. And it is always about race.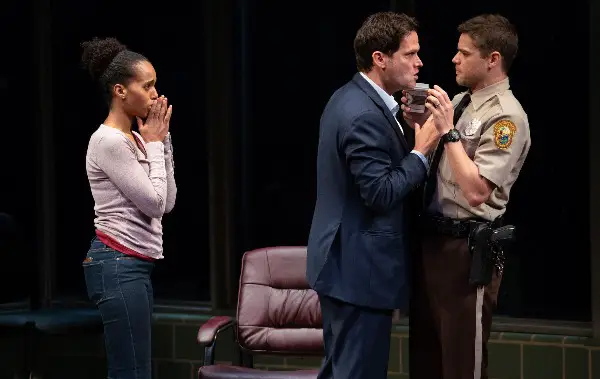 Kerry Washington, Steven Pasquale, and Jeremy Jordan in American Son. Photo by Peter Cunningham.
As the lights come up, Kendra—Kerry Washington in a starkly persuasive performance—is trying to reach her son by adding a voice mail to the myriad texts she's already sent. Her anxiety is amped with the entrance of a young white police officer, Paul Larkin (Jeremy Jordan), whose insistence on evasive protocol rankles, as do his attempts at empathy—especially to Kendra, a psychology professor. "You keep saying 'I understand; I share your concerns.' Is that from some HR training video or something?," she asks.
The arrival of Scott (Steven Pasquale), Kendra's estranged husband and father of their missing son, Jamal, adds a welcome twist: not only is he white, he's an FBI agent with a military background. Through "one-cop-to-another" banter he's able to elicit info undisclosed to Kendra. To me this seemed more sexist than racist, but in retrospect, probably a combination of the two.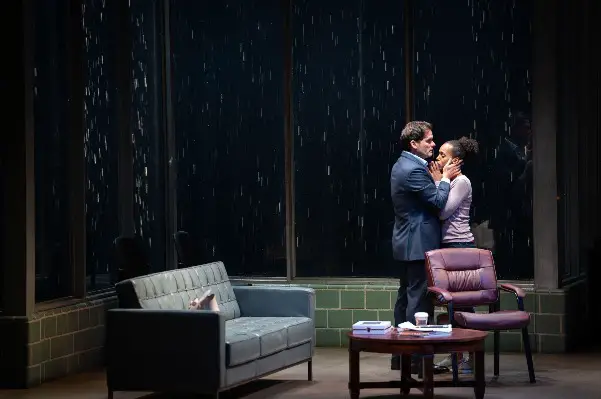 Kerry Washington and Steven Pasquale in American Son. Photo by Peter Cunningham.
Pasquale and Washington's chemistry is moving, even when the timely script and cogent direction by Tony winner Kenny Leon veer off mark. Do Kendra's emotions always align with significant disclosures? Does Scott's behavior consistently mesh with his FBI training? And what of the play's fourth character, John Stokes (Eugene Lee), an African-American police lieutenant in his early 60s whose affect is almost frighteningly deliberate? Admittedly, these points pale under the overall scope of the play, which ignites an essential conversational spark—preferably without the gratuitous "Discussion Guide" tucked into the program.
---
American Son is playing at the Booth Theatre, 222 W. 45th St., 212-239-6200, americansonplay.com.