At least part of the fun of engaging with the graffiti artist known to the world only as Banksy is whether you and he are laughing sardonically at capitalist society and the global arms industry. Or if by your very interest in laying out money for his work, he's lumped you in with those he mocks.
That was certainly the question at the heart of the 2010 docudrama Exit Through the Gift Shop, in which Banksy takes a back seat to his colleagues but appears in retrospect to have been puppeteering its events from the outset.
So now we have a terrific sampling of the notorious artist's best-known and most provocative works on display at what was not so long ago an Urban Outfitters at the corner of Sixth Avenue and 14th Street. For those familiar with the conservative leanings of the clothing chain's founder, Richard Hayne, the irony is far from lost. From one room to the next, you'll get a deep dive into what Banksy thinks is immoral, unforgivable, and ridiculous in our contemporary and celebrity-centric culture. But what you won't get is any idea of what he believes should replace it.
You'll certainly see the hits here—Girl With Heart Shaped Balloon and the Guerilla Flower-Thrower take up a lot of space, as does his work replacing human figures with other great apes—including a particularly amusing and richly-detailed portrait of Parliament populated entirely by monkeys. One area blocked off puts a montage of his images on four walls (two of them canvas for entry and egress) and douses you in the same images that flooded the artist's mind at one time or another.
One thing's for certain: if you're not already on board with Banksy's anarchic agenda, you won't be swayed by what's here. But it's impossible not to look on the rich variety of what he's created and not appreciate that he's returned graffiti to its original intended purpose as unsanctioned social commentary. More genteel times called for such satirists as Twain, Orwell, and George Carlin. But in this savage internet-savvy century, Banksy has, for better or worse, his fingers on the pulse of the planet.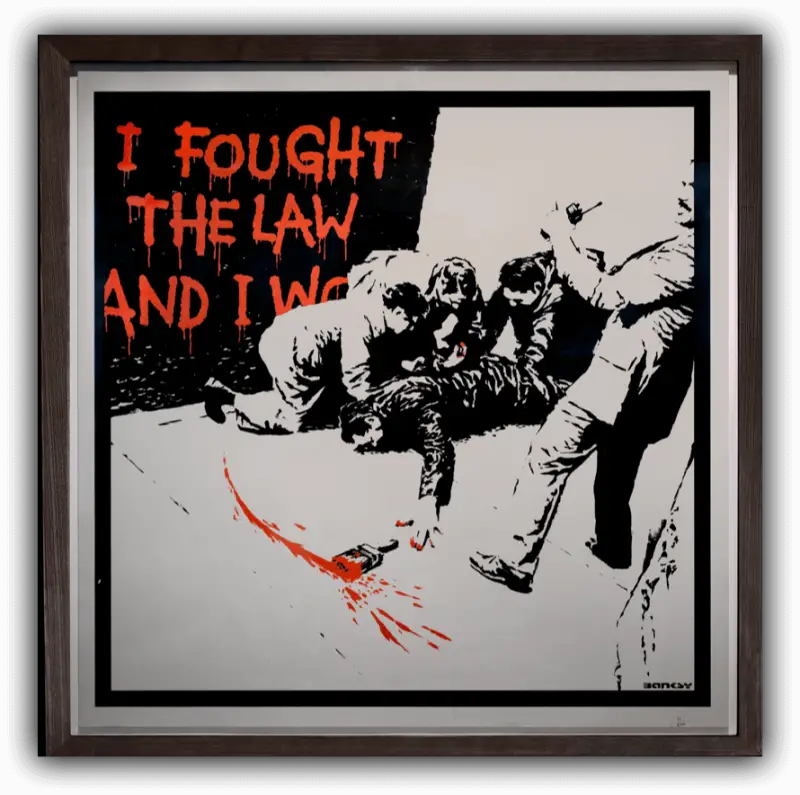 Banksy: Genius or Vandal? is located at 526 Sixth Avenue (at the southeast corner of West 14th Street at 6th Avenue). Hours are weekdays 10am–7pm (closed on Tuesdays); weekends and holidays 9am-8pm.