When you're traveling with a large group, it can sometimes be difficult deciding what sounds good to everyone for a meal. Fortunately, New York City has its fair share of food courts to help save the day. Rounded up below are the city's best food courts for groups. These aren't the types of food courts you'd find at a middle-of-nowhere mall either—look for gourmet and artisanal choices, and memorable experiences, in NYC.
Best of NYC Food Courts for Groups: The Market Line (Lower East Side)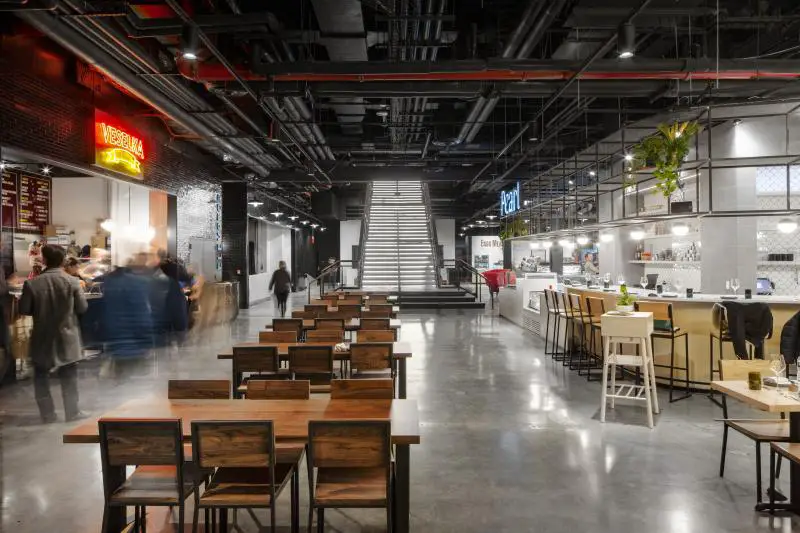 Photo credit: QuallsBenson.
One of the city's newest food courts is The Market Line, a spectacular, sprawling space on the Lower East Side. The dozens and dozens of options here make this a great choice for groups, as you won't have to fight over whether to choose Vietnamese, Japanese, Puerto Rican, dim sum, and on and on. There's even a beer bar and wine bars. If you like dessert you're in luck: look for Rebecca's Cake Pops, Ample Hills ice cream, Doughnut Plant, and Moon Man (Indonesian street food desserts—the only place in the U.S. that you'll find a flavor-packed coconut pancake). Open daily 7am-1am!  115 Delancey St., marketline.nyc
Best of NYC Food Courts for Groups: Gotham West Market (Hell's Kitchen)

Gotham West Market has everything from small plates and house-made charcuterie to classic burger menus and ultra fresh smoothie shops. You'll even find the world-renowned Ivan Ramen Slurp Shop amongst the mix, along with sushi burritos at Uma Temakeria, and authentic-inspired Mexican food at Choza Taqueria. Of course, you have to finish things off with a cone from Ample Hills Creamery, New York City's pride and joy of ice cream spots. 600 11th Ave., 212-582-7940, gothamwestmarket.com
Best of NYC Food Courts for Groups: Chelsea Market (Chelsea)

You can easily spend an entire afternoon, if not an entire day, in Chelsea Market snacking on the best eats the city has to offer while shopping for clothing at Anthropologie, smelling various spices at Spices and Tease, and perusing Posman Books, amongst other exciting activities. Some Chelsea Market eatery favorites include Beyond Sushi (vegan sushi), Amy's Bread (the best in the city), Doughnuttery (fresh mini donuts), Los Tacos No. 1 (authentic Mexican tacos), and The Lobster Place (lobster rolls galore).  75 Ninth Ave., 212-652-2110, chelseamarket.com
Best of NYC Food Courts for Groups: The Deco Food + Drink (Midtown West)
Little Tong's "Grandma Chicken."
The Deco Food + Drink opened in early 2020, bringing together a food hall, a cocktail bar, and an event space. This stylish Garment District destination offers lunch, happy hours, date nights, dinners, and pre-gaming for both Broadway and Madison Square Garden. Among the vendors you'll find Italian and Brazilian to Hawaiian, with stops for Chinese favorites like those from Little Tong Noodle Shop (above) along the way. 231 W. 39th St., 646-993-1650, thedeconewyork.com
Best of NYC Food Courts for Groups: Grand Central Terminal (Midtown East)

Thought Grand Central was just for trains? Think again. Grand Central's food court is an impressive one, housing 35 dining options. You'll find sit-down restaurants such as the famed Oyster Bar & Restaurant and even a grocery store (Grand Central Market) amongst the mix of counter-service restaurants (Shake Shack, Café Grumpy, Chirping Chicken, Frankies Dogs on the Go, Hale and Hearty, Magnolia Bakery, and Jacque Torres Chocolate, to name a few), so no matter what style of dining you're in the mood for, you'll be perfectly able to locate it within the Grand Central Terminal. 89 E. 42nd St., 212-340-2583, grandcentralterminal.com
Best of NYC Food Courts for Groups: Brookfield Place (Battery Park)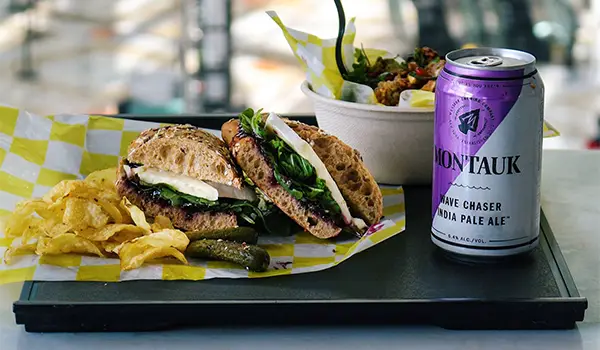 Where can you get a stunning view of the Hudson River and all the best eats New York City has to show for itself? Brookfield Place can provide you with both, and its food selection truly is something worth noting. Food favorites such as burgers from Umami, banh mi sandwiches from Num Pang Sandwich Shop, bagels and lox from Black Seed Bagels, baked beans and brisket from Mighty Quinn's Barbeque, and Thanksgiving sandwiches from Little Muenster can be found here year-round—so enjoy! 225 Liberty St., 212-978-1698, brookfieldplaceny.com
Best of NYC Food Courts for Groups: UrbanSpace Vanderbilt (Midtown East)

You'll find over 20 artisanal food spots at UrbanSpace Vanderbilt, making it one of the city's most talked about food halls. Located in the heart of midtown, UrbanSpace Vanderbilt provides a central location for some of the city's most loved franchises. Mr. Bing, Mile End, Liquiteria, Kuro-Obi by Ippudo, Hai Stret Kitchen Co, Red Hook Lobster Pound, Takumi Taco, Sigmund's, Ovenly, Mimi's Hummus, Dough, Roberta's, and Good Stock all call themselves residents of the space. 230 Park Ave., 646-747-0810, urbanspacenyc.com
Food Courts NYC: The Bowery Market (NoHo)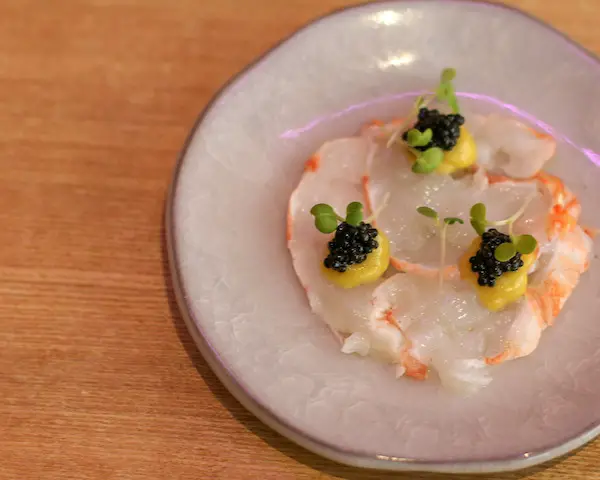 Sushi on Jones is one of many restaurants on site at Bowery Market.
This NoHo-based open-air food market offers a mix of local restaurants and cuisines. There's the Fruitsand, which offers Japanese-style sandwiches made with Shokupan—a Japanese milky bread, as well as organic fruits and handmade whipped cream. The al fresco omakase (a form of Japanese dining in which guests receive a seasonal meal that is planned by the chef) bar Sushi on Jones offers traditional 12-piece tastings. The chef often prepares rom uni, toro, botan shrimp, wagyu, and beyond. For a cool treat on a hot day, head to L'Arte del Gelato for artisanal gelato crafted in the Italian tradition. This fresh, all-natural product is made from quality ingredients and lacks artificial coloring. Flavors are updated monthly. 348 Bowery, thebowerymarket.com
Food Courts NYC: City Kitchen (Times Square)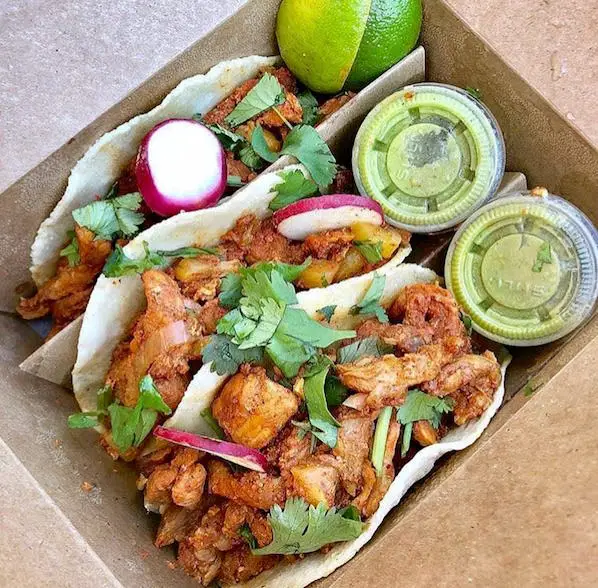 Try some delicious tacos at Gabriela's Tacqueria at City Kitchen.
City Kitchen brings a variety of cuisines to New York's bustling Times Square area. Right in the heart of New York, foodies can snap up everything from sushi at Azuki to lobster rolls at Luke's. There's also yummy tacos at Gabriela's Taqueria, delish Mediterranean fare at Box, and other enticing vendors. 700 Eighth Ave., citykitchen.rownyc.com
Food Courts NYC: DeKalb Market Hall (Downtown Brooklyn)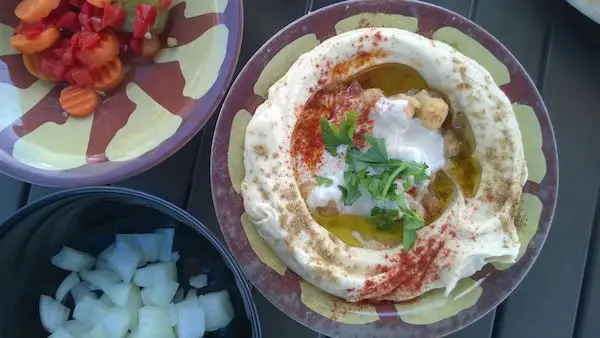 Downtown Brooklyn's innovative culinary destination DeKalb Market Hall has recently introduced two new additions to its bustling food hall. They are Thai and Chinese newcomer Thank You Come Again, and Brooklyn Hummus, which serves all-kosher falafel and hummus. Renowned for its classic soup dumplings and Thai and Chinese staples, Thank You Come Again's recipes were inspired by age-old family recipes. Brooklyn Hummus serves kosher Israeli cuisine with a focus on healthy Mediterranean ingredients. The food hall is housed in a 27,000-square-foot subterranean market, which is home to a collection of over 40 local and regional vendors thoughtfully curated with an emphasis on Brooklyn-based businesses that reflect the cultural and ethnic diversity of the borough. Vendors include Katz's Delicatessen; Daigo Hand Roll Bar; Hana Noodles; Two Tablespoons; Andrew's Hard Times Sundaes; Fletcher's BBQ, and more. The space also houses an artisanal cheese counter, on-site bakery, and counter wine service. 445 Albee Sq. W., Brooklyn, 929-359-6555, dekalbmarkethall.com
Food Courts NYC: North 3rd Street Market (Williamsburg)
Williamsburg recently unveiled the neighborhood's first indoor food hall and retail market, which is open year-round. Beyond the delish dish and drink offerings, it provides a space for the community to unite for sustenance, inspiration, and to reestablish human connectivity. Cuisines vary from Greenberg's Bagels to Champion Coffee, Baba's Pierogis and GoFish Sushi Box to Sausage Hero, Lobster Joint, Kalamaki, and more. 103 N. 3rdSt., Williamsburg, Brooklyn, north3rdstreetmarket.com 
Food Courts NYC: Turnstyle Underground Market Stall (Midtown West)
Try Boil Boil Ramen at Turnstyle Market.
This expansive food hall is celebrating its third anniversary. It spans a full city block and boasts 18 food vendors. Take a culinary journey and explore everything from craft coffee to fresh juices, artisanal pastries, and exotic Bolivian saltenas to pasta, ramen, Taiwanese or Russian dumplings, and more. Newcomers include Black Iron Burger and Lisa's Dumplings. Turnstyle welcomes hungry patrons for breakfast, lunch, dinner, mid-day snacks, caffeine-fixes, and beyond. Located underground beneath Eighth Ave. (btw. 57th and 58th Sts.), 646-768-9224, turn-style.com