New York may not be ideal for dogs even as it maintains its fame for towering skyscrapers, famous sites, shopping, and much more. In the eyes of many, it is the most attractive urban center in the country, but maybe not for canine companions—especially if you live in a cramped pad with no yard and limited space to play around! 
 Thankfully, New York City is home to some pet-friendly parks with fenced-in areas, and dog runs where your dog can exercise off-leash! There are over 50 dog parks throughout the five boroughs of New York where you and your dog can play and maybe make a few new friends.
 Here are our top picks for the best places to walk a dog in NYC:
Tompkins Square Park
Tompkins Square Park. Carol Vinzant/Flickr.
Tompkins Square Park, a 10.5-acre public park in the East Village, used to be a dangerous place where drug use and crimes were rampant. But in 1990, it was renovated to establish a safe place for dog owner gatherings. Today, the park features separate fenced-in areas for large and small dogs, dirt and gravel ground cover, swimming pools, and a boardwalk-style seating area. Poop bags, waste bins, and cleaning equipment are also available in the park.
Central Park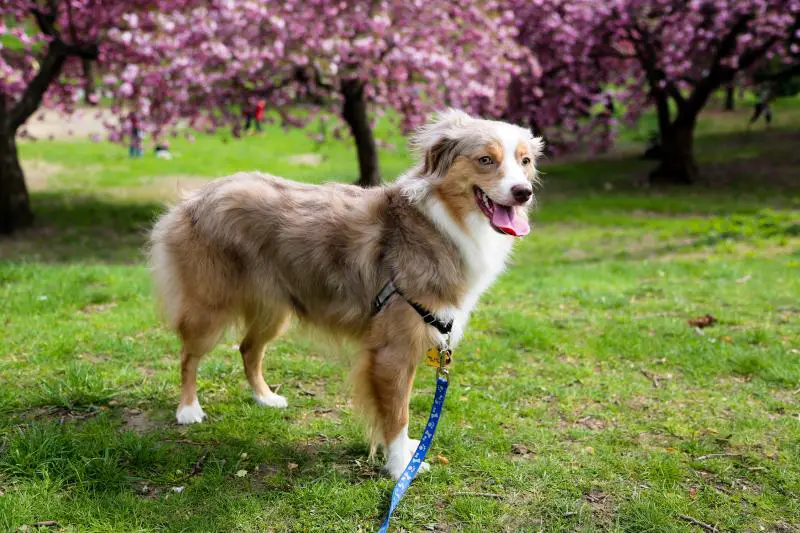 Central Park in spring. Y Nakanishi/Flickr.
Central Park is not only one of the most visited parks on the island of Manhattan, but it is also a dog haven for city-dwelling canines. 
The park has 23 dog-friendly sites and 21 dog fountains scattered throughout the park, though there are no enclosed dog runs. You can get a map of these areas from the Central Park Conservancy's website. 
While the park is dog-friendly, there are some rules every dog owner must follow: 
Off-leash hours
Off-leash hours are from 6am-9am and 9pm-1am. Dogs must remain on-leash from 9am to 9pm.


Dog leash areas:
Arthur Ross Pinetum

Bridle Path

Cedar Hill

Children's Glade

Conservatory Garden

East Green

Kerbs Boathouse Plaza

The North Woods and The Ravine

The Ramble

Shakespeare Garden

Strawberry Fields

Turtle Pond Law
Dogs are never allowed in:
 All ballfields and recreational courts

Great Lawn Oval

Playgrounds

Stephanie and Fred Shuman Running Track

Courts

All water bodies, streams, and ornamental fountains

Elm islands at the Mall

Sheep Meadow

Hallett Nature Sanctuary

Lilac Walk
Hillside Dog Park
This Brooklyn Heights park is in the DUMBO neighborhood (Down Under the Manhattan Bridge Overpass). Hillside Dog Park has two separate divisions, one for small dogs and one for large dogs. They have an open center and a hilly terrain covered in wood chips—a perfect area for dogs to romp around.
There are picnic tables and benches in the park, water fountains and dog bowls, shaded areas, kiddie pools, and dog pools for cooling down. Treat your dog to his much deserved-vacation at the Hillside Dog Park. It's perfect for hot days!
Bryant Park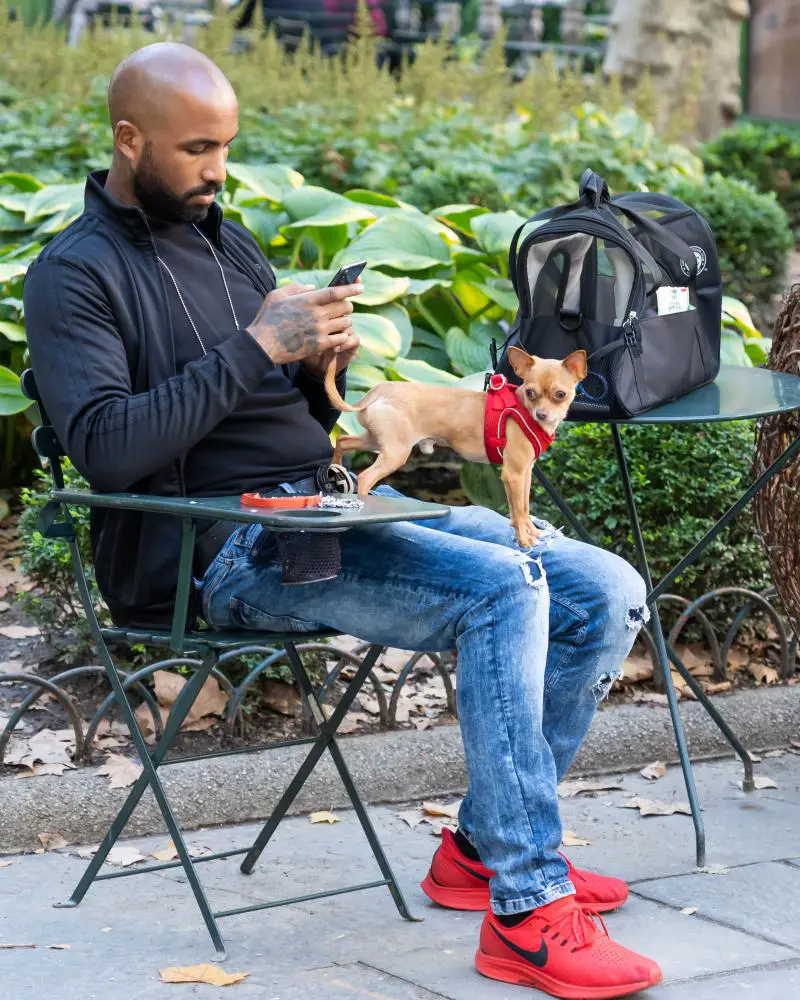 Style in Bryant Park. Doug Davey/Flickr. 
Bryant Park is known for its scenic nature—a lush lawn and flowers that change seasonally. The park is also known for its historical monuments and urban amenities. Bring your leashed pups to Bryant Park and enjoy the area around the lawn—the rules here are to stay off the grass with dogs and clean up after them.
Madison Square Park 
This pet-friendly park is located right in front of the Flatiron Building. It is a green haven in bustling downtown Manhattan. You are sure of your pet's safety in this park because they feature a double-entry gate to ensure that your dog can run free. The park is also complete with benches, waste bags, trash cans, and unlimited fresh water.
Walk your dog and grab a bite at the well-known Shake Shack before taking a lap around the park. You can also get your pup some delicious dog-friendly biscuits coated in peanut butter and vanilla custard!
Washington Square Park
This park is in the heart of Greenwich Village. It is part of a beautiful neighborhood, and it is a very popular choice among dog owners. Here, you will enjoy the beautiful view of the Washington Square Arch while you keep your dog in sight during some-leash fun! 
Like Madison Square, Washington Square Park's dog run areas are securely fenced and has a double-gated entry system that keeps the dogs from slipping out. Also, they have two dog areas. The first area is an enclosure for small dogs well equipped with a drinking fountain, shaded benches, and waste bins, and the second is a larger area that accommodates bigger dogs. It also has dog sprinklers, waste bags, trashcans, and garbage dispensers.
Union Square Park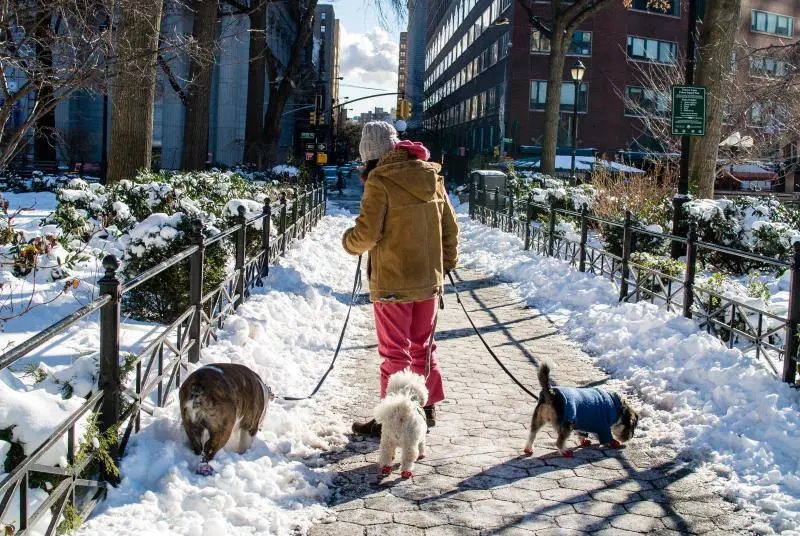 Three charges in the snow in Union Square. David Hale Smith/Flickr
Enjoy the outdoors with your dog at Union Square Park! This park is one of the most gorgeous and historic pet-friendly parks in NYC. Aside from the landmark monuments, the park has some great scenic spots. While your pup is playing around, enjoy the beautiful trees and bushes, like the Mulberry trees, new lilac bushes, and rose bushes sprucing up the park's perimeter.
Union Square Park is complete with dog bags and benches for dogs and humans. They also have a public restroom. Unfortunately, dogs are not allowed in that area. Finally, you can grab a bite or shop at a pet-friendly market—the Union Square Greenmarket. They are open every Monday, Wednesday, Friday, and Saturday! 
Like other New York City parks, Union Park Square requires dogs to be on a leash at all times, except in dog runs and designated off-leash areas at prescribed times, and you must pick up after your pet and dispose of the waste in trash cans provided in the park.
---
Whichever park you visit, remember to research the pet rules of each park to maintain a harmonic relationship with your fellow dog owners and park staff.