New York stages are on fire with celebrity sizzle and red-hot productions. Tina: The Tina Turner Musical, for example, is a masterclass in how to move the thermostat from zero to torrid in a single number. Come from Away, on the other hand, personifies "heartwarming" through its characters, songs, and message of hope. And Hadestown…well, the title speaks for itself. Welcome to Broadway, the ultimate theatrical hot spot!
Who's New on Broadway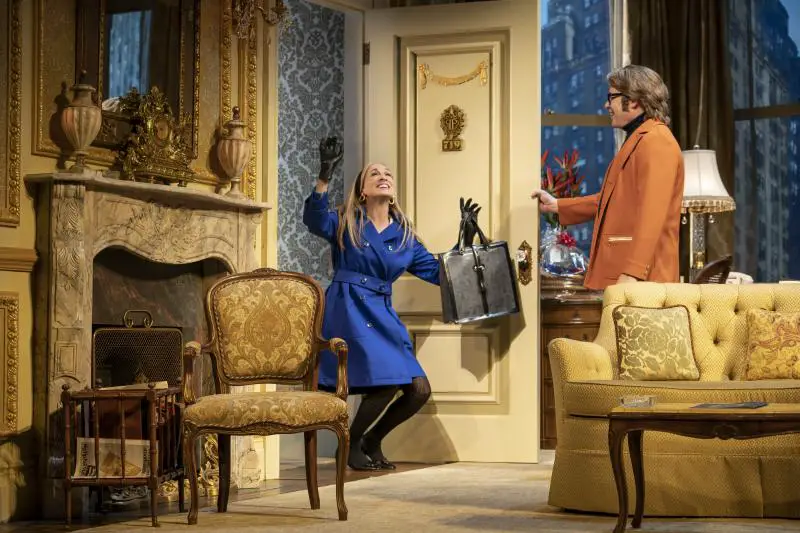 Photo by Joan Marcus.
Two stars joining Broadway's growing VIP list are Tony winner Matthew Broderick and Emmy winner Sarah Jessica Parker (above), in previews for Neil Simon's triptych comedy Plaza Suite from February 25th at the Hudson Theatre. Parker, who's been front and HBO center with Sex and the City sequel And Just Like That…, and Broderick, whose outstanding stage and screen career includes Ferris Bueller's Day Off, The Producers, and his recent London stint in The Starry Messenger, share a (nearly) 30 years of marriage, suggesting their onstage chemistry playing three different couples is a major Broadway event.


Other notable newcomers rocketing into the season's spotlight include Billy Crystal in Mr. Saturday Night (previews from 3/1); Patrick J. Adams (Suits); Jesse Tyler Ferguson (Modern Family) in Take Me Out (from 3/10); Noah Reid (Schitt's Creek) and Tony winners Blair Brown, Jesse Mueller, and playwright Tracy Letts, in The Minutes (from 4/2); Emmy winner Debra Messing (Will & Grace) in Birthday Candles (from 3/18); and the triple threat combo of Laurence Fishburne, Sam Rockwell and Glee alum Darren Criss in David Mamet's American Buffalo (from 3/22).
Up and running Tony winners Hugh Jackman and Sutton Foster (Music Man), Phylicia Rashad (Skeleton Crew), and Patti LuPone and Katrina Lenk (Company) are still bringing down the house during their respective curtain calls.
Show Spotting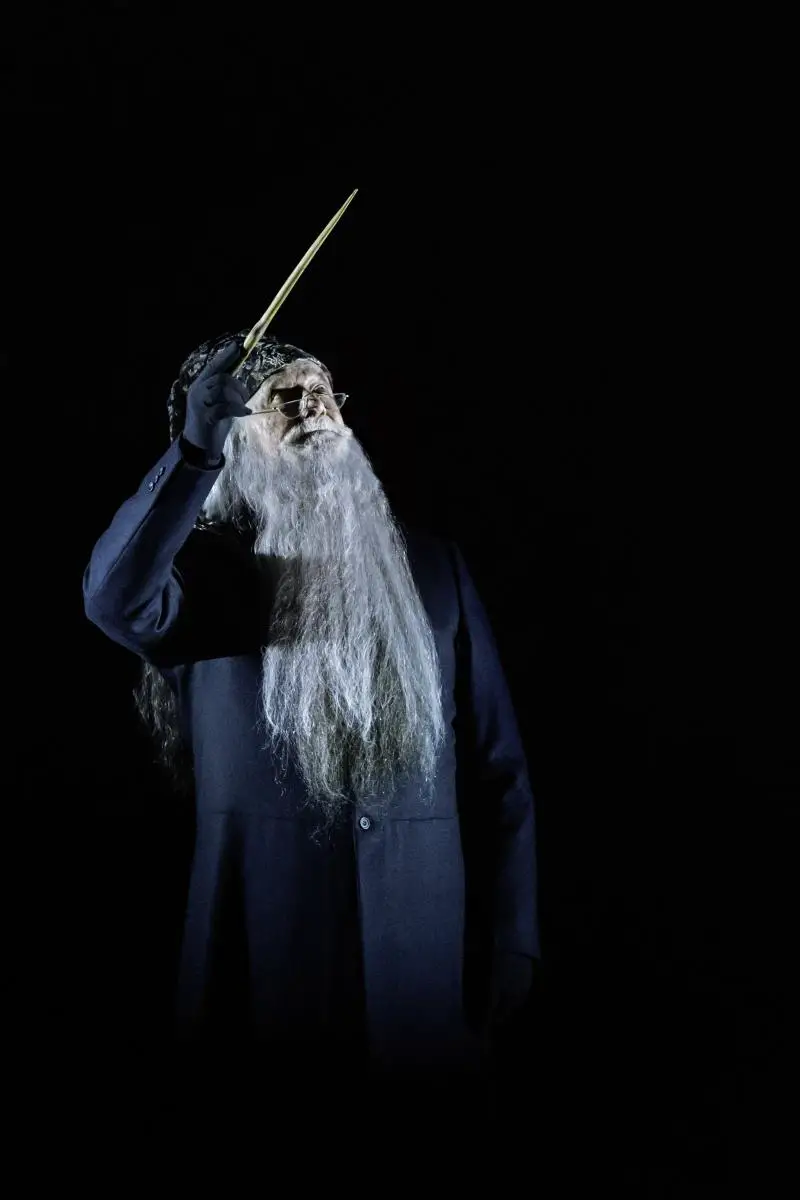 Photo by Manuel Harlan.
In case you haven't heard, the mind-blowing incantations, illusions, and otherworldly phenomena of Harry Potter and the Cursed Child—formerly a two production/two ticket event—have been condensed into a single 3½ hour experience that flies by sans broomsticks or spells. Having seen the long version, I can assure adult muggles and young wizards and witches that the condensed incarnation is equal to the original in all things story-and-magic-related. Also, I've been assured by someone who has yet to venture into the HP universe (unforgivable, I know), that the show does not in any way confuse or bore, his exact words being: "I thought their storytelling was amazing and I understood…and loved everything about it." Mischief managed.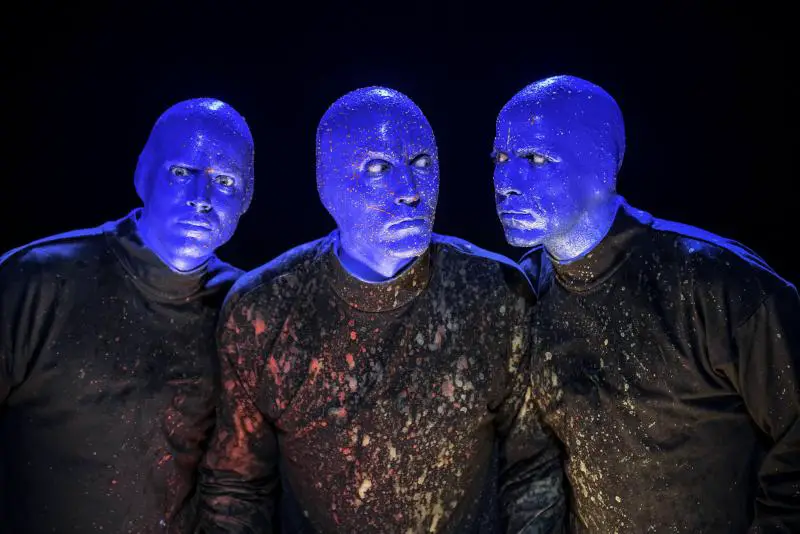 A quick heads up to techno-geeks, Twinkie-fanatics, fans of sci-fi, splash & splatter, blue, and intergenerational Off-Broadway lunacy: Blue Man Group is running hilariously amok at downtown's Astor Place Theatre. If you haven't, do…If you have, re-up: you won't be sorry! 
Breaking Ground on the Casting Front on Broadway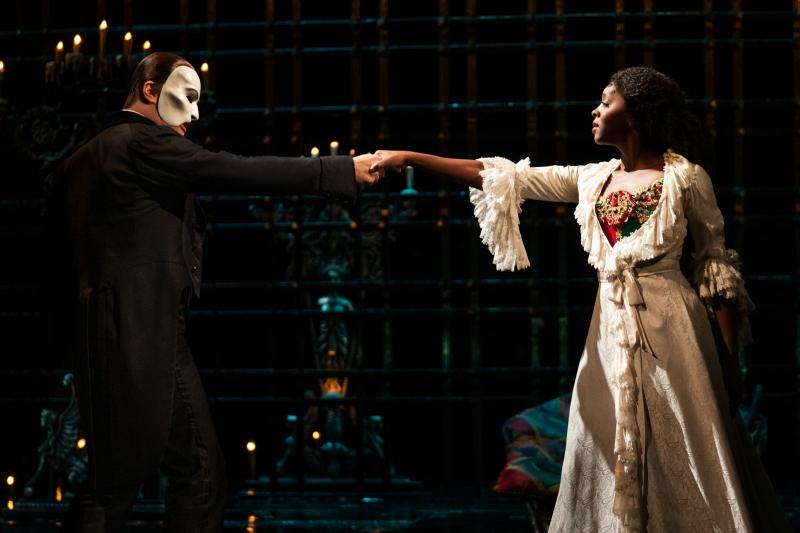 Photo by Matthew Murphy.
The Phantom of the Opera, Andrew Lloyd Webber's blockbuster that has been spellbinding audiences longer than any other show in the history of Broadway, recently welcomed Emilie Kouatchou as Christine Daaé, the beautiful soprano adored and obsessed over by the Phantom (Ben Crawford), above. Having made her Broadway debut playing Christine at certain performances, Kouatchou is the first Black actress to take on the iconic role at the Majestic Theatre as a cast principal.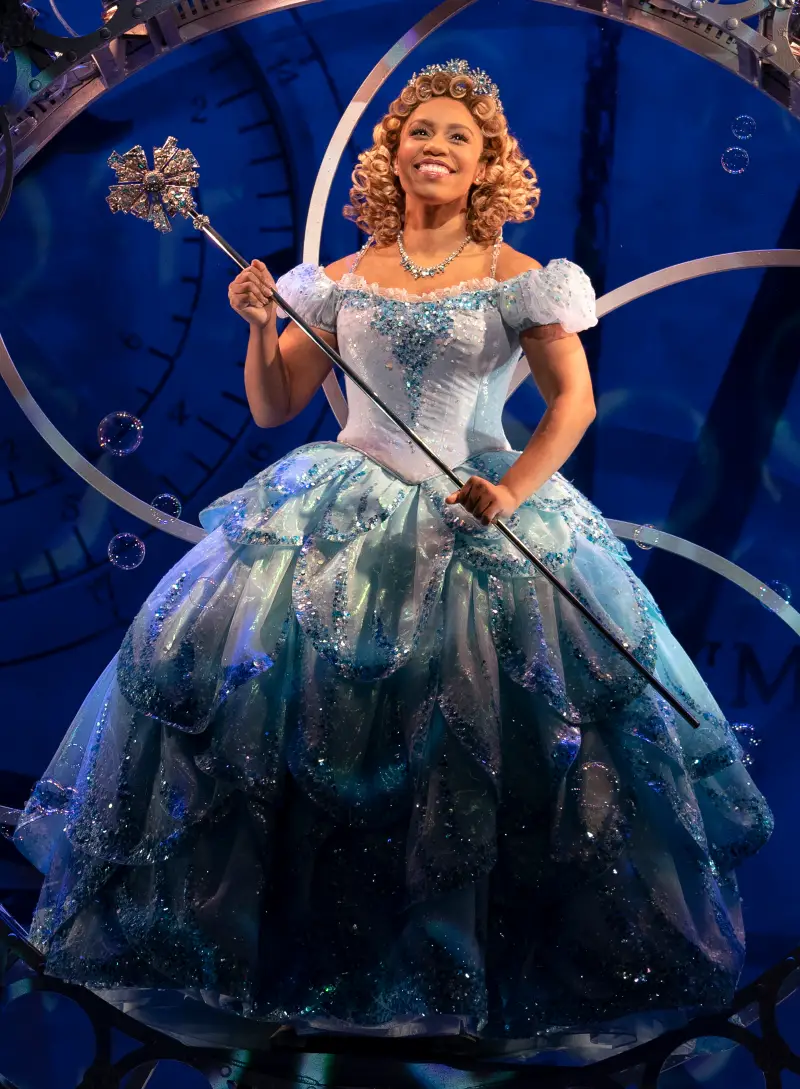 Photo by Joan Marcus.
Meanwhile, on the outskirts of Oz (i.e., just off West 51st Street), Wicked is flexing its own long-running muscle. Approaching its 19th birthday—and still one of the most coveted tickets in town—Brittney Johnson, formerly the production's Glinda standby, has assumed the character's sparkling crown and scepter full time, making her the first Black actress to do so. Before becoming the most "Popular" witch at Shiz University, Johnson appeared on Broadway in five other productions: Les Misérables, Motown, Sunset Boulevard, Beautiful: The Carole King Musical, and Kristin Chenoweth: For the Girls.
Worth noting: Jordan Barrow recently joined the company of Wicked as the first Black actor to play Boq on the Broadway stage.