Original, dynamic, and wildly anticipated, fall 2018 is unleashing its arsenal of new NYC theatre productions backed by some of the biggest names in showbiz. In fact, taking into account Broadway and Off-Broadway's already proven super shows, this is an autumn so theatrically eclectic that no matter what you crave—from pop-saturated musicals to thought-provoking dramas—it's yours for the taking in New York.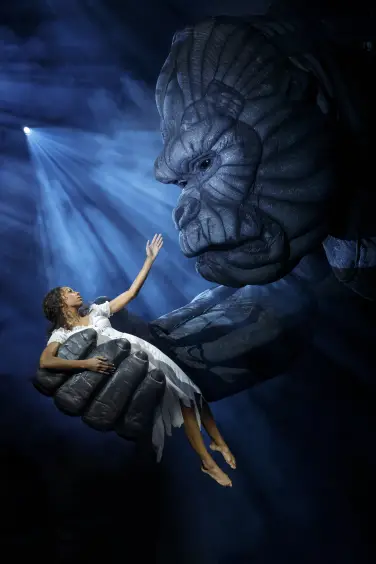 Christiani Pitts faces off with a New York legend in King Kong. Photo by Joan Marcus.
Let's start with the giant ape in the room. King Kong has risen from myriad cinematic ashes to be reborn on Broadway. Once the much-deserved hoopla surrounding his humongous presence clears, the final bows will go to the team that created the technological wonder from a "mix of robotics puppetry and stagecraft." Kong's costar is Christiani Pitts in a career-defining turn as Ann Darrow. As for the script, credit goes to Jack Thorne, already represented on Broadway with hit British import Harry Potter and the Cursed Child. The score is by Marius de Vries (La La Land; Moulin Rouge) with songs by Eddie Perfect who, come March, will have a second musical—Beetlejuice—on the Great White Way.
Photo by Joan Marcus.

Cher, so mega a personality she literally laughs in the face of passing decades and last names, is as familiar to Millennials as she is to Boomers. It was only a matter of time—and jukebox musical fervor—that her luminous career would take flight on Broadway. The Cher Show, arriving in previews on November 1st (official opening night is December 3rd, I strongly recommend ordering tickets now), like Summer: The Donna Summer Musical, features three actresses representing different periods "in the life of." The Cher triptych is comprised of Tony nominee Stephanie J. Block (Falsettos; The Mystery of Edwin Drood), Teal Wicks (Wicked; Finding Neverland), and Micaela Diamond in her Broadway debut. The show also boasts three other Tony nominees: Jarrod Spector as Sonny Bono, Michael Berresse as Bob Mackie, and Emily Skinner as Georgia Holt.
Will Oscar-winner/musical force of nature Cher herself be hitting The Cher Show on opening night—or maybe even during a preview or two? She's Cher…you do the math.
November 1st also marks the first preview of To Kill a Mockingbird, by Aaron Sorkin, based on Harper Lee's iconic novel. The much-anticipated new play stars Primetime Emmy winner Jeff Daniels (The Newsroom) as Atticus Finch, Tony nominee Celia Keenan-Bolger as his daughter Scout and Gbenga Akinnagbe (The Wire) as Tom Robinson. High hopes that this coming together of talents, including Tony winner Bartlett Sher in the director's seat, will pay off brilliantly!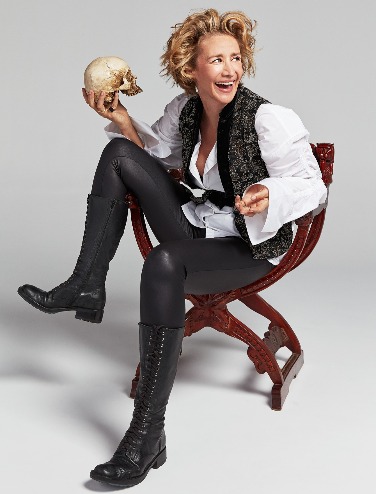 Janet McTeer takes on two icons in Bernhardt/Hamlet. Photo by Jake Chessum.
As for noteworthy talent, a shout out to anyone who has yet to see Tony- and Olivier Award-winning actress Janet McTeer onstage: playwright Theresa Rebeck's Bernhardt/Hamlet may well prove the perfect opportunity to check out McTeer's critically acclaimed versatility in a role that links fierce comedy and human drama. Sure, our generation will never get to see Sarah Bernhardt live (although there's a nifty short film segment of her sword fighting in Hamlet on YouTube), but we have McTeer, and that's saying something. Joining her are Tony nominee Dylan Baker (La Bête), Jason Butler Harner (Ozark; Scandal; Homeland), working alongside several other outstanding Broadway veterans.
Off-Broadway, the spotlight is shining on some intriguing new works, including GLORIA: A Life, a look into the story behind groundbreaking feminist Gloria Steinem The play is currently up and running, with Ms. Steinem described by Tony-winning producer Daryl Roth as having "…broken down barriers for women around the world across five decades of activism." Written by Tony nominee Emily Mann (Having Our Say), directed by Tony winner Diane Paulus (Waitress;  Pippin), and featuring an all-female creative team and cast, the show stars Oscar, Emmy and Golden Globe winner Christine Lahti in the title role.
A new Tom Stoppard play, The Hard Problem, is also on the docket, kicking off previews October 25th at Lincoln Center's Mitzi E. Newhouse Theatre. Starring Rectify actress Adelaide Clemens, Nina Grollman (The Iceman Cometh), Eshan Bay (The Intern; House of Cards; Elementary), and Tara Summers (Mercy Street; Stalker; Boston Legal), among others, the play tackles science versus faith in, one can only assume, deliciously escalating Stoppardian fashion.
One final Off-Broadway note: Christopher Lloyd—an actor of outrageous abilities and a mantelpiece full of Emmy Awards to back them up—can be found at The Lion Theatre on Theatre Row embodying literary great Ezra Pound in the drama Pound. Lloyd, most recognized for his work on the sitcom Taxi as well as the three Back to the Future films, takes on the 73-year-old poet's final days at St. Elizabeth's Psychiatric Hospital, where a young psychiatrist reaches out to him, despite his being labeled "incurable." Pound's limited run ends on October 28th.
---
Fringe NYC...It's Back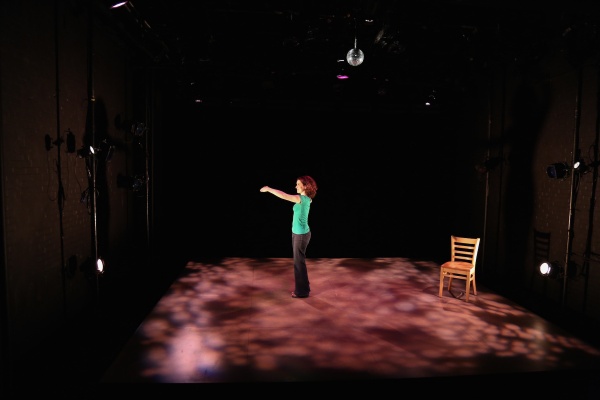 Do This One Thing for Me, Michael Priest Photography.
After taking a year off, this mammoth annual fringe-a-thon is back, all bright, shiny, new,  and better than anyone could have imagined. It arrives with a variety of manifestations, all of which can be found on the FringeNYC website. As for now, I'll just shoot you some of the basics...and hope you pick up on just how remarkable this gloriously NYC-centric festival has become.
BACKGROUND. In 1997, New York City became the seventh U.S. city to host a fringe festival. Since then, FringeNYC has presented over 3,000 performing groups representing every continent, prompting accolades like recognition as "the premiere meeting ground for alternative artists."
HIGHLIGHTS. FringeNYC was the launching pad for the long-running Broadway musical Urinetown. Its list of acting alumni includes Bradley Cooper, Mindy Kaling, Melissa Rauch (The Big Bang Theory), Morgan Spurlock (Supersize Me) and Michael Urie (Harvey Fierstein's Torch Song).
TICKETS AND PERFORMANCE INFO. Single performance tickets can only be purchased online at fringenyc.org/buying_tickets. Choose from all kinds of amazing categories, spanning: Music/Opera, Dance, Improv/Sketch/Stand-Up, Drama, Comedy, Solo Shows, Multi-Media, and Performance Art. There is no late seating at FringeNYC, and no venue admission without an Audience Ambassador (the escort you meet at the FringeHUB, 685 Washington St. at Charles St. in the West Village). Look for the flag that corresponds with your ticket and line up at least 15 minutes prior to your performance so you don't miss your group. All the details, including a full list of performances, dates, and times, can be found at fringenyc.org. Shows started October 1st and run through the 31st.