It's always fun watching chefs make delicious cuisine on TV—until you get hungry. Come to New York, and taste the actual dishes that make chefs into celebrities. Whether you're looking to try Top Chef cooking in real life or sample Michelin-starred cuisine at Gramercy Tavern, you can find some of the best food in the city from some of the brightest names in the culinary world at these celebrity chef-run restaurants. 
Marc Forgione's American Cut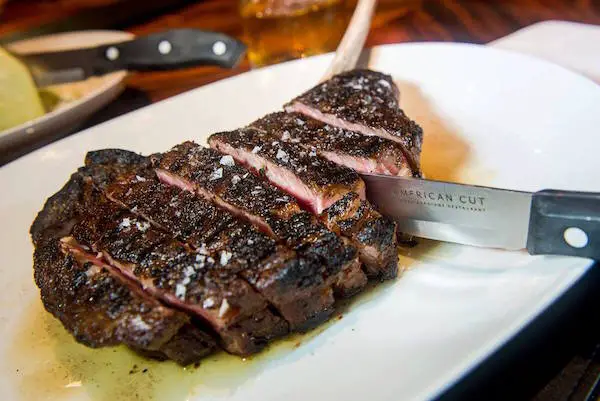 Iron Chef Marc Forgione has his celebrated eponymous restaurant in town as well as his own steakhouse: American Cut. Located in Tribeca, American Cut brings all the luxury you'd expect from a steakhouse with subtle yet inspired updates from the Michelin-starred chef. Forgione's signature Chili Lobster makes a welcome appearance on the appetizer menu, and raw seafood can be ordered as a crudo or a tower. All steaks, from filet mignon to Wagyu, can be customized with flourishes like a tableside flambé and bone marrow toppings. Don't miss one of the bar's martini recipes, like the Lady Lynd made with local gin. 363 Greenwich St., 212-226-4736, americancutsteakhouse.com/tribeca
Christina Tosi's Milk Bar
Milk Bar is the smash-hit dessert offshoot of the Momofuku empire. Christina Tosi sits at the helm and has been featured in an episode of Chef's Table, describing her playful approach to making expert desserts. Her signature recipes are the buttery Crack Pie and Cereal Milk ice cream, which can be made into a shake with cereal mix-ins at stores. In addition to the original East Village location listed below, Milk Bar can be found at seven other locations in Manhattan and Brooklyn. 251 E. 13th St., 347-577-9504, milkbarstore.com


Marcus Samuelsson's Red Rooster

If you're in the mood for a more casual sample of celeb-chef mastery, head to Red Rooster. A fixture of Harlem's booming restaurant scene, this comfort food kitchen makes some of the best fried chicken, cornbread, and mac 'n cheese (or, in this case, Mac 'n Greens) around. Chef Marcus Samuelsson has enjoyed an illustrious career, from preparing the Obama Administration's first state dinner to winning Top Chef Masters. Stick around Red Rooster for the speakeasy at Ginny's Supper Club, serving the same great food, cocktails, and live jazz on the floor below the main dining level. 310 Lenox Ave., 212-792-9001, redroosterharlem.com
Jean-Georges Vongerichten's ABC Cocina
Jean-Georges Vongerichten's name can be found across a wide spectrum of New York fine dining. His namesake restaurant is a given for Michelin-starred tasting menus served at white tablecloths with impeccable service, but we'll also highlight one of the chef's three (!) restaurants inside home goods store ABC Carpet. ABC Cocina, located in the Flatiron, serves thoughtful Latin cuisine that never disappoints. From the Diablo Margarita to the patatas bravas to the BBQ pork tacos, the seasonal menu hits all the right notes. 38 E. 19th St., 212-475-5829, abchome.com/dine/abc-cocina/
David Burke Tavern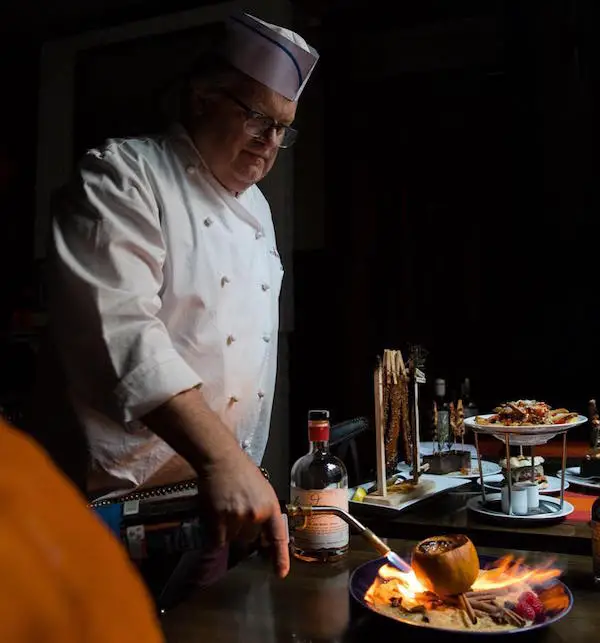 Celebrity chef and restaurateur David Burke (David Burke Kitchen, Top Chef Masters) brings his signature pink Himalayan salt not only to the food but also the interior design of David Burke Tavern. This seasonal eatery on the Upper East Side occupies a lovely brownstone where one dining room is lined with pink salt bricks on the walls. Burke's Clothesline Bacon appetizer also makes an appearance on the menu, plus other perfectly executed proteins like Wagyu short ribs with salsa verde and roasted branzino with artichoke puree. 135 E. 62nd St., 212-988-9021, davidburketavern.com
David Chang's Momofuku Noodle Bar
You might have seen David Chang's Netflix series Ugly Delicious or tried a dish from his best-selling Momofuku cookbook. In New York you have plenty of chances to sample food direct from Chang's kitchen, whether fast-casual fried chicken at Fuku or a meal at one of his many Momofuku restaurants (with other locations worldwide). If you haven't had the pleasure, visit the noodle shop that started it all: Momofuku Noodle Bar in the East Village. You'll find a huge bowl of ramen waiting for you, if you so choose, or other noodles like the chilled spicy noodles made Sichuan-style. Buns, oxtail, chicken wings, Soju Slushie—it's all hits on this ever-rotating Asian fusion menu, reopened as of July 2022. Additional location at Columbus Circle. East Village: 171 First Ave., 212-777-7773; Columbus Circle: 10 Columbus Cir.; momofukunoodlebar.com
Danny Meyer's Gramercy Tavern
Danny Meyer numbers among the city's most successful and prolific restaurateurs. He made his name with Union Square Cafe and expanded to efforts like Blue Smoke, Maialino, The Modern, and even Shake Shack. Meyer's Michelin-starred Gramercy Tavern, founded in 1994, boasts an unfussy and consistently excellent fine-dining experience that's a classic for good reason. Enjoy Chef Michael Anthony's seasonal cuisine either in the semi-casual tavern room (with a perennial and very good burger on the menu) or the more formal dining room beyond. 42 E. 20th St., 212-477-0777, gramercytavern.com
Top Chef Winner Buddha Lo at HŪSO​
Indulge in a caviar flight or the chef's signature roe-topped king crab merus roll, a.k.a. the HŪSO dog. 
Madison Avenue's best-kept secret is the "caviar speakeasy" HŪSO. Enter through the storefront of Marky's Caviar, which offers citywide delivery of its retail stock like purebred Beluga—one of the most prized varieties of caviar (known to aficionados as "huso huso"). Through a curtain behind the retail shop and you'll find a "farm-to-spoon" caviar speakeasy, helmed by fine-dining veteran Buddha Lo, the winner of Season 19 of Top Chef. Right now you can experience dishes created on the show as the caviar "speakeasy" is offering an 8-course tasting menu highlighting Lo's best moments. The menu includes "Everything but the Bagel," a deconstructed everything bagel Padma Lakshmi lauded as the best dessert she'd ever had on the show, as well as Lo's Parker House rolls, called the best bread in Top Chef history. 1067 Madison Ave., 212-288-0850, markyscaviar.com/dining
Tom Colicchio's Craft
Image courtesy of craftedhospitality.com.
Speaking of Top Chef, co-host Tom Colicchio hails from the local area and serves the city at three restaurants. Vallata is Colicchio's first Italian restaurant and Temple Court offers a sumptuous experience downtown, but for the celebrity's original you'll want to visit his flagship in the Flatiron. Craft has been around since 2001 and still turns out excellent version of the chef's "What's Local Is Best" cooking. Look for dinner menus laden with wild fish, fresh oysters, artisanal meats, and sophisticated pastas. 43 E. 19th St., 212-780-0880, craftrestaurant.com
Sushi Nakazawa
More of a stealth pick than other TV-friendly chefs is Daisuke Nakazawa, who appeared in the 2011 documentary Jiro Dreams of Sushi. Nakazawa apprenticed under the world's foremost sushi chef, Sukiyabashi Jiro, at his renowned Tokyo restaurant before striking out on his own with Sushi Nakazawa in the West Village. Like most omakase, the daily tasting menu is expensive and heavenly, made with only the freshest ingredients and visible behind an open bar where you can watch the magic happen. 23 Commerce St., 212-924-2212, sushinakazawa.com
Eric Ripert's Le Bernardin

Le Bernardin holds three stars from the Michelin Guide, and Chef Eric Ripert runs the kitchen with one simple rule in mind: "fish is the star of the plate." When you're up for a splurge, on any given night you'll find the world's finest takes on sea trout, tuna, fluke, Spanish mackerel, Dover sole, red snapper, and many more. The Equitable Bldg., 155 W. 51st St., 212-554-1515, le-bernardin.com
Read Next | Havana Heat: 7 Great Cuban Restaurants in NYC