The situation for city tourism is changing in a New York minute. The latest guidance from the Governor gives us extended bar and restaurant curfews, zoo and museum capacity expanded to 50%, and movie theaters up to 33%. Sports and large event capacity moves to 25% as of May 19th. The city's COVID rate is the lowest its been in almost five months. In addition, there are plenty of green shoots on the reopening front, especially for culture:
On the national recovery front, restaurant sales spiked last month to return to 2019 levels. The most recent retail sales report suggests the U.S. will see its fastest growth since 1984. Since the first of the year, Google searches for hotels are up 92%. With each passing day, recovery draws closer.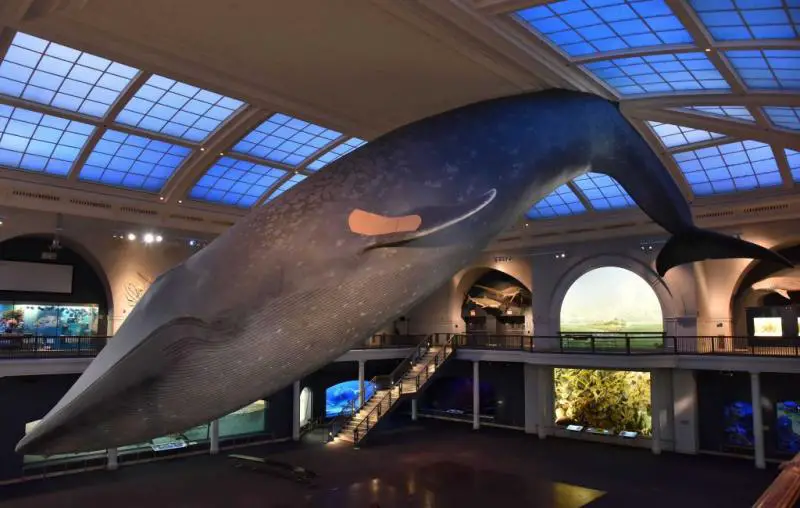 New COVID-19 vaccine site coming to the American Museum of Natural History on Friday (note the whale's bandaid). Photo: D. Finnin, courtesy American Museum of Natural History.
Links of Interest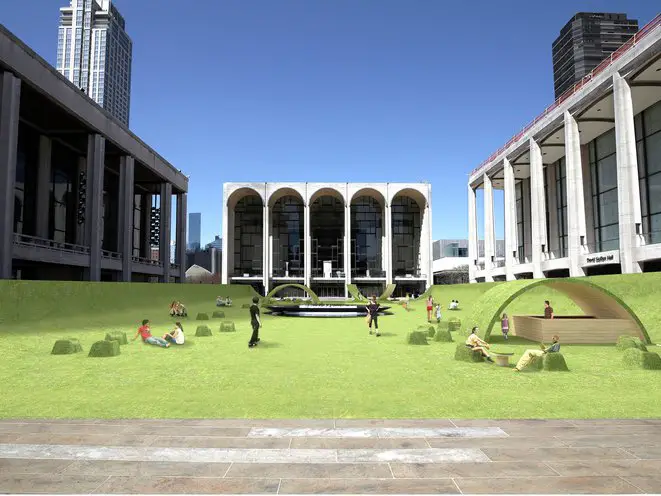 Lincoln Center's Josie Robertson Plaza to go green: installation "The GREEN" by Mimi Lien opening May 10th; rendering by Timothy Leung.
NYC
What was once Aureole New York at One Bryant Park is now Charlie Palmer Steak NYC.
Birkenstock opens third U.S. brick and mortar, in Williamsburg, Brooklyn.
The spring NYC restaurant openings to know.
City tourism industry shows first signs of revival.
Midtown has been empty but other retail zones have bounced back.
NYC developers move ahead with big budget plans to reshape city.
How the pandemic has changed NYC restaurants forever.
Why now is the time to move to NYC.
What will happen to all the empty offices and hotels?
"To-go" booze policy extended through May 6th.
HOTELS
The Great NYC Hotel Reawakening Is On.
Hyatt Place New York Chelsea to open with 510 rooms this August.
Post of the Week: Everything to Do NYC Facebook Group
Another barometer of the returning city is the increase in interest in City Guide's Facebook Group Everything to Do NYC. Members talk about the city and share recommendations—we're adding one-thousand new members every week to take us to the cusp of 20,000 city superfans. This is a community, helping locals and tourists looking to get the most out of NYC. This recent post has 145 comments on it:
Favorite places for sweets in NYC! I'm talking, ice cream, donuts, cookies etc 
Answers included Rocco's Pastry Shop, La Maison du Chocolate, Levain Bakery UES, Sugar Hill Creamery in Harlem, Farmacy in Brooklyn, Martha's Bakery, Rice to Riches, Magnolia Bakery, Eileen's Cheesecake, Roni-Sue's Chocolates, Fay Da Bakery, Schmackary's, Economy Candy, Lady M, Odd Fellows, Milk Bar, Mia's on Smith Street, Black Tap Craft Burgers, Surreal Creamery, Gayle's Broadway Rose, Little Pie Company, Junior's, Veniero's, Doughnut Plant, Breads Bakery, Ladurée Soho, Taiyaki, and UncleTetsu. What did they miss? Respond here, or just pay a visit to the group for insight into what locals and visitors are thinking.
New Weekly Video Series Behind The Experience
What's it like to run a New York City steakhouse? Behind The Experience gets the dish from Benjamin Steakhouse, including the celebrity regulars, the right way to order a steak, and what a big spender's tab looks like. Come with us as we work up an appetite at one of the city's premiere places for steak. Benjamin joins our recent visits to SPYSCAPE, the Museum of the City of New York, and Madame Tussauds. CHECK IT OUT—it's fun! If you'd like to share secrets and connect with our thousands of followers, please reach out.
Families Are Traveling This Summer—Do You Want to Reach Them?
You're open for business. Now tell parents. The Family Fun Book Digital Guide, new from Davler Media, is a one-step editorial shop. The guide is filled with insider information on everything from the latest must-go local family destinations and hidden gems to expert tips and tricks on how to make the most of summer. Produced four times per year, this seasonal digital guide will reach ONE MILLION New York area parents. A multi-platform program includes an e-magazine, digital web directories, theme email campaigns, and Facebook and Instagram promotions. Advertising opportunities include digital magazine ads, profiles, directory articles, email blasts, custom sweepstakes, native content, and social media posts and stories.
Davler Media has the families—let us help you reach them.