While New York City is a popular destination year round, there's no better time than the fall to visit the Big Apple. In addition to ushering in the foliage and crisp air, autumn breathes new life into the city after a long hot summer. People are out and about and events calendars are jam-packed at many top attractions. And there's no better way to see it all than by bus! Here are 5 reasons you should take a CitySightseeing 72-Hour All Around Town Tour before the autumn season ends.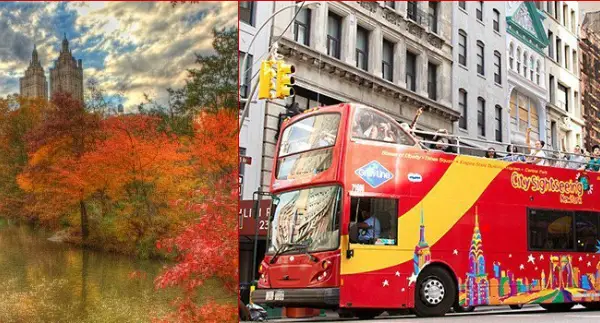 1.   Perfect Weather for Sightseeing
CitySightseeing double decker bus tours offer open-air seating on the top deck, so passengers have unobstructed views of the city. During the fall—when the weather is not too hot and not too cold—the experience is all the more enjoyable. So grab your pumpkin spice latte or apple cider and hop on board!
2.   Easy Transportation During a Busy Season
You're not the only one who wants to see New York in fall. As you might imagine, making your way through NYC crowds—whether by car, foot, or rail—can be a hassle. A bus tour eliminates this issue all together. Skip expensive taxi fares and don't stress about trying to navigate the subway. Just sit back and enjoy the ride from your comfortable top-deck seat. The 72-hour All Around Town Tour has 5 great tour loops and dozens of stops with unlimited hop-on hop-off access. Just hop off at the attractions that interest you and catch the next bus when you're ready to move on.
3.   Expert Tour Guides & Top Attractions
Get ready to see the most popular sights in Manhattan, Brooklyn, and the Bronx. An expert CitySightseeing tour guide provides narration, so you'll also get the inside scoop on NYC's rich history and culture. You'll have the opportunity to see landmarks ranging from the Empire State Building and the Brooklyn Bridge to Yankee Stadium and Central Park. Bring your camera, because photo ops are plentiful!
4.   Plenty of Long Weekends to See It All
Labor Day may be behind us, but there are still several 3-day weekends left this fall! Take advantage of a three-day stretch like Columbus Day to use the 72-hour bus pass, getting the best bang for your buck. Plus, there's no shortage of things to do and see in the city, so you'll want an extra day to do it all.
5.   Bonus Tours and Discounts Included
CitySightseeing's All Around Town Tour features cool, free extras that allow you to customize your NYC adventure and do even more—without paying any more for your pass. You can take an exclusive Night Tour to see the city lights, cruise on the New York Harbor to see the Statue of Liberty up close, and visit one of New York's oldest history museums. Plus, the included Eat and Play Discount Card features added markdowns on dining and entertainment options throughout the city.
Visit citysightseeingnewyork.com for more information on bus tours and more in New York City.