As we move into the post-summer season we continue to see a busy city, with increasing numbers of tourists and workers joining the locals. The data supports recovery: U.S. air travel exceeded 2019 levels for the first time over Labor Day weekend. United Airlines reports its "summer's blistering pace" is continuing for the fall. Closer to home, MTA commuter rails hit pandemic-era peaks last week and the dropping of mask mandates will only hasten the return to normalcy. (Last week saw subway ridership up 35% over the numbers of a year ago.) NYC's Labor Day weekend hotel numbers were among the best in the nation, with Saturday seeing 94.7% occupancy. The U.S. Open set records for ticket and hospitality sales. Nationally there's more positive news:
Empire State Building's tower lights shining in purple and sparkling in silver to honor the life and legacy of Her Majesty, Queen Elizabeth II.
LINKS OF INTEREST
NYC
BEYOND NYC
Recession fears lowering expectations for "bleisure" travel
New York State tourism improved by 53.4% statewide in 2021, Orange County was ahead of the curve with 63.4% growth
THANKS TO RISENY!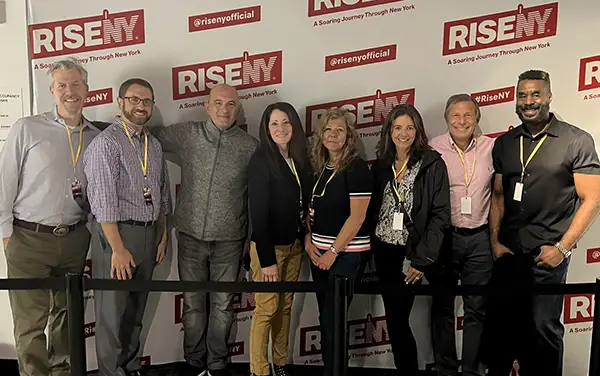 Davler thanks RiseNY for a great team visit last week. We're city experts but we still learned a lot and had an exhilarating ride (especially for those of us who with our eyes open). If you haven't been yet, RiseNY is a fantastic destination for getting inspired about NYC and its history. Thanks to RiseNY staff and Katie Forte!