A perfect cultural institution for a photography-obsessed era, Fotografiska is coming to New York City. The Stockholm photography center will soon unveil its exciting new venture in the Flatiron District, set to open this October. Whether you enjoy photography exhibitions or simply want to try a new activity, making your way to this exhibition space is well worth the journey.
Fotografiska New York, a landmarked building, will feature three floors of gallery space, a retail store, and public programs at its opening. The galleries will contain a rotating slate of exhibitions on new and established photographers. These exhibitions will explore how "great photography communicates across borders, boundaries and languages," as Jan Broman, co-founder of Fotografiska, said in a press release. The multiple floors of exhibitions space are certain to impress visitors from all backgrounds.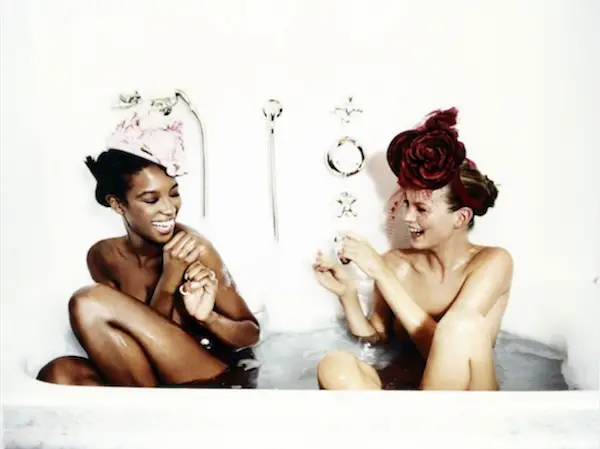 Devotion! 30 Years of Photographing Women by Ellen von Unwerth, exhibit will be coming to Fotografiska New York. Bathtub, Naomi Campbell and Kate Moss (for Vogue US), 1996 Photo by Ellen von Unwerth
The inaugural exhibition schedule at Fotografiska New York will feature the photographers Ellen von Unwerth, Tawny Chatmon, Helene Schmitz, and Adi Nes in the event spaces. Also look forward to Anastasia Taylor-Lind in the location's first Fotografiska for Life exhibition, presented in part by TIME. Fotografiska for Life, the non-profit arm of the organization, commissions professional photographers to document important global issues and the people they affect in order to spark discussion and inspire change. 
Painted portrait Castles by Tawny Chatmon.
Also on site at Fotografiska New York will be a new dining destination. Chef Paul Svensson, head chef of the restaurant at Fotografiska Stockholm, will consult, imparting the signature "Sustainable Pleasure" concept to the New York kitchen. There will also be a speakeasy lounge adjoining the restaurant. The interiors of the restaurant and lounge are designed by Roman and Williams. 
The new Fotografiska is located at the former Church Missions House, an 1890s structure at 281 Park Avenue South. This beautiful antique building, a registered landmark, has been preserved and renovated by New York firm CentraRuddy to serve as Fotografiska's new home. Its first floor will be dedicated to the new Fotografiska New York store, where visitors can buy photography books, posters, and more. The restaurant will be located on the second floor, and gallery spaces will occupy floors three, four, and five. 
This NYC location is a significant step in global expansion for Fotografiska, which also has outposts in London and Tallinn, Estonia. The original location in Stockholm opened in 2010 and has hosted over 170 exhibitions since then. Fotografiska Stockholm has shown work by photographers like David LaChapelle, Annie Leibovitz, Martin Schoeller, Albert Watson, Ren Hang, and Cooper & Gorfer. The founders, brothers Jan and Per Broman, wish to share the power of photography with the world and have established this new location with the help of General Partner Geoffrey Newman. Amanda Hajjar will be the Director of Exhibitions at Fotografiska New York. 
---
Fotografiska New York will open October 2019 at 281 Park Avenue So. Learn more at fotografiska.com/nyc.