One of the most iconic female artists of our time, Frida Kahlo, is the focus of an extensive new exhibition at the Brooklyn Museum. Frida Kahlo: Appearances Can Be Deceiving (the exhibit title taken from one of her own drawings) features 300+ items, including 11 paintings, sketches, many never-before-seen photos, hand-painted orthopedic corsets, displays of her colorful Tehuana garb, makeup, and other personal effects. It's the first time these items are being presented stateside, brought with care from The Blue House (Casa Azul), the home Kahlo shared with husband Diego Rivera.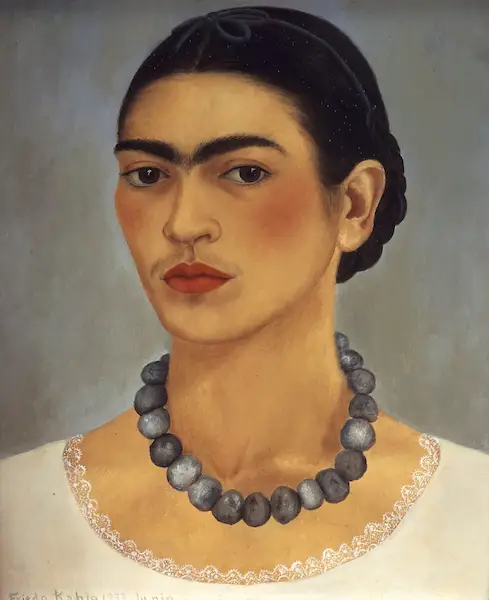 Frida Kahlo (Mexican, 1907-1954) Self Portrait with a Necklace, 1933. Oil on metal. The Jacques and Natasha Gelman Collection of 20th Century Mexican Art and the Vergel Foundation. ©  2019 Banco de Mexico Diego Rivera Frida Kahlo Museums Trust, Mexica, D.F. / Artists Rights Society (ARS), New York
After Kahlo's death in 1954, Rivera instructed that their personal belongings be stored away until 15 years after his death. In 2004, they were brought to light and inventoried. The sprawling exhibit, spanning four galleries, is organized thematically into 10 sections—Roots, Gringolandia, Marriage, Art & Revolution, Picturing Mexico, The Blue House, Disability and Creativity, Fashioning Gender, New York Exhibition, Art & Dress.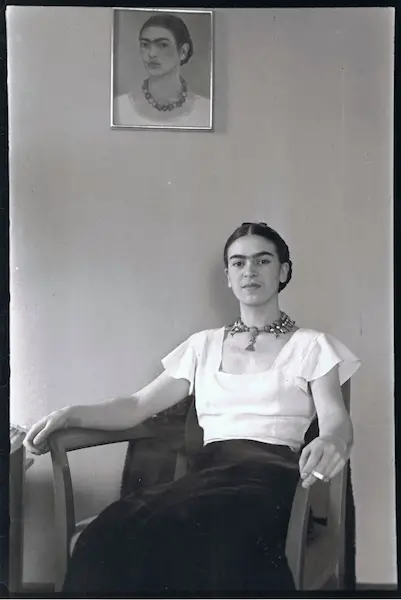 Lucienne Bloch (1909-1999), Frida Kahlo at the Barbizon Plaza Hotel, New York, 1933. Black and white photograph. The Jacques and Natasha Gelman Collection of the 20th Century Mexican Art and The Vergel Foundation. Lucienne Allen dba Old Stage Studios. (Image courtesy Old Stage Studios.) 
Born to a German father and a mother of indigenous and Spanish descent in 1907, Kahlo's body was often broken, but never her spirit; she transformed her pain and setbacks into beautiful, vivid works of art. She suffered from polio at age 6 which left her with a weakened right leg, covered by loose men's pants and long skirts. When she was 18 she was in a car crash and broke her spine, her aspirations to become a doctor dashed. Throughout her life, she had some 30 surgeries; she also suffered a miscarriage. She was often bedridden. She hung a mirror on her ceiling, watching herself paint and adorn her plaster casts to pass the time. "In spite of my long illness, I feel immense joy in LIVING," she wrote.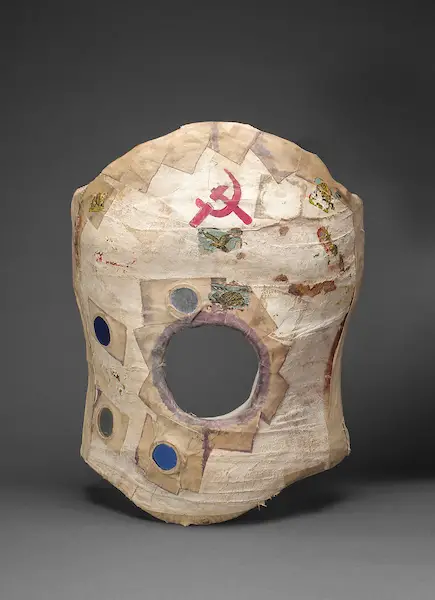 Plaster corset, painted and decorated by Frida Kahlo, Museo Frida Kahlo. © Diego Rivera and Frida Kahlo Archives, Banco de Mexico, Fiduciary of the Trust of the Diego Rivera and Frida Kahlo Museums (Photo: Javier Hinojosa, courtesy of V&A Publishing.) 
Kahlo married muralist Diego Rivera, who was 20 years her senior, in 1929. During their time together they traveled to San Francisco, New York (Rivera was commissioned to do a mural at Rockefeller Center but in a dispute left it unfinished), and Detroit. While not exactly smitten with the U.S. the first time around, Frida returned to New York in 1938 to host her first solo show, at the Julien Levy Gallery on East 57th Street (she even had a brief fling with the gallery owner; some of his intimate shots are on display). This time around, she was quite taken. "You cannot imagine how interesting this city is!" Kahlo wrote.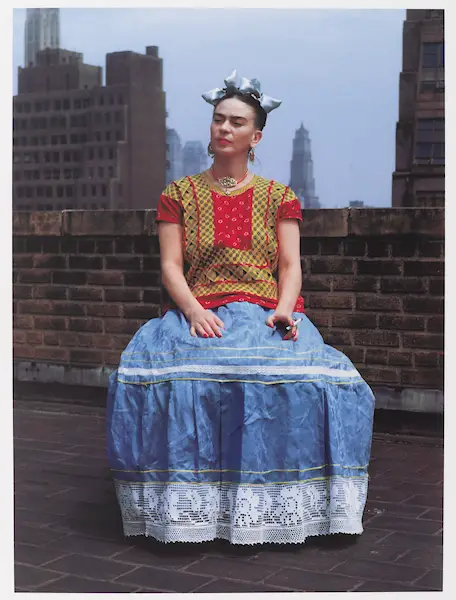 Nickolas Muray (American, born Hungary, 1892-1965). Frida in New York, 1946; printed 2006. Carbon pigment print. Brooklyn Museum; Emily Winthrop Miles Fund, 2010.80 © Nickolas Muray Photo Archives. (Photo: Brooklyn Museum).
Kahlo and Rivera had a tempestuous relationship. Throughout their marriage the two had affairs (at one point, Rivera had one with Kahlo's sister), Kahlo with both men and women, including a long relationship with photographer Nickolas Muray (a letter he wrote her is on display), who lived in New York. Kahlo's approach to relationships, politics (she considered herself a Communist), her personal style, and artwork transcended her time and gender. Although Kahlo and Rivera divorced, they later remarried in 1940, this time platonically.
View of the exhibition Appearances Can Be Deceiving at The Frida Kahlo Museum, 2012. Photo by Miguel Tovar. © Frida Kahlo & Diego Rivera Archives. Bank of Mexico, Fiduciary in the Diego Rivera and Frida Kahlo Museum Trust. 
Revlon, one the exhibit sponsors, is not a random selection. Being made up was important part of Kahlo's presentations, and she was a big fan of the brand. Revlon often sent her products when she was traveling. The company opened a manufacturing base in Mexico in 1948, making its products more accessible to her.
Nickolas Muray (American, born Hungary, 1892-1965). Frida with Idol, 1939. Carbon print. Courtesy of Nickolas Muray Photo Archives. © Nickolas Muray Photo Archives. 
The significance of presenting Frida Kahlo: Appearances Can Be Deceiving is more crucial than ever, given today's political climate and its sometime hostility to different political, national, and artistic points of view. The show is based on exhibitions at the Frida Kahlo Museum, curated by Circe Henestrosa, and the V&A London (where it was also curated by Henestrosa, and Claire Wilcox).
In conjunction with the exhibit, there will be a variety of Kahlo-themed events at Brooklyn Museum: cooking classes with Kahlo's recipes, perfume tours April 4th and 18th, a presentation of the 2002 film Frida directed by and starring Salma Hayek on April 25th, a Viva Frida Kahlo! dance party May 10th, and more. The museum is also partnering with local Mexican chefs to create Kahlo-inspired fare that will be served in The Norm restaurant.
Frida Kahlo: Appearances Can Be Deceiving is a timed-ticket exhibition, running from February 8th through May 12th. For more information, visit brooklynmuseum.org.