Since it opened to the public in 2005, Governors Island in New York has become a must-do outing and beloved destination for city dwellers of all ages. A former strategic battle site in the Revolutionary War, the island now hosts visitors year-round. And over the years, Governors Island has become the home to a variety of ongoing and seasonal programs.
From the spring through the early fall, 24 arts, culture, and educational programs reside inside historic houses that were once homes to military officers and their families. During these months, visitors to the island can walk through the historic buildings and enjoy art exhibits, workshops, hands-on programs, performances, and more.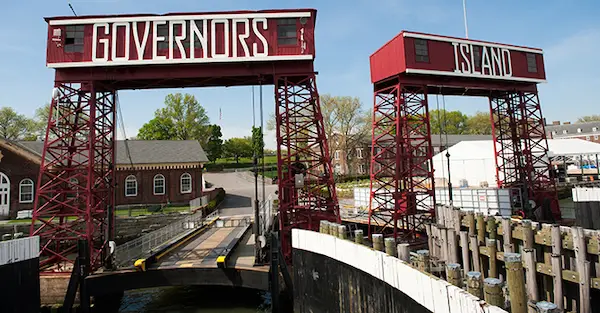 And the fun on Governors Island doesn't stop at the events and public art programs. Visitors can take advantage of a variety of other activities on the island, like biking, playing, picnicking, relaxing, and spotting the working dogs. You can even go glamping during the summer months! Read on for 10 ways to spend time on Governors Island in New York.
10 Things to Do on Governors Island in New York City
1. Take advantage of the Governors Island bike rentals.
Since Governors Island is car-free, the fastest way to get around the island is by bike. If you don't want to schlep your bike on the ferry (or you don't have your own), there are two options for bike rentals on Governors Island. Citi Bike has three docking stations on the island, near Sois­sons Land­ing, Yan­kee Pier, and Pic­nic Point. Alternatively, Blazing Saddles offers rentals of bikes, go-karts, surreys, pedal cars, and scooters. Bonus: Monday-Friday, from 10am-12pm, Blazing Saddles allows visitors to borrow a bike for free for up to 1 hour! It's located at the north end of Colonels Row. 
2. Say "hi" to the Governors Island working dogs!
Did you know Governors Island has five canine employees? Dubbed the working dogs, Max, Quinn, Chip, Aspen, and Leader spend their days frolicking around the island and doing one very important job: keeping Canadian geese away, which means less mess and less disturbances to the island's visitors. If you run into any of the dogs and they aren't hard at work herding geese, say hi and snap a picture for Instagram!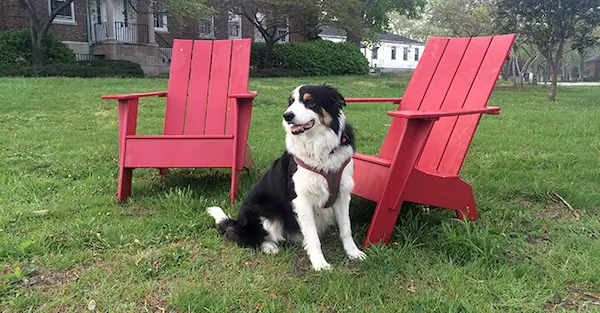 3. Spend the night on Governors Island while glamping.
For a truly one-of-a-kind NYC experience, book a stay at Collective Retreats, where you can go glamping on Governors Island. A stay at these ultra-Instagrammable accommodations includes a continental breakfast basket delivered to you, morning yoga and meditation sessions, a s'mores pantry at night, and unparalleled views of the Statue of Liberty and the NYC skyline. Governors Island glamping with Collective Retreats opens for the season on May 1, 2022, and you can make reservations now. 
4. Zoom down NYC's longest slide at Slide Hill.
With the kids in tow, walk or bike to the southern tip of Governors Island to zoom down the slides at Slide Hill. Scramble up Timber Climb to take the leisurely winding path up the hill and take 1 of 4 slides. Three shorter slides, including the family slide built for two people to slide at once, are great for younger kids or those who aren't the biggest thrill-seekers. But if you have an older kid or one who is more adventurous, take a trip or two on the curving, three-story high slide—it's the longest slide in NYC!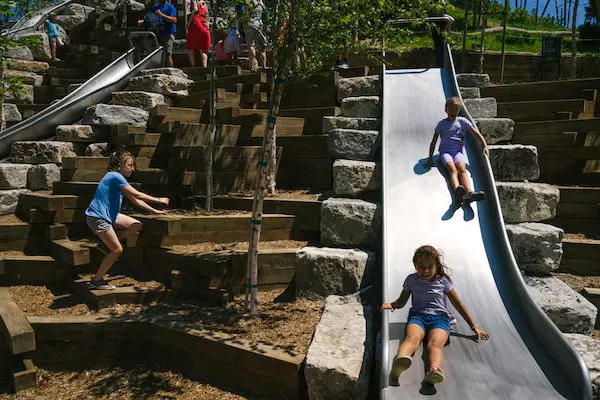 5. Relax in Hammock Grove.
If you're looking for a relaxing island experience, head straight to Hammock Grove and sprawl out on one of the island's iconic red hammocks perfect for reading, swaying in the wind, or catching a few zzzs under the sun (just don't forget the sunscreen!).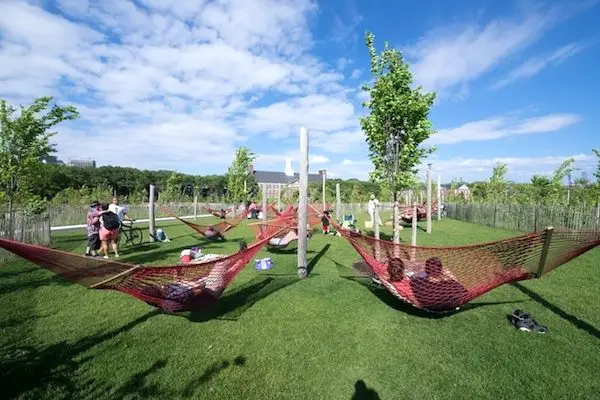 6. Let the kids explore, play, build, imagine, and destroy at the Yard.
If you're visiting NYC with your kids, play:groundNYC offers a different kind of playground. Rather than swing, slide, and climb on play structures, The Yard is full of materials for building, including nails, hammers, saws, paint, tires, wood, and fabrics. Kids are encouraged to build, explore, imagine, play, and destroy to their heart's content. While the main play area is for kids ages 6-12 only (sorry, parents!), there are trained playworkers in the Yard at all times. The Yard is open Saturday-Sunday, 12-4pm.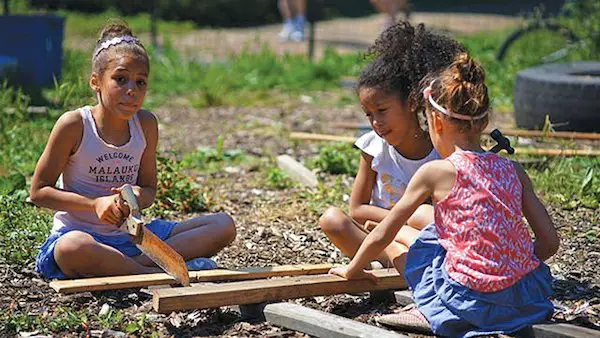 7. Enjoy a meal at one of the Governors Island restaurants.
Though there are currently just a few restaurants on Governors Island that are currently open, there are usually a handful of options available for food and drink. But if none of the restaurants listed below satiate your appetite, you can always bring a picnic to the island to enjoy. 
Currently, the Governors Island restaurants include:
Little Eva's: offers classic seafood options, hot dogs and bratwurst, mac and cheese, burgers, and more
Joe Coffee: a specialty coffee company that roasts its own beans in Long Island City
Taco Vista: offers tacos, of course!
Check the Governors Island restaurant page for an updated list, as more are slated to open this season.
8. Connect with nature at the Urban Farm or with Earth Matters.
Governors Island is home to two environmental programs: GrowNYC, which operates the Urban Farm, and Earth Matters, which operates the Compost Learning Center and takes care of the Lavender Field. The Urban Farm Teaching Garden will reopen to the public this spring, and visitors can participate in workshops and family-friendly activities to learn about growing veggies. Meanwhile, for those who want to get their hands dirty, volunteer opportunities are available at the Compost Learning Center, where you can meet its flock of chickens!
9. Treat yourself at the new spa on Governors Island.
QC NY opened inside three restored historic buildings on Governors Island earlier this year. Book a day pass for access to the spa's wellness experiences (including saunas, steam baths, foot baths, and relaxation rooms) to decompress and escape the stresses of everyday life. Want an extra dose of relaxation? 25-, 50-, and 75-minute massages are available as a day pass add-on.
10. Attend the Jazz Age Lawn Par­ty in the summer.
Don your best Gatsby-inspired attire (flapper dresses and linen jackets are all the rage!) and travel back in time for a day of 1920s fun. The Governors Island Jazz Age Lawn Party, held June 11-12 this year) is a Prohibition era lawn party featuring live jazz music (including Michael Arenella & His Dreamland Orchestra) on two stages, two sprawling dance floors, photo booths, vintage clothing vendors, a 1920s car exhibition, dance lessons so you can perfect the Charleston, carnival games, and more. 
How to Get to Governors Island in NYC and Other Details
Governors Island Ferry Details
Ferries operated by the Trust for Governors Island run seven days a week, from 7am-6pm. This ferry service goes directly to Soissons Landing on Governors Island from the Battery Maritime Building, 10 South St. in the Financial District. Roundtrip tickets are $3; free for seniors ages 65 and older, children 12 and younger, and military service members. Plus, anyone can ride free on Saturdays and Sundays before 12pm. 
The Trust for Governors Island also runs seasonal ferry service from Red Hook and Pier 6 in Brooklyn Bridge Park which is slated to return later in the spring.
NYC Ferry also provides service to Governors Island on the South Brooklyn Route, which stops on the Lower East Side, Wall Street, and a few places along the Brooklyn waterfront. Tickets are $2.75 each way.
When is Governors Island open?
Governors Island is open to the public year-round, daily, from 7am-6pm.
For more information, visit govisland.com or follow Governors Island on Facebook and Instagram.
All photos courtesy the Trust for Governors Island