Capture your favorite moments from screens large and small in New York City—ready for Instagram glory. From an unassuming set of Bronx stairs to a Queens cemetery, iconic filming locations abound (if you know where to look, that is). Here are 10 sites where you can celebrate the greats of NYC-set television and film. 
Tom's Restaurant | Seinfeld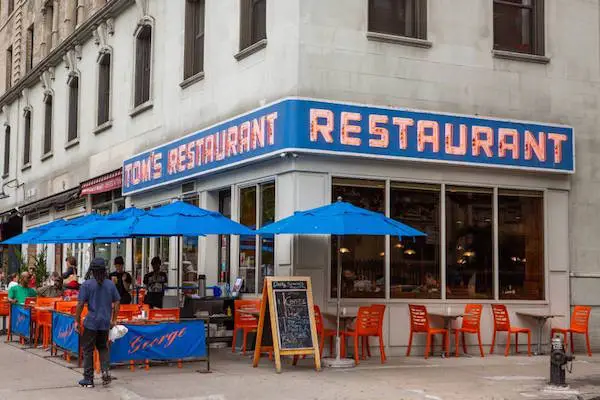 While you can't find Monk's in NYC (that was a soundstage in Los Angeles), you can visit the restaurant that served as Monk's exterior throughout Seinfeld's nine-season run. Step inside Tom's Restaurant for classic diner fare and Kramer's cock-eyed portrait on the wall. No sign of a Big Salad on the menu, though. 2880 Broadway, 212-864-6137
Friends Apartment Building  
Like Seinfeld, the sitcom Friends was set in New York and filmed in Los Angeles. But the exterior of the crew's notably huge apartments is located at the intersection of Grove and Bedford Streets in the picturesque West Village. Get your Rachel 'do ready, and snap away. 90 Bedford St.
Joker Stairs 
Warner Bros.
The unforgettable scene from 2019's Joker features Joaquin Phoenix dancing his way down a set of stairs. Now red-suited Instagrammers flock to recreate this bombastic performance in the Highbridge neighborhood of The Bronx. These stairs are mighty steep, but the pics will be worth it. 1165 Shakespeare Ave.
Tiffany & Co. | Breakfast at Tiffany's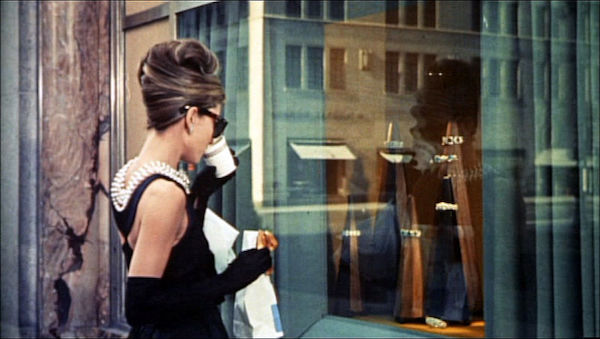 You knew it was coming: the black Givenchy gown, the pearls, the croissant. It doesn't get much more iconic than the opening sequence of Audrey Hepburn eating Breakfast at Tiffany's. Bring your coffee and croissant to the flagship location of Tiffany & Co. on Fifth Avenue for your Golightly-inspired glamour shot. 6 E. 57th St., 212-755-8000, tiffany.com
The Empire State Building 
Sleepless in Seattle.
Whether you're paying tribute to An Affair to Remember, Elf, Broad City, or Sleepless in Seattle, you can do so at The Empire State Building. As for your King Kong photo, that might be a bit harder to stage (luckily, you can find a Kong section inside the Empire State Building galleries on the 2nd floor). Check out a more comprehensive list of film and TV shoots at the Empire State Building here. 16 W. 34th St., esbnyc.com
FDNY Ladder No. 8 | Ghostbusters
A picturesque firehouse in Tribeca was once the site of some wicked ghostbusting. Take a stroll past Ladder No. 8, an exterior used in both the 1984 and 2016 iterations of Ghostbusters. 14 N. Moore St.
Grand Central Terminal | North by Northwest
Hitchcockian sophistication doesn't get much better than Cary Grant and Eva Marie Saint in North by Northwest. Pay homage to the 1959 classic with your best wayfarer sunglasses and gray suit, mimicking Grant on the run from the law through New York's starry-ceilinged terminal. 89 E. 42nd St., grandcentralterminal.com
The Met Steps | Gossip Girl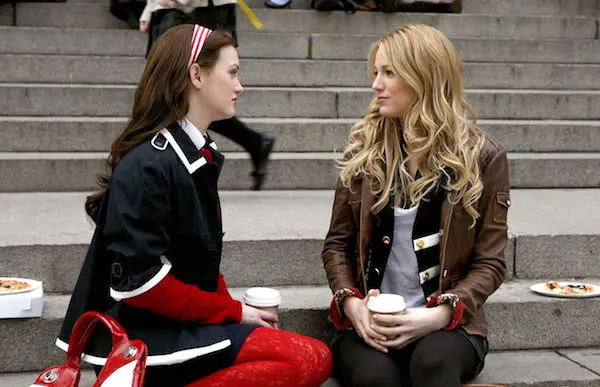 Gossip Girls' Blair Waldorf and Serena van der Woodsen on the steps of the Met.
The privileged teens of Gossip Girl could often be found lunching on the steps of The Metropolitan Museum of Art. Grab your Serena (or your Blair), plus your most fashion-forward look, and head to the beautiful Beaux-Arts museum near Central Park. 1000 Fifth Ave., 212-535-7710, metmuseum.org 
Times Square
Captain America: The First Avenger.
Like the Empire State Building, Times Square has been filmed for countless film and television projects. Grab inspiration from Captain America: The First Avenger, Midnight Cowboy, or Enchanted for your pics of the bright lights and bustling activity of this area. Broadway between 42nd & 47th St., timessquarenyc.org
Calvary Cemetery | The Godfather
In the 1972 classic The Godfather, the drama goes down even at Don Vito Corleone's funeral. Cinephiles interested in retracing Francis Ford Coppola's steps can visit the setting of this scene at Calvary Cemetery in Woodside, Queens. 49-02 Laurel Hill Blvd., 718-786-8000, calvarycemeteryqueens.com