You don't have to be a diehard "Potterhead" to fall under the spell of Harry Potter and the Cursed Child, nor is binge watching the films before heading to Broadway's Lyric Theatre a requisite. A visual knock-out packed with astonishing special effects, the show stands on its own. 
Still, to fully appreciate this follow-up to the iconic wizarding series, I recommend visiting the website's primer where all things Harry—from his lightning bolt scar to Platform 9 ¾ to a by-the-year recap of his time at Hogwarts School of Witchcraft and Wizardry—are summed up nicely. (FYI: Should you need a quick in-theatre refresher, the show's program includes a recap.) On the flip side, superfans should be on the lookout for Easter eggs that pop up throughout the play.
THE NEXT GENERATION
Steve Haggard as Harry Potter and James Romney as Albus Potter. Photo by Matthew Murphy.
Picking up 19 years after Harry Potter and the Deathly Hallows, the final book in the original series, Harry Potter and the Cursed Child focuses primarily on the time traveling exploits of Harry's son, Albus, and his best friend, Scorpius—only child of Draco Malfoy, Harry's archenemy growing up—who initially meet and bond on the train heading to their first year at Hogwarts.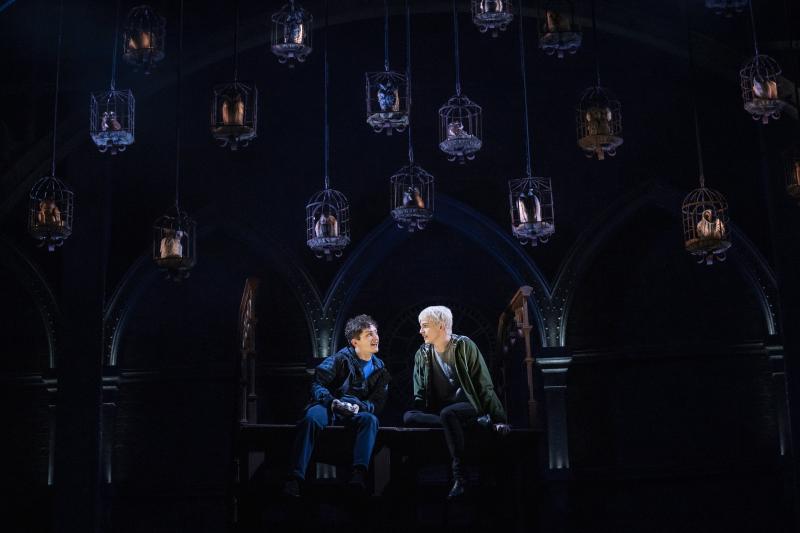 James Romney as Albus Potter and Brady Dalton Richards as Scorpius Malfoy. Photo by Matthew Murphy.
James Romney, a member of the original company and Albus's understudy when the Tony-winning play debuted in two parts in 2018, took over the role permanently just as the pandemic shut down Broadway…and at the same time Brady Dalton Richards joined the cast as Scorpius. When the show reopened, both actors were ready to pick up where they had left off. "We're lucky we got cast together," says Romney. "We've great chemistry as people and actors…he's one of my best friends."
As it happens, Romney was a born actor—literally. As an infant, he was already onstage at the youth theatre where his mother was creative director, playing what he refers to as "prop baby," moving onto less passive roles—with actual lines and blocking—as he got older. His mom was also responsible for introducing him to the Harry Potter canon.
"When I was seven Mom would read to me and those books helped me to really get into reading and I really got into every new book and film release," Romney says, recalling midnight book drop parties at Borders and Barnes & Noble. "One of my favorite things became listening to the Harry Potter audio books read by Jim Dale." 
If Romney still listens to the books now and again—and he does, even while playing eight 3½ hour shows a week—his connection to the original narrative works in his favor when it comes to slipping into Albus's quasi-quirky skin.
Throughout the show, Albus and Scorpius (no quasi about his quirkiness) not only navigate several years at Hogwarts but attempt to right a seeming wrong dating back to when Harry, Ron, and Hermione were students, leading to cameos by several fan faves and a satisfying assortment of subversive twists and thrills.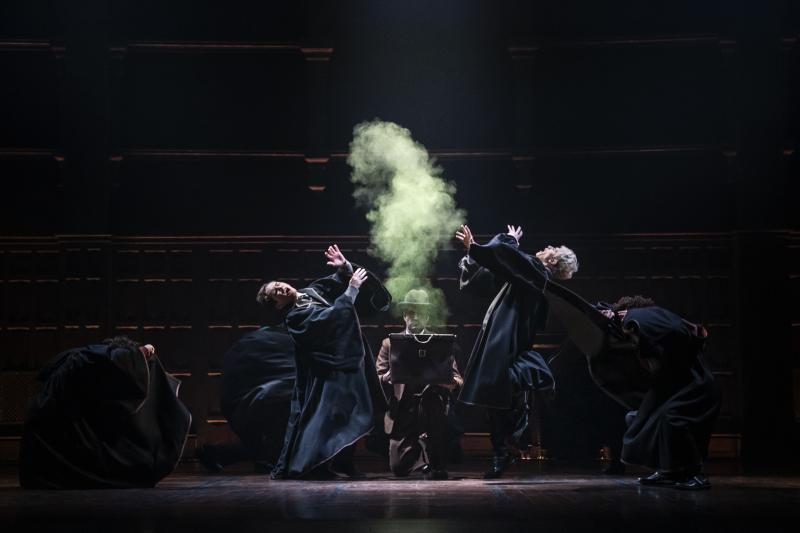 James Romney as Albus Potter, Brady Dalton Richards as Scorpius Malfoy and company. Photo by Matthew Murphy.
And then, of course, there are the breathtaking, daunting, magical effects. "I know how every one of them works, but when I see or do something, it's still incredible to me," says Romney who, like the rest of the cast, was carefully groomed by the same illusionists who designed the heart-stopping effects. And they can execute everything from sleight of hand to cunning stage magic.
"Onstage we pay a lot of attention to safety," Romney continues, explaining just how critical the choreographed moves are to the show and the actors. "You cannot phone it in; it's a very carefully constructed puzzle. But in the end, it adds that element of being alive that you want in live theatre."
For Romney and Richards, whose roles require quicksilver moves and above-and-beyond stamina, every performance is a marathon, not a sprint. "What the audience sees is only part of what's required," says Romney. "But so much of the time we're just having fun." 
Playfulness is plainly a built-in aspect of the Scorpius-Albus bromance; it also keeps the more sinister moments surrounding the two from casting too dark a shadow. Which is not to say the show is devoid of chilling visuals and plot points.
"Our show is not typical, but it is special in that it pushes the limits of what theatre can be," says Romney, who suggests that Harry Potter and the Cursed Child makes an excellent "door opener" if, for instance, you know Harry Potter but don't know theatre. Or if you're simply looking for an unforgettable Broadway adventure.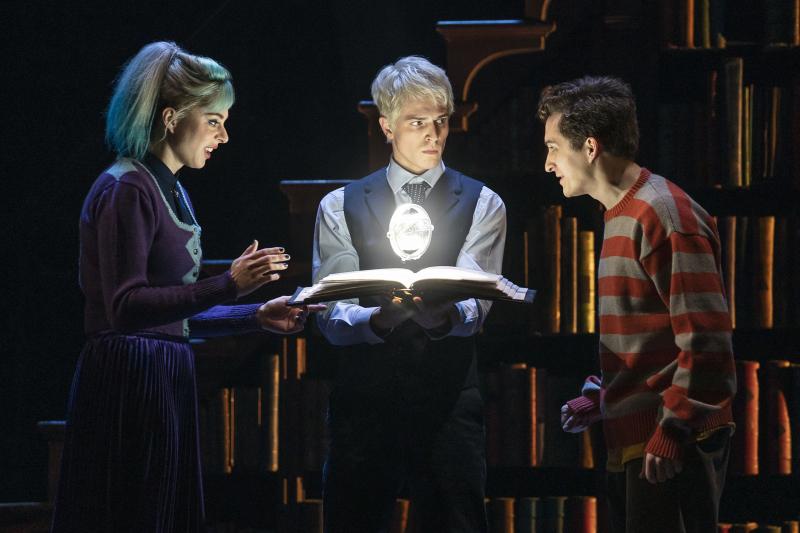 Lauren Nicole Cipoletti as Delphi, Brady Dalton Richards as Scorpius Malfoy and James Romney as Albus Potter. Photo by Matthew Murphy.
"The experience of seeing this show is both unique and overwhelming, with something for everyone," he says, pointing to the music that underscores the choreography, the script, the actors, the people working behind the scenes, and even the theatre itself, which was renovated to give a cohesive feeling of actually being inside—and part of—the wizarding world.
Harry Potter and the Cursed Child is playing at Broadway's Lyric Theatre, 214 W. 43rd St. For reservations and show info call 212-305-4100, or visit broadway.harrypottertheplay.com.