Food trends may change, but cheesecake endures. That's what we've found in a fresh evaluation of the cheesecake scene in its hometown, New York City. Although the dessert doesn't quite have the culinary cache it once enjoyed, it's still the focal point of many a dessert menu—and for good reason. These cheesecake slices are rich, creamy, and filled with tradition, whether they come from a longtime Bronx bakery or the bright lights of Times Square. Savor this classic New York dessert at these eight restaurants and bakeries. 
Strip House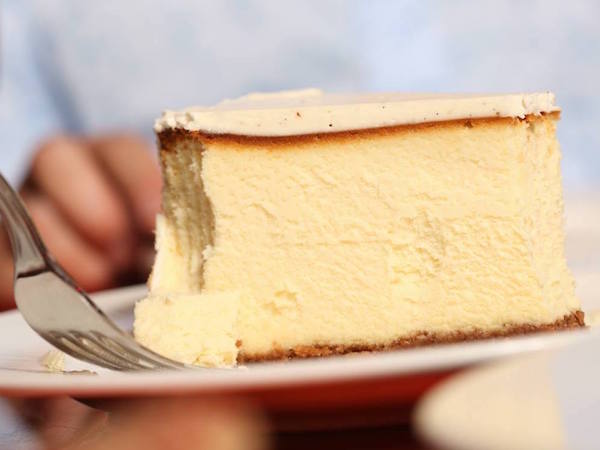 Cheesecake is the perfect steakhouse dessert. Visit Strip House at its Greenwich Village and Midtown locations for a gigantic slice of cheesecake made the New York way. You'll taste a touch of tart lemon and the spices in the graham cracker crust in your dessert, which pairs well with a cup of Strip House's coffee served in a French press. Downtown: 13 E. 12th St., 212-328-0000, striphouse.com/venues/downtown; Midtown 15 W .44th St., 212-336-5454, striphouse.com/venues/midtown


Caffe Palermo
Caffe Palermo is the mecca of cannolis, but that's not the only reason to pay a visit to this Little Italy legend. There are also Italian treats like tiramisu, profiteroles, and lady fingers, and a rich cheesecake worthy of a trip downtown. The cappuccinos and hot cocoa make perfect pairings. 48 Mulberry St., 212-431-4205, caffepalermo.com
Junior's 
In case you doubted the supremacy of New York cheesecake, the proof is in the center of the city at Junior's Cheesecake. There are not one but two locations of Junior's in Times Square, but it's easy to forget the original location is a quick subway trip away in downtown Brooklyn. This cheesecake is made with Philadelphia cream cheese, heavy cream, sugar, eggs, and vanilla and mixed for 40 minutes per batch (!). There are an abundance of fancy flavors choices, but the 1950 original recipe is an undeniable delight. 45th Street: 1515 Broadway, 212-302-2000; 49th Street: 1626 Broadway, 212-365-5900; Brooklyn: 386 Flatbush Ave. Ext., 718-852-5257; juniorscheesecake.com
Ristorante Rafele
Repost from @mack_snacks.
Start with some wine and gnocchi alla Sorrentina at Ristorante Rafele, but save room for the exceptional cheesecake at this West Village treasure. Like other Italian recipes, this one is made with buffalo ricotta cheese, but its pep doesn't come from lemon but orange blossom syrup. There are also real vanilla beans inside. This homey Italian spot also has patio dining in warm weather in case you're looking for cheesecake and espresso al fresco. 29A Seventh Ave. S., 212-242-1999, rafele.com
Kiki's 
Kiki's has cool-kid cred with its hidden facade and rustic Greek fare. You might not expect an excellent slice of cheesecake here, but we also forget that early cheesecake recipes were crafted in Greece! Kiki's cheesecake comes from chef Nicholas Spanos and accords with a standard New York recipe. The Greek twist is in the crust, which is made of crumbled Papadopoulos Digestive cookies. 130 Division St., 646-882-7052
Peter Luger
Another New York classic is Peter Luger, begun in 1887. This Williamsburg, Brooklyn steakhouse has cheesecake on its dessert menu that comes from another city institution, S & S Cheesecake. S & S, located in the Bronx neighborhood of Kingsbridge, mostly operates as a wholesale bakery (although the storefront is open to shoppers during the week). After your meal, order this rich cream cheese slice, and savor one of the best in the city. 178 Broadway, 718-387-7400, peterluger.com
F. Monteleone Bakery & Cafe
Next time you find yourself in central Brooklyn, stop by F. Monteleone Bakery for an authentic Italian take on cheesecake. The bakery serves a slice made with three kinds of ricotta cheese, making for a fluffy, light texture that earns its local legend status with one bite. Hang around in Carroll Gardens, and you'll find an abundance of exceptional Italian food, as we've previously covered. 355 Court St., 718-852-5600
Eileen's Special Cheesecake 
Eileen's tops all the lists of great New York cheesecakes. Eileen Avezzano began her tiny Soho bakery in 1975, when the area wasn't nearly as popular as it is today. Although the neighborhood has changed, the bakery has largely stayed the same, as has the incredible, light cheesecake recipe on which Avezzano built her business. Stop in and pick up a slice, which come in a multitude of flavors. 17 Cleveland Pl., 212-966-5585, eileenscheesecake.com