In a city filled with blinding marquees, spinning signs, and street hawkers handing out flyers to the latest NYC attraction, there's a certain value to keeping secrets—and secret restaurants in NYC are hidden gems worth finding. Like speakeasy bars, these 15 restaurants run on exclusivity, word-of-mouth, and an air of mystique. Get in on the secret at hidden restaurants in NYC—find them behind unmarked doors, tucked inside other restaurants, or in unique places like grocery stores and loading docks.
15 Best Hidden Gem Restaurants in NYC
1. Burger Joint
This true hole in the wall might be cresting past its former "secret" status with years of popularity to its name. Still, like other restaurants on the list, Burger Joint has no visible storefront, and it requires you to navigate the Thompson Central Park New York lobby if you want to find it. Walk past the concierge desk, through the curtains on the left, and down a hallway. You'll be greeted by a small, humble dining room (and, during dinner, a long line), plus the smell of some delicious burgers on the griddle. Order the cheeseburger with fries, and remember it's cash only.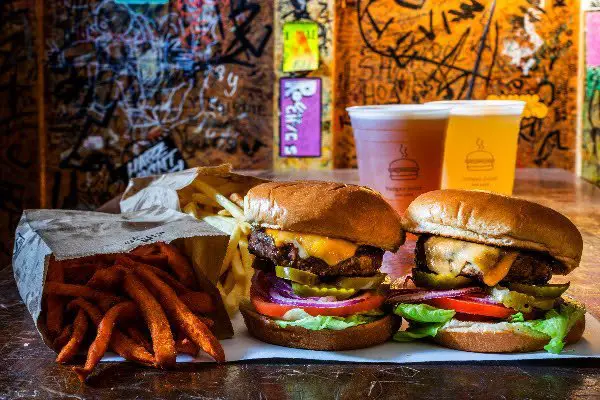 Inside Thompson Central Park New York: 119 W. 56th St., Midtown
212-708-7414
Hours: daily, 11am-10pm
2. Beauty & Essex​
Another very open secret, Beauty & Essex is located behind a pawn shop in the Lower East Side. It's among the more popular destinations in the area's thriving nightlife scene, so there are often lines behind the velvet rope outside. B&E's dinner and brunch menus take you all over the map, from empanadas to Thai shrimp to ravioli. There are even gluten-free and vegan menus. See and be seen at this posh New American bar and restaurant.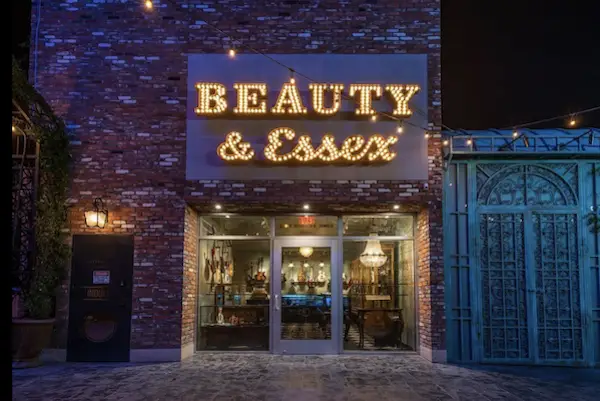 146 Essex St., Lower East Side
212-614-0146
Hours: Tuesday-Thursday, 5-11pm; Friday-Saturday, 5pm-12am; Brunch Sunday, 11:30am-4:30pm
3. La Esquina
On a bright Soho corner sits a crowded taco shop called La Esquina. You could eat here, or find the unmarked door inside to find the main event downstairs. La Esquina ("the corner") serves Latin fare from its subterranean brasserie filled with those in the know. Have a mango marg and a plate of fish tacos before your night out. 
114 Kenmare St., Soho
646-613-7100
Hours: daily, noon-2am


4. HŪSO​
Madison Avenue's best-kept secret is the "caviar speakeasy" HŪSO. Enter through the storefront of Marky's Caviar, which offers citywide delivery of its retail stock like purebred Beluga—one of the most prized varieties of caviar (known to aficionados as "huso huso"). There are also more affordable luxuries and curated gift sets. Go through a curtain behind the retail shop and you'll find a "farm-to-spoon" caviar speakeasy, helmed by fine-dining veteran Buddha Lo, the winner of Season 19 of Top Chef. Indulge in a caviar flight or the chef's signature roe-topped king crab merus roll, a.k.a. the HŪSO dog. 
1067 Madison Ave., Upper East Side
212-288-0850
Hours: Lunch: daily, 11am-5pm; dinner: Wednesday-Saturday, 7pm
5. Sakagura
There's nothing too special about 211 E. 43rd St. near Grand Central—well, not until you take the elevator downstairs to Sakagura. In the basement of this ordinary office building is an extraordinary sake bar serving Japanese cuisine. Come with a date to share tapas galore, like its signature braised pork belly, fried chicken, or sashimi. And It'll be impossible to resist the sake once you see the extensive display behind the bar (Sakagura has 260 varieties!). 
211 E. 43rd St., Midtown East
212-953-7253
Hours: Lunch: Wednesday-Friday, 11:45am-2pm; Dinner: Monday-Saturday, 5:30-11pm
6. Gaonnuri​
Gaonnuri gets high marks for an excellent view. Its Koreatown location on the 39th floor of an office building gives it a picture-perfect appeal, as well as access to nearby Broadway shows and Madison Square Garden. The Korean menu can be hard to navigate with so many options, but you can't go wrong with the black cod gui or short ribs with Gaonnuri's signature soy sauce. Access Gaonnuri through the building lobby, where a maitre'd should be there to greet you and send you to the right elevator.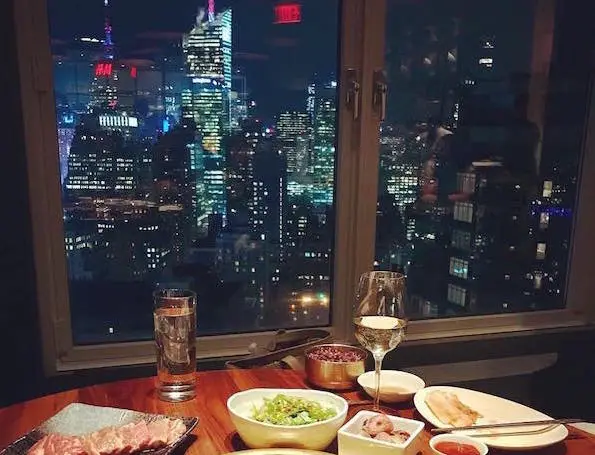 Facebook
1250 Broadway, Koreatown
212-971-9045
Hours: Monday-Thursday, 5:30-11:30pm; Friday-Saturday, 5pm-12am; Sunday, 4-10pm
7. Bohemian
At Bohemian in Noho, tables are offered by referral only. In other words, you have to know someone who's eaten there in order to get in. The exclusivity of this secret Noho spot has made it, conversely, a popular dining destination, but it also impresses time and time again with its globally inspired Japanese cuisine. There's a rice bowl speckled with caviar, washu beef sashimi, and creamy uni on a croquette. There's also a mac 'n cheese if you want a true American classic—Bohemian earns high marks there too. 
57 Great Jones St., Noho
212-388-1070
Hours: Tuesday-Sunday, 6pm-12am
8. Chef's Table at Brooklyn Fare​
While this fine dining institution with three Michelin stars is not exactly a secret, you will have to navigate a Midtown grocery store to get there. Enter Brooklyn Fare near Hudson Yards, and pass through rows of cereals, soups, and paper towels until you find the maitre'd for Chef's Table. Behind the door is a now-iconic 20-seat counter and open kitchen surrounded by a few tables. Here you'll eat some of the best food money can buy (come prepared to spend big, btw). There are no set menus, just exceptional ingredients, paired and prepared to perfection by Chef Cesar Ramirez.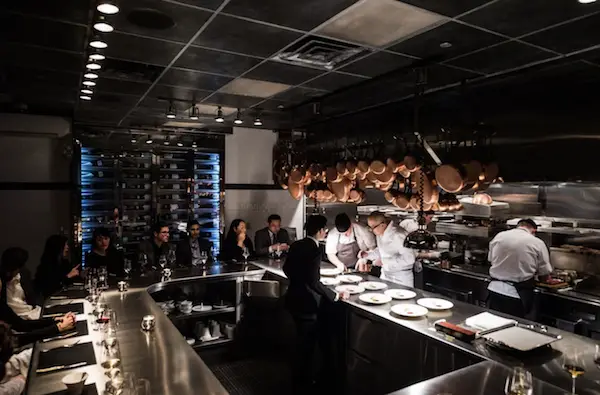 431 W. 37th St., Midtown West
718-243-0050
Hours: Dinner seatings: Tuesday-Saturday, 5pm and 7pm
9. Mexico 2000
We just had to include a restaurant run out of a bodega. The quintessential New York market is the perfect place to hide a small eatery for adventurous eaters. Count yourself one of them, and next time you're in South Williamsburg, order a tamale or plate of mole poblano at this exceptional eight-seater. Bonus: It's open late Monday through Saturday. 
367 Broadway, South Williamsburg, Brooklyn
718-407-0109
Hours: Monday-Thursday, 12-11pm; Friday-Saturday, 12pm-12am
10. The Campbell​
Next time you're in Grand Central, find a staircase labeled with a gold plate that says "The Campbell Apartment." Upstairs you'll find a gorgeous 1920s-style hall with frescoes on the high ceilings and stained glass behind the bar. This is The Campbell, the former office and reception hall of finance man John W. Campbell, now serving drinks and food to travelers and tourists alike.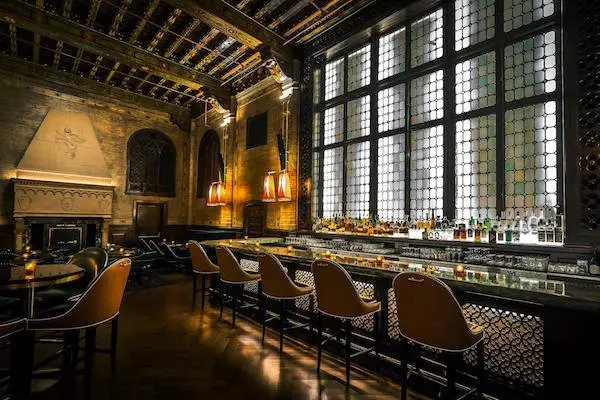 15 Vanderbilt Ave., Midtown East
212-297-1781
Hours: Monday-Saturday, 3pm-12am
11. Bar Centrale​
A Theater District essential, Bar Centrale is located inside an unmarked converted brownstone apartment. It's like you're dining in the home of a very good cook who has his own bartender on staff. What's extra-special about the hidden Bar Centrale is its reputation as a haven for Broadway stars after their shows. Bar Centrale is best equipped to offer a strong cocktail and a heavy snack, so order some guacamole or a plate of shrimp dumplings with your Manhattan. Also, reservations are recommended, and they only take requests within a week of your desired appointment.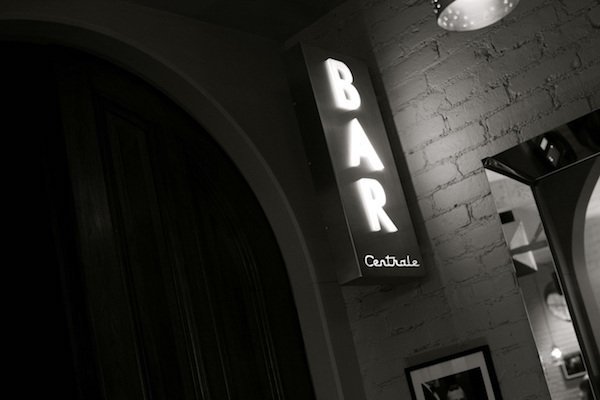 324 W. 46th St., Theater District
212-581-3130
Hours: Tuesday-Saturday, 5pm to close
12. Karasu
Near Brooklyn's Fort Greene Park is a great Southern spot called Walter's. Walter's is great, but we're here to tell you about the Japanese restaurant accessed through a door in the back. Karasu serves innovative cocktails like the Hawkeye Highball (whiskey and green apple soda), as well as izakaya cuisine like savory egg custard called Cawanmushi. Entrees to look out for include duck confit on soba noodles and grilled dorade fish with miso glaze. 
166 Dekalb Ave., Fort Greene, Brooklyn
347-223-4811
Hours: Wednesday-Thursday and Sunday, 5-10:30pm; Friday-Saturday, 5-11:30pm
13. El Sabroso 
The busy Garment District hides a Latin American lunch counter inside a loading dock—yes, really. It's called El Sabroso, serving delicious, pernil, beef stew, and homemade hot sauce. Don't be surprised by the very unflashy environs and limited seating here; just order to-go, and we know you'll be back for more! 
265 W. 37th St., Garment District
212-284-1118
Hours: Monday-Friday, 9am-5pm
14. Taam Tov
You know you're in Midtown's Diamond District when you walk West 47th Street amidst millions of glittering window displays. But what you might not know is the less-glitzy eatery favored by many in the local diamond business: Taam Tov. The door is unmarked, and you'll have to walk up two flights of inconspicuous stairs, but once inside you can expect delicious kosher offerings from the cuisines of Israel, Uzbekistan, and Georgia. Regulars love the manty dumplings, falafel, shawarma, and chicken shish kebab. It's a secret, sensational lunch at Taam Tov (which means "good taste" in Hebrew). 
41 W. 47th St., Midtown
212-768-8001
Hours: Monday-Thursday, 11am-8pm; Friday, 11am-3:30pm
15. L'Appart​
This secret Financial District spot has one Michelin star to its name, thanks to chef Nicolas Abello. Abello, who has also worked at Daniel uptown, presents innovative, seasonally-minded French food with surprises like Colorado lamb with mojo sauce at L'Appart. The 28-seat dining room is decorated like an apartment, and you'll likely get to meet Abello himself when you walk in. L'Appart is located inside the food hall at Le District near One World Observatory. Look for a passage between the "garden" and "market" sections for the door to the restaurant.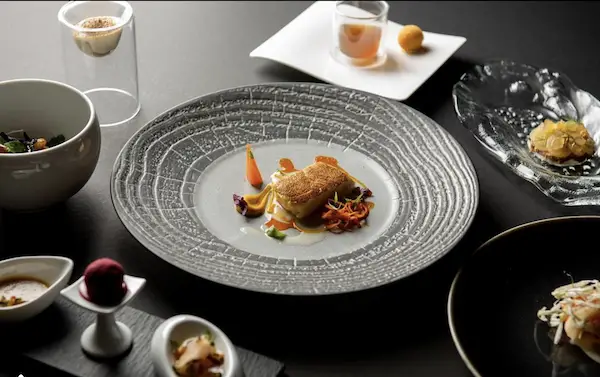 Instagram
225 Liberty St., Financial District
212-981-8577
Hours: Tuesday-Saturday, 5-9:30pm
Read Next | The Best Themed Restaurants in NYC