It's holiday time in New York City! Renowned for its decadent holiday décor, creative window displays, twinkling Fifth Avenue displays, and assortment of retail shops, New York City certainly is the place to be during the holidays. There are so many destinations to indulge in—from holiday shopping to ice skating, tree lightings, caroling, and more. Be sure to check out this lineup of fun, festive activities and start filling up your calendar. Be merry and make the season bright!
Bloomingdale's/Loews Regency Shopping Pop-Up
This year, Bloomingdale's is extending its holiday shopping experience to the Loews Regency New York Hotel. The iconic American retail destination and the Loews Regency New York Hotel have worked together to curate a special selection of holiday themed items for today's mod jetsetter. The pop-up shop will boast an assortment of gifts, accessories, iconic Bloomingdale's branded merchandise, and on-site monogramming of leather gifts by ROYCE New York.  At the register, shoppers will have the opportunity to round their purchases up with the change benefitting Child Mind Institute—an organization that works to advance the science of the developing brain, deliver the highest standards of clinical care, and produce high-impact education and outreach programming. The Bloomingdale's pop-up will be unveiled in the hotel's lobby lounge on November 29, in time for Black Friday. It will be open from 12 noon to 7pm daily until December 24. 540 Park Ave., 212-759-4100, loewshotels.com/regency-hotel/discover/holidays
Bronx Zoo
The Bronx Zoo is bringing back Bronx Zoo Holiday Lights—one of New York City's fun holiday traditions. Marking the first time since 2007, the Bronx Zoo will be aglow in dazzling lights that will sparkle across the zoo. Bigger, brighter and greener, the holiday celebration will be in full swing from November 21 to January 5. New festivities include The Ice Jubilee—an Ice Bar, Ice Throne & Ice Slide that will run from December 21 to 31. Holiday revelers will be able to stand in as king or queen for a few moments. They can take festive photo ops on the ice throne and have an opportunity to swish down a 20-foot ice slide. Visitors can also grab a specialty cocktail at the zoo's 12-foot ice bar. Throughout Holiday Lights, ongoing Nightly Ice Carving Demonstrations will be held from 5 to 9 pm. Professional ice carvers will unveil holiday and animal-themed sculptures in front of live audiences. The finished sculptures will be displayed in the Dancing Crane Plaza. On December 28, an Ice Carving Competition will be held from 6 to 9 pm. Five professional ice sculptors will create 20 sculptures in an elimination style "speed carving" format. The artwork will be displayed for future viewing. Finally, guests can enjoy the Carolers, Characters, Train Rides & Lantern Safari, which will highlight classic and modern holiday tunes, which are sung by live carolers decked out in Victorian-dresses. Visitors can also snap photos with lions, giraffes, gorillas, penguins, and a friendly snowman. Families can journey "around the world" along a dedicated section that will be illuminated by hand-created lantern sculptures. They'll also learn about the work WCS scientists are doing to help save various species. The hours for Holiday Lights will be 5 to 9 pm Sunday to Thursday, and 5 to 10 pm Friday and Saturday. Tickets are required. 2300 Southern Blvd., Bronx, 718-220-5100, BronxZoo.com
Bryant Park Winter Village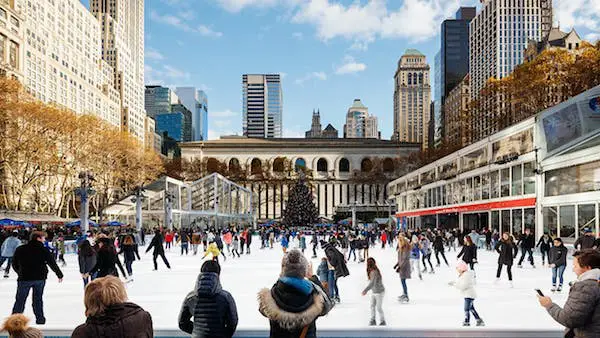 Colin Miller
The Bryant Park Winter Village is a seasonal pop-up that offers outdoor ice skating and more than 175 boutiques that entice shoppers with niche gifts, stylish apparel, local food, and beyond. After shopping until you drop and swirling around the ice, head to the recently opened Fever-Tree Porch restaurant and bar. A year-long partnership between Bryant Park and this producer of premium tonics, gingers, and mixers, unveils a year-round, heated al fresco destination for enjoying topnotch, elevated mixed drinks and light bites such as burgers, and mac and cheese. Seasonal specialty highballs include the Aperol Spritz; Daytime Old Fashioned; Day to Night Mule; Park Bench Delight; and Rotating Seasonal Cocktail, which pairs Fever-Tree Spiced Orange Ginger Ale with Jameson Irish Whiskey, and blood orange. The space is bedecked with hanging greenery, two porch swings, string lighting, and festive Mediterranean blue awnings and umbrellas. Heat lamps, fire pits, and hot cocktails warm guests inside and out. Bryant Park is located behind the New York Public Library between 40th and 42nd Streets & Fifth and Sixth Avenues. Fever-Tree Porch is located at the southwest corner of the park near Sixth Avenue and 40th St., bryantpark.org
Arthouse Hotel
Uptown's vintage inspired Arthouse Hotel's Holiday Movie Revival pop-up brings classic holiday moments from the silver screen to life. Throughout December, the hotel's swanky lobby and Arthouse Wine Bar will be transformed into a nostalgic space that enables guests to journey down movie memory lane. The colorful decor and lineup of fun cocktails were inspired by some of the best holiday movies of all time. A stroll by the window displays will transport guests to the exterior of Kevin McCallister's house in Home Alone. As guests enter the holiday zone, a lamppost and street sign will welcome them to Miracle on 34th Street. While there, they can warm themselves by the fire and burnt Christmas tree that hails from National Lampoon's Christmas Vacation. While there, they can sip on Sip on a Leg Lamp Punch that pays homage to the "fra-gee-lay" award in A Christmas Story. There will also be holiday egg-nog inspired by National Lampoon's Christmas Vacation, and more. Between the ambiance and the cocktails, you'll be sure to snap into holiday mode. 2178 Broadway, 212-362-1100, arthousehotelnyc.com
Empire Outlets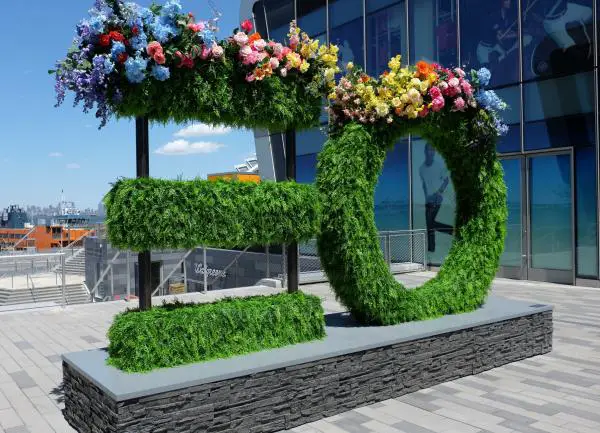 Come holiday time, Empire Outlets—New York City's first outlet destination—will be transformed into a magical winter wonderland. The Staten Island-based retail destination boasts panoramic views of the soaring Manhattan skyline and waterfront. The destination is just a quick—and free—ferry ride away from downtown Manhattan. During the holidays, Empire Outlets is aglow with 70,000 LED lights and adorned with 1,096 feet of colorful garlands. It also boasts a pop-up holiday market, which will run from November 20 to December 31. Located on the fourth floor, the market offers local wares from a lineup of vendors from Staten Island and beyond. Snap up some gifts while enjoying warm beverages, baked goods, and beyond. Don't miss Snug Harbor's Lantern Festival Exhibit, which kicks off on November 21 and runs through January 13. Throughout the season, the spectacular lantern exhibit will also be located on the fourth floor. For those seeking Black Friday (November 29) deals, Empire Outlets will open its doors from midnight to 9 pm. If the holiday crowds get to be too much and you require some R&R, stop by the "Rejuvenation Station," which will offer free massages—just show your Empire Outlets shop receipt.
A Tree Lighting Ceremony will be held at 6pm on December 3. Enjoy this quintessential holiday scene as the 40-foot crystal tree is illuminated. Festivities include live music, caroling, hot chocolate, seasonal bites, in-store shopping deals, and holiday revelry. The date aligns with #GivingTuesday—a global day of giving. In the spirit of giving, Empire Outlets partnered with Toys For Tots, so be sure to bring toys for kids-in-need.  From December 3 through December 24, children can have their photos taken with Santa. In addition, Empire Outlets is collecting letters to Santa. 130 Stuyvesant Pl., empireoutlets.nyc
Winterland at Pier 17
Winterland Rink returns on November 22 for its second season on The Rooftop at Pier 17. While taking in dramatic cityscape views, guests can zip around Manhattan's open-air rooftop ice rink. Boasting panoramic views of the Brooklyn Bridge, Empire State Building, and other landmarks, Winterland Rink offers fun weekly programming including themed playlist skates, special pricing for the neighborhood community, group and private instructional skate lessons, and beyond. Daily skating tickets and season memberships to Winterland Rink are available. Open seven days a week, Winterland Rink will remain open into March 2020. 89 South St., Pier17ny.com/Winterland
Arlo SoHo
Arlo SoHo has created an autumnal escape for those seeking the serenity and warmth of an upstate experience without leaving the city. The new Autumn at Arlo experience features cozy cabins that can be booked for two hours at a time. Each space, embellished with chic country-style décor, comfy blankets, and other colorful fall essentials, accommodates eight guests. Autumn revelers can gather around the rustic tables and enjoy some nibbles and cocktails from Harold's fall menu. It features acorn squash with lemon ricotta, "rainbow carrots" with candied walnuts, and beyond. 231 Hudson St., 212 342-7000, arlohotels.com
Monarch Rooftop & Indoor Lounge
On December 14, Monarch Rooftop & Indoor Lounge is hosting its Annual Gingerbread House & Cookie Decorating Contest. For the holidays, Monarch has been transformed into a magnificent winter wonderland. It features a soaring 20-foot Christmas tree. The chic rooftop area is enclosed with a transparent structure, so guests can remain cozy while enjoying the spectacular sights of the Empire State Building and midtown Manhattan. Gingerbread house and cookie decorating winners will be granted a variety of prizes; proceeds from raffle tickets will be donated to Toys for Tots.  The event will run from noon to 3pm. Tickets are $10 (kids) and $15 (adults); all ages are welcome. For tickets, monarchrooftop.com/special-events. 71 W. 35th St., 212-630-9993, monarchrooftop.com
Magic Hour Rooftop Bar & Lounge
This holiday season, Magic Hour Rooftop Bar & Lounge atop the Moxy Times Square will host its first ever holiday install event, entitled the Pink Holiday Playground, transforming the space transformed into a theatrical pink oasis. The sleek space's ceilings will be dressed in hot pink twinkle lights and enormous rotating mirror balls will dangle from above. The decadent space will also boast festive human-size bears, which will be anchored by a central carousel. These design elements all unite to create a fantasy-themed, one-of-a kind, Instagram worthy experience. New food and beverage offerings will be unveiled—from Magic Hour's 'Dough-Pie' pink edition to the glittery Snow Globe Cocktail, and the oversized Disco Ball Red Sangria. The event kicks off at 6pm. (While you'e at the Moxy Times Square, venture to the atrium on the second floor to experience "Bright Lights, Big City" at an all-pink reimagined futuristic set-up wrapped in metallic ornaments. You'll be able to sip on a bright, boozy Pink Velvet Hot Chocolate while creating your very own holiday postcard photo behind a giant neon frame.  Open daily from November 13 through January 1. 485 SeventhAve., 212-967-6699, marriott.com/hotels/travel/nycox-moxy-nyc-times-square
Mondrian Alpine Terrace by Club Med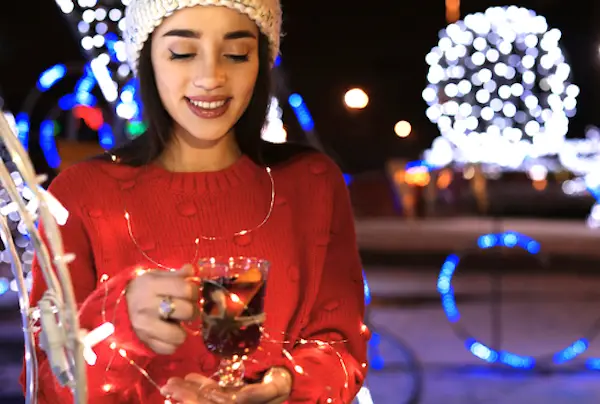 Manhattan's Mondrian Terrace has unveiled its Mondrian Alpine Terrace by Club Med—a winter pop-up experience atop the 15th floor of Mondrian Park Avenue. The Mondrian boasts an enclosed terrace space, which was transformed into a ski chalet that overlooks the twinkling lights of Park Avenue South. The area is decked out with winter accents such as pinecones, faux snow, and beyond. Retreat to the chalet for signature cocktails such as the Black Diamond Flask or Spiced Cranberry Collins alongside cozy dishes such as the Prosciutto and Fig Flatbread and Dipalo's Burrata Toast. After entering a sweepstakes to win an all-inclusive Club Med ski vacation, snap a fun photo in the ski chair photo booth. With both indoor and outdoor seating, Mondrian Alpine Terrace by Club Med is the ideal destination for after-work drinks, a weekend staycation, or cozy date night. Throughout the winter season, the terrace will open at 4 pm every Monday through Thursday. On Fridays, it will open at 2 pm and on weekends at noon. 444 Park Ave. S., 212 804-8880, igchospitality.com/restaurants/mondrianterrace
The Clicquot Chalet at Mr. Purple 
 
The Clicquot Chalet at Mr. Purple returns for Winter 2019. Launched November 20th, Mr. Purple atop Hotel Indigo Lower East Side will be transformed into a funky après-ski lodge in the sky. Think vivid purple deer heads, tech-driven digital fireplaces, and lots of cozy blankets.Out on the terrace, guests will witness a larger-than-life snow globe dome decked-out in Veuve Clicquot-themed ski lodge décor. Of course, the stylish dome boasts its very own champagne bar. Once inside, visitors can enjoy a warm retreat from the elements while indulging in festive cocktails that hail from the specialty pop-up menu. It includes seasonal hot sips and exclusive Veuve Clicquot champagne cocktails. They'll be plenty of chocolate and cheese fondue as well. The Clicquot Chalet accommodates approximately 25 to 50 people, so reservations (with a table minimum) are highly encouraged via Mr. Purple's website. Walk-ins will be accepted based on availability. Open daily November 20 through February. 180 Orchard St., 212-237-1790, mrpurplenyc.com
Pink Holiday with Putnam & Putnam at Moxy Chelsea
Putnam & Putnam—a top floral designer pick for celebs and other A-listers is transforming the entryway shop at Moxy Chelsea into a full floral installation inspired by Moxy's Pink Holiday. Upon entering the hotel, guests will be greeted by an oversized installation of cascading pink holiday florals. The blooms offer a perfectly pink botanical photo opp for social media. Once inside, warm up to a Pink Velvet Hot Chocolate crafted with Godiva White Chocolate, vanilla vodka, and edible pink glitter at Bar Feroce. Open daily from November 15 – January 1. 105 W. 28thSt., 212-514-6699, marriott.com/hotels/travel/nycos-moxy-nyc-chelsea/?scid=bb1a189a-fec3-4d19-a255-54ba596febe2
Pink Winter Wonderland at Moxy East Village
The newest New York City arrival of the three Moxy hotels will be transforming the Alphabet Bar Terrace into a pink winter wonderland. The enclosed backyard space will feature over-the-top fuzzy pink throws, plush seating and Rock 'n' Roll-inspired Christmas trees. Music mavens, skater kids, and others are welcome to kick back at this cozy, cool pop-up. A Pama Pointsettia pink cocktail featuring Viva Joven tequila will be on the menu. Open daily from November 26 through January 1 from 7am to 9pm. 112 E. 11thSt., 212-288-6699, marriott.com/hotels/travel/nycot-moxy-nyc-east-village/?scid=bb1a189a-fec3-4d19-a255-54ba596febe2
World Vision's Give-Back Gift Shop at Bryant Park 
World Vision, the humanitarian organization dedicated to tackling the root causes of poverty and injustice, is bringing charitable giving to life with the debut of its Give-Back Gift Shop. In early December, the interactive shop will pop up in Manhattan's Bryant Park. Shoppers are welcome to purchase handcrafted gifts created by fair trade artisans. Purchases such as these help kids and communities lift themselves from poverty. Guests of the marketplace can visit animals and take photos with fuzzy, snuggly goats. Patrons will also have a chance to enroll in Chosen, World Vision's new initiative in child sponsorship. Marking the first time in World Vision's almost seven-decade history, children will be able to select their sponsors.  Visitors to the Marketplace can also build a care kit. After writing an encouraging note, they can fill a bag with personal care essentials to be gifted to those impacted by poverty, disaster, homelessness, and abuse both here and abroad. Shoppers may also take a fun holiday photo in the Celebration Photo Booth. All proceeds benefit in people in New York and in destinations abroad who are served by World Vision.The Marketplace will be offered December 2nd and December 3rd, which is GivingTuesday. Hours extend from 11 am to 8:30 pm. Bryant Park , Sixth Ave. between 40th and 42nd Streets, worldvision.org/giftshop