When the subject turns to the songwriting team of Lynn Ahrens and Stephen Flaherty there tends to be a respectful pause and a smile. Not only are they musical theatre superstars (legendary...prolific...award-winning), they're the good guys—people you want to have brunch with. And be inspired by.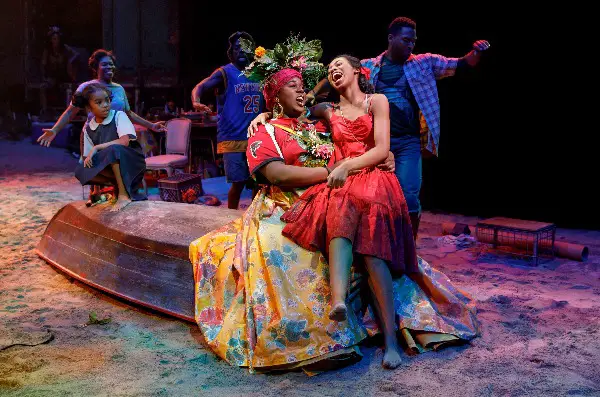 Be transported by Alex Newell, Hailey Kilgore, and the cast of Once on This Island. Photo by Joan Marcus.
Notably, their creative range is staggering, with a Broadway portfolio that includes everything from Ragtime to My Favorite Year to Seussical to Rocky to the currently running epic hit Anastasia.
Yet, the first of their collaborations to make it to the Great White Way (in 1990) was Once on This Island—a poignant romance featuring island gods, rich storytelling, glorious dancing, and, of course, Ahren's and Flaherty's exquisite score.


Now, with a new Broadway production underway, the timing was clearly right to check in with Ahrens (book and lyrics) and Flaherty (music).

Griffin Miller: Back in the late 1980s, what inspired you to create this musical?

Lynn Ahrens: I was browsing in the used book section of Barnes & Noble and found a slim volume titled My Love, My Love: or The Peasant Girl by Rosa Guy. The first few lines captivated me, "There is an island where rivers run deep. Where the sea sparkling in the sun earns it the name 'Jewel of the Antilles.'" I read it in an hour and took a cab over to Stephen's. I said, "I think I've found our next musical."

Stephen Flaherty: I'd been listening to a lot of world music at the time and the thought of using world music elements in an original theater score became very exciting to me. Since the island in the novel was never named I was able to create a musical sound that would be its own, drawing from Afro-Caribbean, Brazilian, and even gospel influences.

GM: How did the revival come about?

LA: Doing a somewhat revisionist version of Once on This Island was a dream of [director] Michael Arden's. He approached us a few years ago, demo tape in hand, and talked us into hearing his ideas. It's pretty thrilling to see what was in his mind back then now materializing on the stage.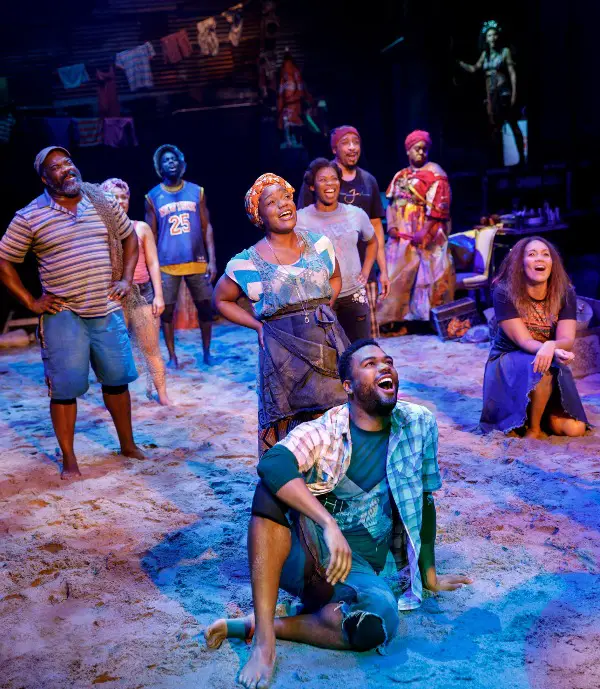 Photo by Joan Marcus.

GM: What do you consider the most challenging and rewarding aspects of working on the new production?

LA: Every detail of the original production is still in my head, so I have to remember to leave it at the door. This is Michael Arden's vision, and it's beautiful in a whole new way.

SF: To me, it's probably learning and refining the new, very intricate vocal parts. But hearing them come to vivid life has been a real joy.

GM: Can you comment on the current cast and what they bring to your words and music?

LA: They're all powerhouse singers, amazing dancers, passionate actors, and stunning individuals. Suffice to say, they bring complete commitment and amazing musical technique to every word and note.

SF: They bring a real freshness to the material and a vibrancy. In what is essentially an ensemble piece, every cast member is a star. This cast has some of the greatest voices currently on Broadway. They create a glorious sound.

GM: Once on This Island is different from any other show on Broadway—how would you describe the experience to theatregoers?

LA: You'll walk through the door and straight into another world—one that will take your breath away.

SF: Prepare to be moved, prepare to celebrate, prepare to dance in the aisles.
Once on This Island is playing at the Circle in the Square Theatre, 235 W. 50th St. For tickets, call 212-239-6200 or visit OnceOnThisIsland.com.