Union Square has long been a place of entertainment, activism, and companionship, with many stores, a leafy park, and theaters opening up around the square since it formed in the early 1800s. Although the area has undergone many changes over the years, Union Square continues to be a source of leisure for New Yorkers and tourists alike. 
Photo by Jason Krieger on Unsplash.


Although COVID-19 has led to mass closures of stores around the world, Union Square is starting to reopen more and more businesses. Of course, there are new guidelines in place to keep people safe and enforce social distancing. But still, patrons can enjoy the benefits of Union Square like they have since it opened. 
As far as businesses go, Union Square is seeing a wide variety of stores and shops opening. Books of Wonder, Paragon Sports, Bedford Cheese Shop, and Union Square Wines & Spirits are allowing guests to come inside and shop. Other retail shops are opening like Barnes & Noble, Cohen's Fashion Optical, and Aum Shanti Bookshop. Restaurants like Union Square Cafe, Daily Provisions Cafe, Gramercy Tavern, Tacocina, and Blue Smoke are also reopening to serve hungry customers. Fresh fruits and vegetables can be found at Union Square GreenMarket,  open on Monday, Wednesday, Friday and Saturday. 
In addition, Union Square Park is still open for walking if you just want to get some fresh air and relax. Then, if you are up to it, you can walk by one of the many open stores and take a peek inside. Whatever stores are reopening, Union Square has one topic as a prime concern: safety. 
"As we navigate this reopening, the safety of our district's business employees and guests is our number one priority," Jennifer Falk, the Executive Director of the Union Square Partnership, said in a press release. "We want New Yorkers to know that Union Square-14th Street is taking the necessary safety precautions seriously, and we are doing all that we can to communicate to everyone that it is safe and we welcome you to conduct your shopping needs with us."
The Union Square Partnership is indeed taking the coronavirus seriously. Face masks are required in all stores, and social distancing will be enforced at all times. To help, stores are allowing a limited capacity of guests to maintain social distancing. Also, if you are not comfortable shopping inside, you can stay outside. Retail stores are offering curbside pickup of materials at this time. 
Union Square is offering plenty of opportunities to shop and dine safely at this bizarre moment in history.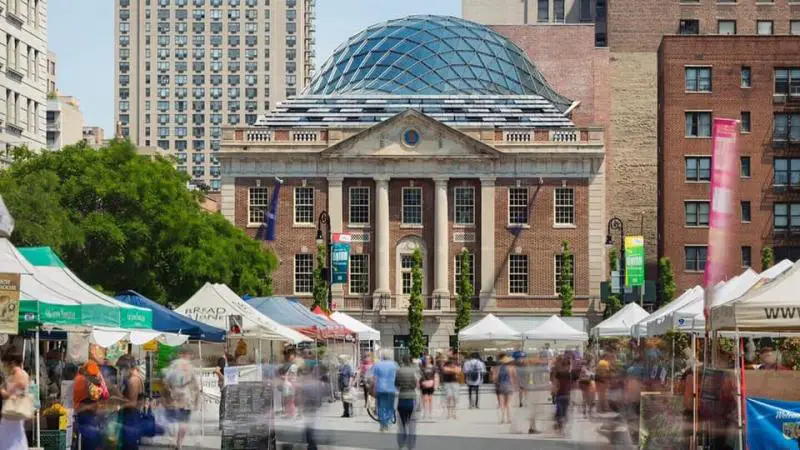 Union Square Partnership Facebook.
See a complete list of Union Square restaurants offering outdoor dining here.