The White House has new details for the return of international travelers on November 8th. Tweaks to the guidance will make it easier for families to travel (children under 18 will be exempted from the vaccine requirement) and there will be exceptions for emergency, humanitarian, and medical reasons. Recent data shows a rise in bookings to the U.S. in tandem with reopening borders, with clear peaks at the point of reopening and again for the winter holidays. International travel is the driving force in rising global hotel bookings, which have just surpassed 80% of pre-pandemic levels. Delta Air Lines is adding 100 daily departures from NYC airports to meet rising demand. They've seen business travel increase steadily since Labor Day. American Airlines saw big gains in corporate travel in July; although the Delta variant dampened those numbers, more recent indicators show an acceleration in business travel and the July numbers indicate corporate demand will be there. Family travel will get a big boost from youth vaccinations, which could be happening in NYC in a matter of days. General traveler confidence is on the rise as variant fears subside. In mid-October, NYC's weekend hotel occupancy reached a pandemic-era high of over 80%. Other signs of NYC comebacks include:
Tom Harris, President of the Times Square Alliance, shared some data at an HSMAI panel last week. He noted that pedestrian traffic at the Crossroads of the World is up 55% since May, with retail demand on a steep rise. We are anticipating even better numbers when the world is allowed back in.
The Empire State Building "Fall-ify's" the 86th Floor Observatory: New York stylist, designer, and artist Carter Thompson has collaborated with ESB on a new autumnal photo op.
LINKS OF INTEREST
U.S. Department of State Frequently Asked Questions on COVID-19 Vaccinations and Testing for International Travel
NYC
BEYOND NYC
Art on the Ave NYC, a nonprofit community initiative, displays work by 27 local artists at The Fulton Center and seven other locations along Broadway, ongoing through November 28th.
READ A NEW MAGAZINE FOR INDUSTRY PROFESSIONALS—PARTY PICTURES, BROADWAY NEWS AND MORE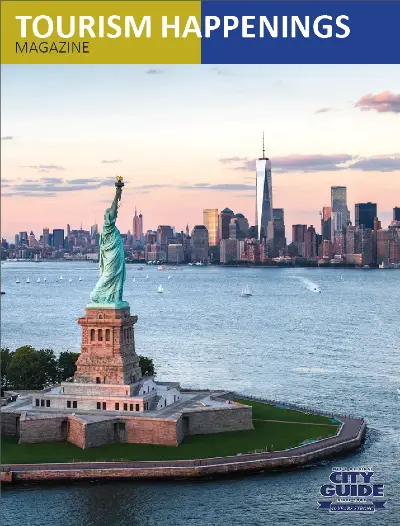 City Guide's Tourism Happenings, an industry magazine, is hot off the ether. See your friends at the NYC Tourism Is Back celebration. Find a calendar of fall city events and a guide to Broadway re-openings. Get informed on the latest local activities from sponsors of the Tourism Is Back cocktail reception, including news from NYC's leading organizations. Reconnect with everything that's going on in the city now—check it out! Share it with colleagues who want to stay in the loop.
EVERYTHING TO DO FACEBOOK GROUP POST OF THE WEEK
City Guide's Facebook Group Everything to Do NYC is 56,000 members strong, bringing together a mix of tourists making plans and locals giving advice. It's a great barometer of what visitors are thinking. It can also be a source of inspiration when people have a genuine experience of the city, as in this post from over the weekend:
We were never scared... police were everywhere, the subway and busses saved our feet several times.... we got the metro unltd. My granddaughter left her purse on a bus and we waited the loop and it was still there. We went to Aladdin and Waitress- both were fantastic - Harry Potter store was grands fave - China town was an experience - the Memorial, Lady Liberty, and Observation decks forever etched in our hearts.
THANK YOU NEW YORKERS
 The group is a great way to reach customers in real time as they're making decisions about where to invest their time and money in NYC. If you're not a member yet, join us!