One of the most distinctive experiences about visiting the Big Apple is the abundance of shopping in NYC. The specialty shops, department stores, and malls in NYC have good service and good taste on display, from creative boutiques to iconic flagship stores. Here's a look at some of the best shopping in NYC.
Click on a below category to jump to that section:
Flagship Department Stores in NYC
The largest department store in the country, Macy's Herald Square sprawls across an entire city block near Penn Station. From the lower level to the eighth floor you can browse handbags, beauty items, jewelry, watches, sunglasses, housewares, and pretty much any stitch of clothing you can imagine. 
151 W. 34th St., Herald Square • 212-695-4400
Hours: Monday-Thursday, 10am-9pm; Friday-Saturday, 10am-10pm; Sunday, 11am-9pm
Bergdorf Goodman
Bergdorf Goodman dates back to 1899 and still stays stylish in its landmark Fifth Avenue flagship. It has a rich history of showcasing leading and emerging designers, making it a destination for shoppers from around the world. Top brands like Prada, Jimmy Choo, Gucci, Lanvin, and Dolce & Gabbana are here, as is stand-out service. 
754 Fifth Ave., Midtown • 212-753-7300
Hours: Monday-Saturday, 11am-8pm; Sunday, 11am-7pm
Saks Fifth Avenue
Saks Fifth Avenue is another long-time destination with a major presence—think 10 floors of luxury retail uptown. This flagship location offers a variety of services, including style advisors, virtual shopping, a medspa, beauty concierge, and restaurants. And did you know the shoe department is so large it has its own zip code?!
611 Fifth Ave., Midtown • 212-735-4000
Hours: Monday-Saturday, 11am-7pm; Sunday, 12-6pm
Bloomingdale's
What is now a shopping destination for many who live in and visit NYC, Bloomingdale's started in the late 1800s on the Lower East Side. The first "department store" in NYC, it now offers a variety of top designers, including Cole Haan, Helmut Lang, Kate Spade New York, Levi's, Calvin Klein, Rag & Bone, 7 For All Mankind, and Versace.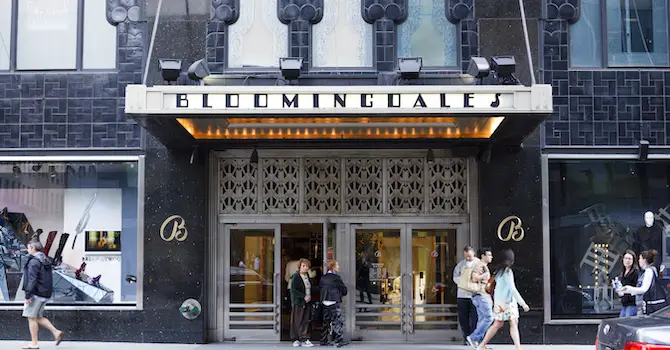 1000 Third Ave., Midtown • 212-705-2000
Hours: Monday-Saturday, 11am-8pm; Sunday, 11am-7pm
Other Flagship Department Stores in NYC
Moving around the city, you can also find flagships representing:
Malls in NYC
New York is less defined by small boutiques and department stores than ever before thanks to a slate of state-of-the-art malls. 
The Shops at Columbus Circle
The Shops at Columbus Circle boasts dozens of sophisticated retail options, plus great views of Columbus Circle itself. The indoor complex near the subway station is a sleek collection of favorite retail stores. Go to Tumi for luggage, Williams-Sonoma for a stainless saucepan, Madewell for women's jeans, and Sephora for makeup. The bottom floor is home to a gigantic Whole Foods with plenty of space to eat.
10 Columbus Circle, Upper West Side • 212-823-6300
Hours: Monday-Saturday, 10am-8pm; Sunday, 11am-7pm
The Oculus
Manhattan's most architecturally ambitious shopping center is the Oculus, which rises from Lower Manhattan like a gigantic set of ribs. Inside, tunnels combine with the shopping floors to create a complex called Westfield World Trade Center, which serves up brands like Apple, Boss, Banana Republic, H&M, M.A.C., Swarovski, and Tumi.
185 Greenwich St., Financial District • 212-284-9982
Hours: Monday-Saturday, 10am-7pm; Sunday, 11am-6pm
The Shops Hudson Yards
The luxury Hudson Yards mall contains seven floors of fashion, beauty, tech, art, and so much more. Among the nearly 100 stores at The Shops, you'll find favorite brands like Van Cleef & Arpels, M.A.C., Coach, Aritzia, lululemon, Zara, Pandora, Madewell, and Sephora. Iconic jeweler Tiffany & Co. also has a location here, and innovative concept stores can be found among more traditional retailers. And once you're done shopping at the Hudson Yards mall, spend time exploring the Hudson Yards neighborhood.
20 Hudson Yards, Hudson Yards • 646-954-3155
Hours: Monday-Saturday, 10am-8pm; Sunday, 11am-7pm
Brookfield Place
Originally known as the World Financial Center, Brookfield Place underwent a $250 million renovation and expansion project in an effort to drive more tourism to the area, and we have to say, we're fans. The shopping center houses a vast assortment of high end stores, including Burberry, DVF, Gucci, Hermes, and Jo Malone. And as soon as your appetite kicks in from all the shopping, a plethora of restaurants and eateries have got you covered. From Mighty Quinn's Barbeque to Blue Ribbon Sushi Bar, there's something tasty here for everyone.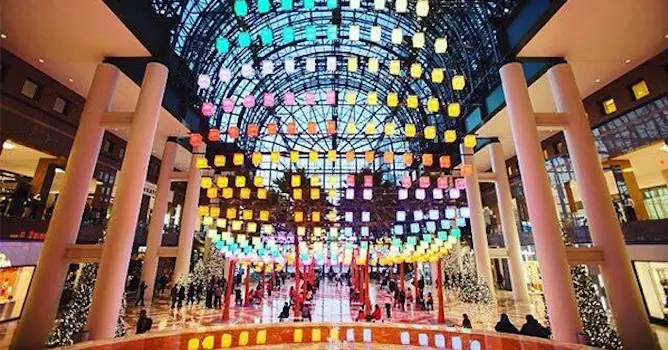 230 Vesey St., Battery Park • 212-417-7000
Hours: Monday-Saturday, 10am-8pm; Sunday, 12-6pm
Specialty Shops in NYC
With so many chain stores around, it's a treat when you find a shop that sells one kind of merchandise alone—the kind of shop that manages to thrive in New York City. Most of these are small operations; many have been in business for a long time. Customers love them, both for their personal service and their unique wares. You will, too. Read on for our picks for the best specialty shops in NYC.
C.O. Bigelow
Since 1838, the oldest apothecary in the country has serviced the needs of pretty much everyone, from Thomas Edison (he came in with a sore finger) to modern-day A-list celebs. For nearly two centuries the store has filled prescriptions and formulated products under its own name that promise to heal and remedy. The store continues to be a treasure trove of cult beauty products and hard-to-find skincare labels.
414 Sixth Ave., Greenwich Village • 212-533-2700
Hours: Monday-Saturday, 9am-7pm; Sunday, 9am-5:30pm
Showfields
Noho's Showfields combines boutique, product demo, and immersive art installation. The rotating products come from dynamic brands across the spectrum, from skincare to smart home tech to fashion. There are always staff members on hand to help out and Insta-ready backdrops for selfies galore. Also on site are an immersive theater experience called House of Showfields and other events like cooking classes hosted weekly at The Loft upstairs. 
11 Bond St., Noho • 646-289-5041
Hours: Daily, 12-7pm
The Strand
Back in 1927, New York had a six-block area known as "Book Row," housing 48 bookstores. How far we've come, or gone. The Strand, named after the London street where writers used to meet and talk, began as a haven for book-lovers. Today it carries more than 2 million new, rare, and used books, as well as literary-related gifts of all kinds—even a Strand baby onesie. Outside the store are dollar carts for bargain books; inside is everything else, as well as book readings and signings, mostly in the evenings. You can get lost among the shelves for hours should you choose or else find what you seek with the aid of the book-loving staff.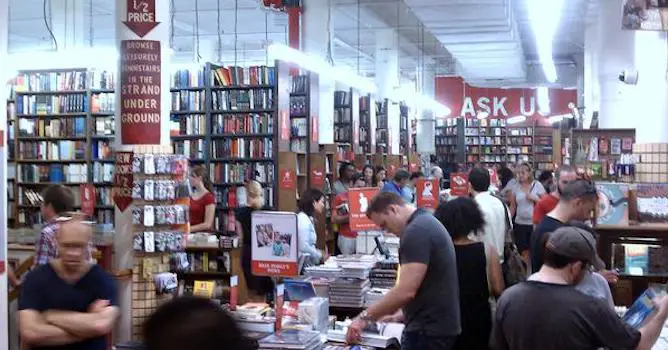 828 Broadway, Union Square • 212-473-1452
Hours: Daily, 10am-8pm
For over 45 years, Cockpit USA has been reproducing genuine, contemporary versions of iconic American-made aviator clothing, both in civilian and military design. Its jackets have been seen in pop culture through the years, from Steve McQueen to Tom Hardy to a series of U.S. Presidents. Make an appointment to visit their midtown showroom and they'll make sure to have your size on hand when you arrive. 
15 W. 39th St., 12th Floor, Midtown • 212-575-1616
Hours: Monday-Friday, 10am-5:30pm
B&H Photo Video is a city legend, the world's largest source of cameras, camcorders, computers and tablets, media players, binoculars, and more—explained by staff that know the products forward and back. The superstore houses over 300,000 of the newest products from more than 3,000 brands. Whether you know exactly what you want or are in the mood to explore, you can check out 17 interactive departments, staffed by B&H's legendary sales associates, who are multilingual and non-commissioned. 
420 Ninth Ave., Chelsea • 212-444-5003
Hours: Monday-Thursday, 10am-7pm; Friday, 10am-2pm; Sunday, 10am-6pm (check the holiday schedule online)
The Evolution Store 
In the market for a beaver skull? Prefer a green turbot seashell, or are agate slices more your thing? Head to The Evolution Store for a vast selection of science and natural history collectables and 142 home furnishings set out so it has a museum-like feel. All offerings have come from paleontologists, entomologists, anthropologists, and are obtained legally and can be legally sold in New York State; in fact, the store is licensed by New York State and the U.S. Fish and Wildlife Service. Sales staff is full of help and owner William (Bill) Stevens is often around and happy to chat. If you have entomology needs or a request, you'll need an appointment. Otherwise, drop in anytime. 
687 Broadway, Noho • 212-343-1114
Hours: Daily, 11am-7pm
Fishs Eddy
There's a tiny hamlet in upstate New York from which the owners of Fishs Eddy borrowed the name for their shop. They stock all things dining-related in terms of glassware, plates and platters, kitchen storage, flatware, and gadgets. This is where to come if you seek an Alexander Hamilton shot glass, a serving platter featuring a dinosaur, or a Brooklyn-accented sugar bowl and coffee mug (reading "Shuguh" and "Cawffee.") It's a great spot for dishes for a first-time homeowner or for furnishing that beach house—most stock isn't in the joke mode—i.e. simple white dinner plates for under $8, and dishes featuring iconic NYC spots like the Williamsburg Bridge and Empire State Building, are equally reasonable.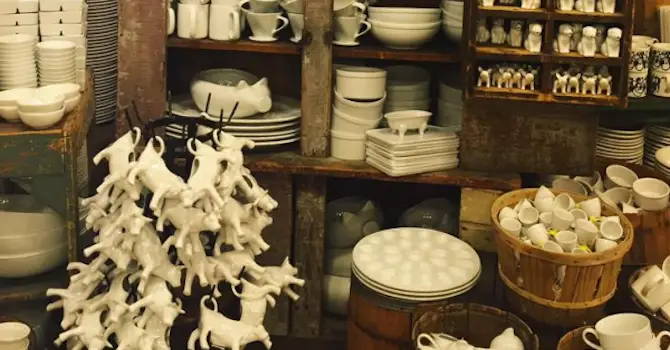 889 Broadway, Union Square • 212-420-9020
Hours: Monday-Saturday, 10am-6pm; Sunday, 11am-6pm
Enchantments 
To pull off a full Harry Potter, head to Enchantments, New York's oldest store dealing with the occult. From blended oils to incense to candles custom-carved with astrological signs and hundreds of talisman necklaces, wave your wand (and credit card) and it can be yours. Make an appointment for a tarot reading or have your chakra scanned. People claim their lives have been changed after burning a particular candle or wearing a special oil. Burning sage is said to remove bad spirits, a practice often employed in a new home. 
165 Avenue B, Alphabet City • 212-228-4394
Hours: Monday, Wednesday-Friday, 1:30-8pm
Best Museum Gift Shops in NYC
You can spend an entire trip to New York just in museums, absorbing collection upon collection of art and artifacts. The city's museum stores let you take that museum experience—often too fleeting—with you. 
The Museum of Arts and Design, which is dedicated to superb craft, brings equally compelling design to its store. Find one-of-a-kind jewelry, ceramics, bags, and toys on the ground floor of MAD's Columbus Circle location. As you shop, you'll find objects made with care and fine materials from a range of exceptionally curated artisans. Check out the kaleidoscope rings and moonface pendant at the Re:Fine jewelry counter, plus home goods like a bronze-edged cream serving bowl. Kids can build their drawing skills with books like My First Book of Patterns.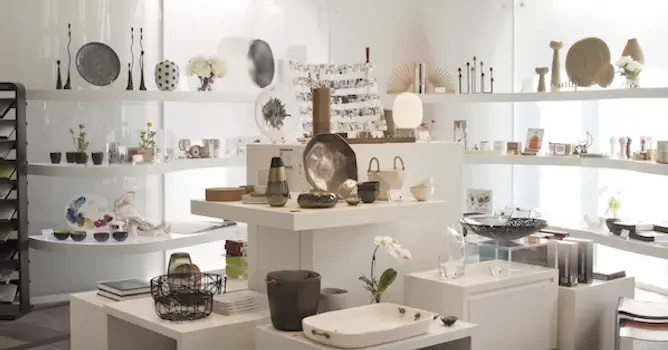 2 Columbus Circle, Midtown • 212-299-7777
Hours: Tuesday-Sunday, 10am-6pm
You can take home your favorite Kandinsky print from the Guggenheim Store, located in the famous Frank Lloyd Wright-designed museum on the Upper East Side. The ground floor shop offers a curated collection of art books, design objects, prints, and accessories. There's always a tasteful collection of objects paying homage to the museum itself, including ever-popular abstracted rotunda T-shirts and hoodies.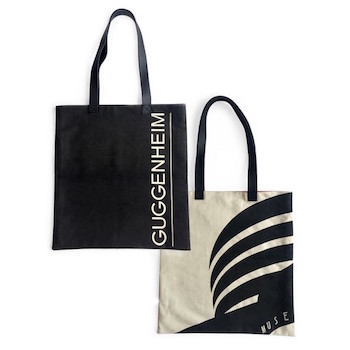 1071 Fifth Ave., Upper East Side • 212-423-3500
Hours: Sunday-Monday and Wednesday-Friday, 11am-6pm; Saturday, 11am-8pm
The Museum of Modern Art (MoMA) offers three retail experiences; the flagship Museum Store, adjacent to the lobby, features a 30-foot high wall display with over 2,000 publications. There are also second and sixth floor shops, which focus more on exhibition-specific items. The MoMA Design Store, which is located across the street from the museum, showcases a variety of lighting, tech innovations, home decor, jewelry, and more.
Museum Store: 11 W. 53rd St., Midtown • 212-708-9700
MoMA Design Store: 44 W. 53rd St., Midtown • 212-767-1050
Hours: Sunday-Friday, 10:30am-6:30pm; Saturday, 10:30am-7:30pm
The Met Store is a destination unto itself, nearly as vast as the collection of art it represents. The store's primary location on the main floor of the Metropolitan Museum of Art contains a fine jewelry counter and a wide range of books, apparel, accessories, and design objects. Buy a Van Gogh-inspired embroidered patch for some Post-Impressionist flair on your jean jacket. Or gift a plush William the Hippo to your child, inspired by the ceramic Ancient Egyptian hippopotamus in the museum's collection. Luckily, the Met Store creates outposts throughout the museum where you can purchase items specific to special exhibitions. This comes in particularly handy every summer when The Costume Institute puts up its newest show! 
1000 Fifth Ave., Upper East Side • 212-570-3894
Hours: Sunday-Tuesday and Thursday, 10am-5pm; Friday-Saturday, 10am-8:45pm
The Brooklyn Museum rewards visitors with a fascinating journey through thousands of years of art history. The journey continues in the institution's well-curated museum store, located in the ground floor of its Beaux-Arts home. You'll find cheeky nods to New York life, Brooklyn-specific items, and an array of art books, posters and prints, decorative housewares, and toys.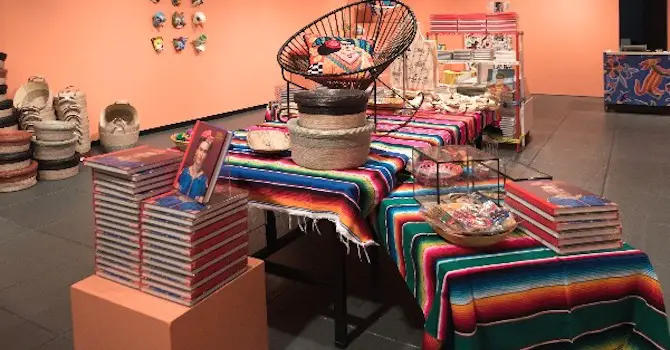 200 Eastern Parkway, Crown Heights, Brooklyn • 718-638-5000
Hours: Wednesday-Sunday, 11am-6pm
It's pretty fitting that The Morgan Shop is packed with fascinating books. The Morgan Library & Museum preserves the printed word inside the former home of Gilded Age financier J. Pierpont Morgan. Read Ron Chernow's House of Morgan, which profiles not only the original occupant of The Morgan but the financial system he helped establish. The well-curated book collection also includes books on New York, U.S. history, and bookmaking, as well as books for children. The Morgan Shop carries merchandise specific to its newest exhibitions, but one thing that won't change is its collection of Mr. Morgan's Tea, inspired by the beverage preferences of J. Pierpont Morgan himself.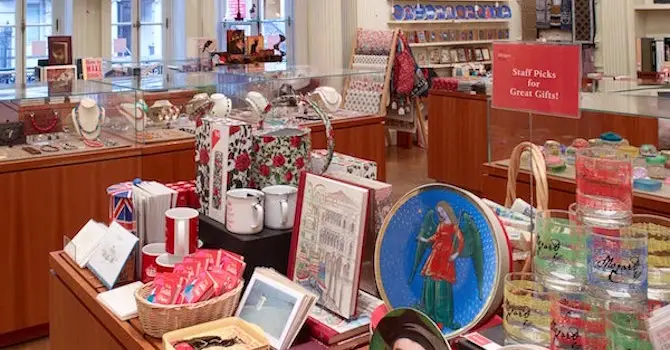 225 Madison Ave., Midtown • 212-590-0390
Hours: Tuesday-Thursday and Saturday-Sunday, 10:30am-5pm; Friday, 10:30am-7pm
Holding down a large patch of land just off Central Park West, the American Museum of Natural History is dedicated to discovering and interpreting the natural world. Among several stores here, The Museum Shop is the flagship, with three levels of unique gifts. Spaces include a gallery, a reading and viewing room, and all kinds of discovery for children. You can pick up educational books and kits, jewelry inspired by world cultures, puzzles, museum apparel and memorabilia, and stuffed animals. The museum has additional retail opportunities in its Exhibition Shops, Cosmic Shop, and Dino Store.
200 Central Park West, Upper West Side • 800-671-7035
Hours: Wednesday-Sunday, 10am-5:30pm 
Shopping in NYC by Neighborhood
While New York has no shortage of great attractions, one of its pleasures is definitely exploring its stores (and by extension, its neighborhoods). We've rounded up a list of the must-shop, must-see neighborhoods, and yes—you can set store by it.
Starting in Lower Manhattan, you won't want to miss the soaring, cathedral-like space that defines the Oculus. The world-class collection of shops here is definitely about time—or it will be, when you peruse the selection of timepieces at Breitling, Tissot, and Longines. You'll also find the perfect writing implement from Mont Blanc along with major players like Apple and Banana Republic.
The perennially chic Soho retains its cult status with a focus on the cutting edge Y3 Concept Store, with clothing by Japanese designer Yohji Yamamoto; the trendy A.P.C., with an emphasis on stylish basics like denim, outerwear, and sweatshirts; and Supreme, known for its collaborations with musicians and designers, including Louis Vuitton). Try Broken English for a mix of new and estate jewelry and peruse Alexander Wang's New York flagship for minimalist fashion mastery.
Upmarket shoppers flock to the Meatpacking District, where women's fashion can be found at Alice + Olivia, perfume at Bond No 9, and men's and women's boutique picks at Marni Meatpacking Market.
Just uptown from there is one of the city's newest shopping—and must see—destinations: Hudson Yards. Beyond the Edge features gifts and collectibles, many of which were created just for Hudson Yards; while Carmen Sol is on a mission to make its eco-conscious "jelly" material a staple with its shoes, bags, and jewelry.
Midtown
There's plenty of shopping in Midtown East and Midtown West. Feeling sporty? Then you'll want to find your way to the NHL Store, where fans can access merchandise from all 32 NHL teams. Soccer fans shouldn't feel left out—it's not too far to the Pelé Soccer store on Broadway. Grand Central Terminal is not just one of the city's most inspiring public spaces, it's also an excellent place to shop, with great souvenirs from the New York Transit Museum plus local favorites like Jacques Torres Chocolate and ingredient specialists Spices and Tease. A little further south in Midtown is Herald Square, where you'll find a plethora of stores, like Old Navy, Macy's, Crocs, DSW, Sephora, Nordstrom Rack, and more. 
Just off Central Park you'll find The Shops at Columbus Circle, where MAC, Moleskine, Montmartre, and Michael Kors beckon, while newer outposts like Lululemon and the CAMP stores offer ways to work out, and work in some time for creativity.
Fifth and Madison Avenues can't be missed (they're classics, after all). Head to the former, arguably New York's most famous street, for a who's who of designer fashion. From Bulgari to Cartier, Tiffany to Gucci, the storied street never goes out of fashion—much like its stores. Basketball fans can shop at the newly reopened flagship NBA Store on Fifth Avenue as well. On Madison Avenue, some of the names include Fendi, Giorgio Armani, and Berluti.
No matter what you're searching for, you can track it down in NYC. Check out these finds, then discover your own. You never know what's in store.
—Written by Evan Levy and Merrill Lee Girardeau