Everyone needs a little rest and relaxation from time to time, and The L'Institut Sothys in New York City is at the top of the list of where to get it. Treat yourself to some "me time" at this luxurious and rejuvenating spa. They offer services ranging from facials to full body treatments, as well as nail care and waxing, for all of your health and beauty needs. Not to mention, this isn't a females-only place—there are plenty of options for men to partake in the R&R.


Facials

Your face is the first thing people notice about you. Needless to say, it's important. Luckily, Sothys has a large collection of specially designed facial treatments to give you the glow you've been looking for. Basic facials like the European Facial, an hour long introductory facial good for all skin types, are offered. Targeted facials are also available, such as the Multi Action Eye Contour Treatment, a 50 minute, $75 facial with anti-aging effects and helpful for reducing dark circles. You might also try an intensive facial like the Hydra Facial. For $180, you get a facial massage and skin enveloping mask to fight off skin dehydration and have you in a state of absolute bliss for 75 minutes. 
Body Treatments

There are facials galore, but don't think that Sothys will neglect your body. From relaxing massages to wraps to body slimming and firming treatments, there's no shortage of offerings. Try the Sensations Orientales for $140. It's a 60-minute aromatic body ritual inspired by the Orient complete with body exfoliation and a warm amber oil massage. There's also the Hanakasumi Body Ritual, which brings together Cherry Blossom and Lotus Flower to nourish the skin. You'll be exfoliated, given a foot massage, and given a shea butter full body massage to relax mind, body, and soul. 
Spa Packages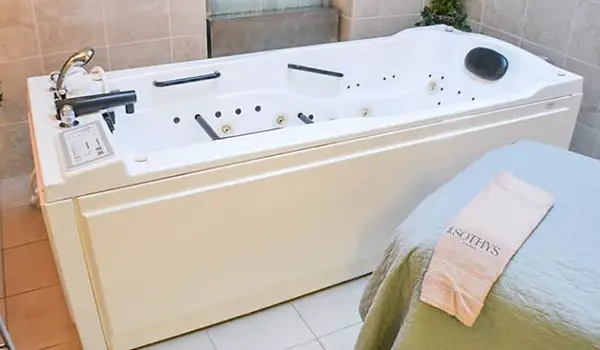 There are so many enticing options at Sothys that sometimes the best choice is to not have to choose. Spa packages combine several treatments into one experience for a couple of hours of peace. Pure Rapture offers either a European Facial or a Signature Massage combined with a Manicure for $120. There's also the City Escape, which is the Seasonal Facial, Signature Massage, and Hanakasumi Foot Ritual for $199. Go all out with the Crème de la Crème ($300), a four-hour experience that includes a European facial with exfoliation, one-hour massage, manicure, pedicure, and lunch.
Men

Men aren't left out at Sothys. The most popular offerings for men are the Men's Essential Facial Treatment (75 minutes for $150), which uses volcanic rock to detoxify the skin, and the Men's Fitness Massage (30 minutes for $130 or 80 minutes for $175) that relieves muscle tension and improves blood circulation. Special attention is paid to customizing these treatments to the lifestyle of men.
Where to Book

You can look over all of your options and make your reservations at sothyspa.com. You can also book instantly by calling 212-688-9400.