You don't have to be a diehard "Potterhead" to fall under the spell of Harry Potter and the Cursed Child (HPCC)—nor is binge watching the films before heading to Broadway's Lyric Theatre a requisite. A theatrical knock-out packed with astonishing special effects, the show stands on its own not just visually, but when it plunges headlong into the universal theme of familial love and conflict.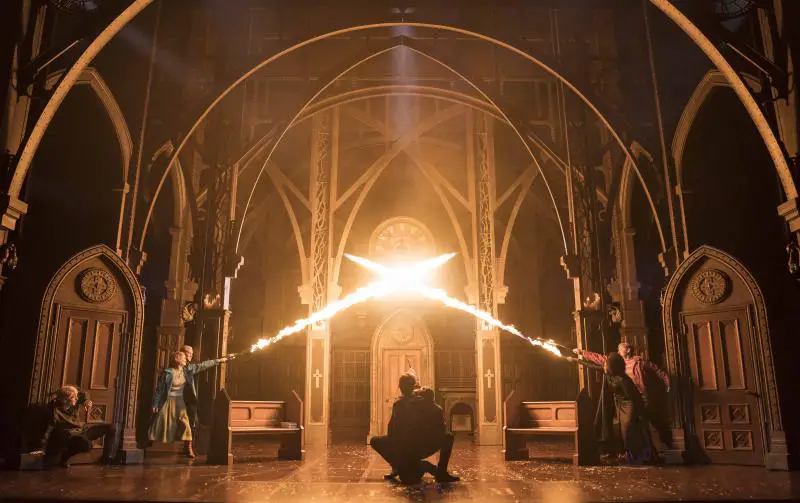 HPCC Cast, photo by Matthew Murphy.
Still, to fully appreciate this follow-up to J.K. Rowling's iconic wizarding series, I recommend visiting the website's primer where all things Harry—from how he got his lightning bolt scar to being raised by "muggles" to a by-the-year recap of his time at Hogwarts School of Witchcraft and Wizardry—are summed up nicely. FYI: Should you need a last-minute in-theatre refresher, the show's program includes a handy recap.
As for HP superfans, you'll want be on the lookout for the nifty Easter eggs that pop up throughout the production. And it doesn't stop there. The wizarding world is on display throughout the Lyric Theatre, from décor to names (Patronus Lounge; House of Photo Op) to the lobby's brilliant interactive AR that lets you scan your way through the Enchanted Ceiling and portraits to glorious, otherworldly effect.
Just as in the epilogue of Harry Potter and the Deathly Hallows, HPCC picks up on Platform 9 ¾, 19 years after the apocalyptic Battle of Hogwarts. Harry, now an adult, is seeing his son Albus (Joel Meyers) off to Hogwarts for the first time.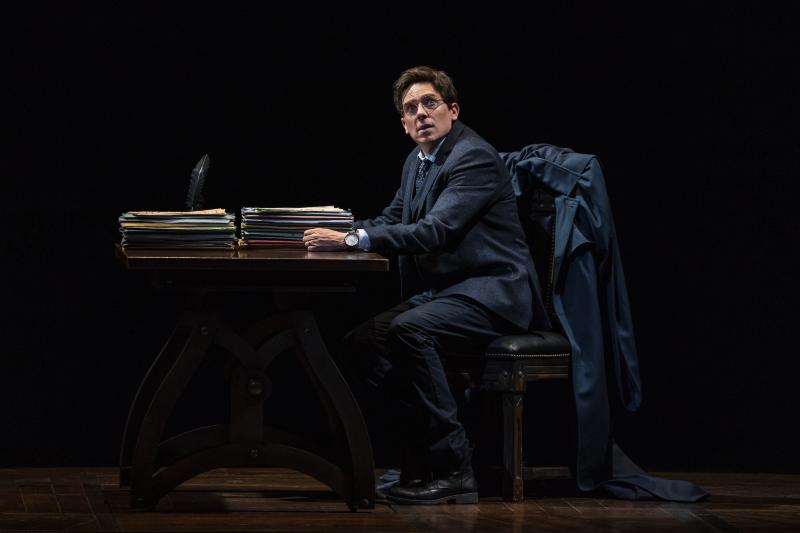 Steve Haggard as Harry Potter. Photo by Matthew Murphy.
Playing grown-up Harry is Steve Haggard, who manages to bring the perfect blend of empathy and angst to the role of husband, father, and Ministry of Magic exec. 
Back on the platform, his son worries about which of the school's four houses the Sorting Hat will place him in. Like Harry in Sorcerer's Stone, the fledgling wizard fears winding up in Slytherin, "the house of the snake…and Dark Magic," instead of Gryffindor, "Where dwell the brave at heart."
"Albus Severus, you were named after two headmasters of Hogwarts. One of them was a Slytherin and he was probably the bravest man I ever knew," Harry tells him, adding that the Hat "will take your feelings into account," as it did his when he was an 11-year-old newbie.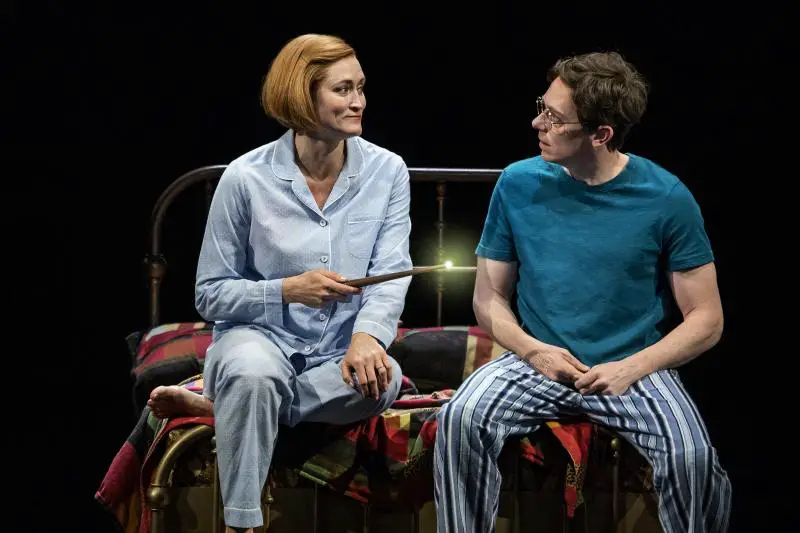 Angela Reed as Ginny Potter and Steve Haggard as Harry Potter. Photo by Matthew Murphy,
THE NEXT GENERATION
Once aboard the Hogwarts Express, Albus finds himself sharing a compartment with clever and quirky Scorpius Malfoy (Erik C. Peterson), son of his dad's archenemy growing up, Draco (Aaron Bartz). Family trees kicked aside, Albus and Scorpius form an instant bond that fast tracks them from BFF first years through their teens. And along the way, becoming embroiled in a journey that takes them into high voltage time-shifting in an effort to right a seeming wrong dating back to when their parents were students at Hogwarts. 
News Flash or Remembrall: In the wizarding world, traveling back and forth in time is accomplished with devices known as Time-Turners—at least it was when Harry and Hermione saved Sirius and Buckbeak in The Prisoner of Azkaban. But by HPCC, the cool but dangerous gizmos have been outlawed. Still, kid-wizard savvy prevails and Albus and Scorpius manage to get their hands on one. From this point on things accelerate into all kinds of crazy, opening the door to a satisfying assortment of subversive plot twists and pyrotechnic thrills.
To ensure all this heart-stopping hocus-pocus comes off without a hitch, the company is carefully groomed by the same illusionists who conjured the production's effects. As a result, all or most of the HPCC cast has the power to execute anything from sleight of hand to cunning stage magic.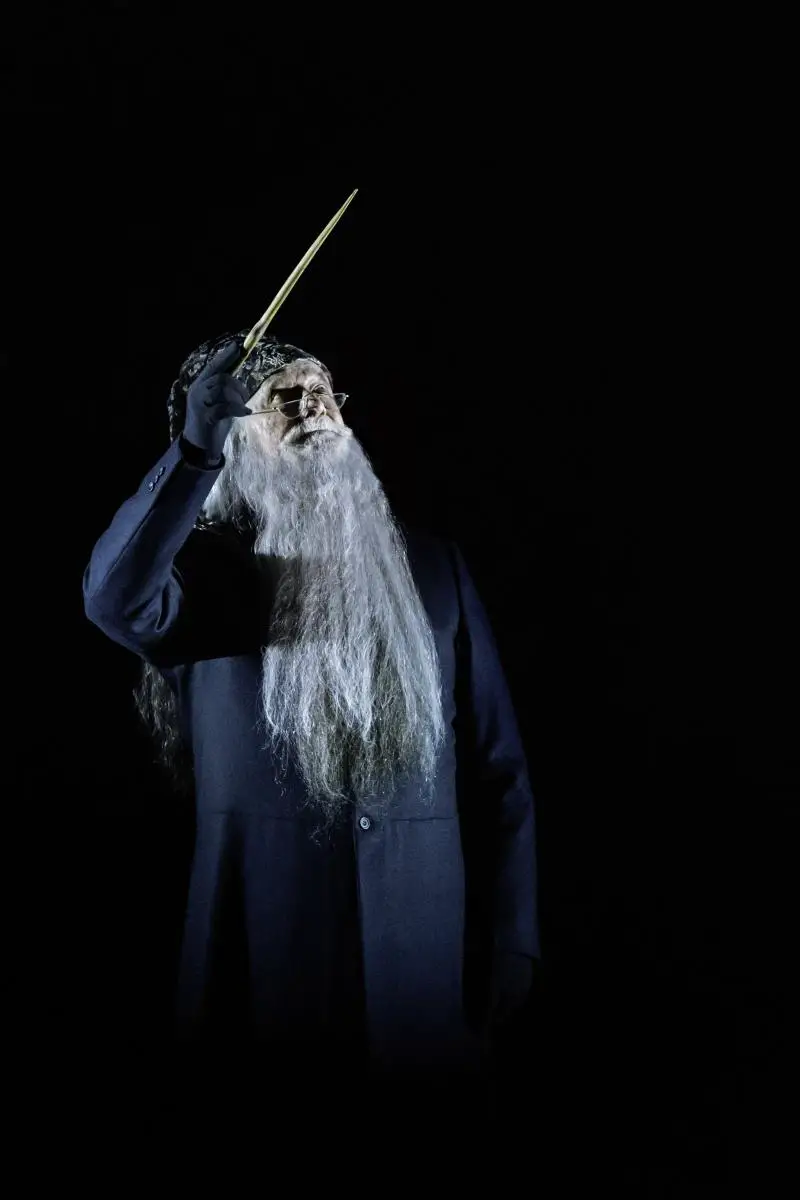 Edward James Hyland as Albus Dumbledore, photo by Manuel Harlan.
As for the various characters who come alive performance after performance—well, they make up a roster that not only includes parental units (Harry and Ginny Potter; Hemione Granger and Ron Weasley; Draco Malfoy); kids (Albus' siblings James Jr. and Lily Jr., and his cousin Rose); but numerous character cameos from the original books, including, but not limited to, the Trolley Witch; Professors Dumbledore, McGonagall, and Snape; Dolores Umbridge; and a scene-stealing Moaning Myrtle apparition (five stars). 
And while the roles of Albus and Scorpius require above-and-beyond stamina and quicksilver moves to dart from present to past, causing havoc with their incautious shenanigans, they are not alone in their pedal-to-metal wherewithal. Credit for the playing of kids and cameos goes to the stellar ensemble who manage to keep up a fierce momentum while doubling and tripling up on roles and flying through some of the most demanding choreography on Broadway. For these performers, every show is a marathon, not a sprint.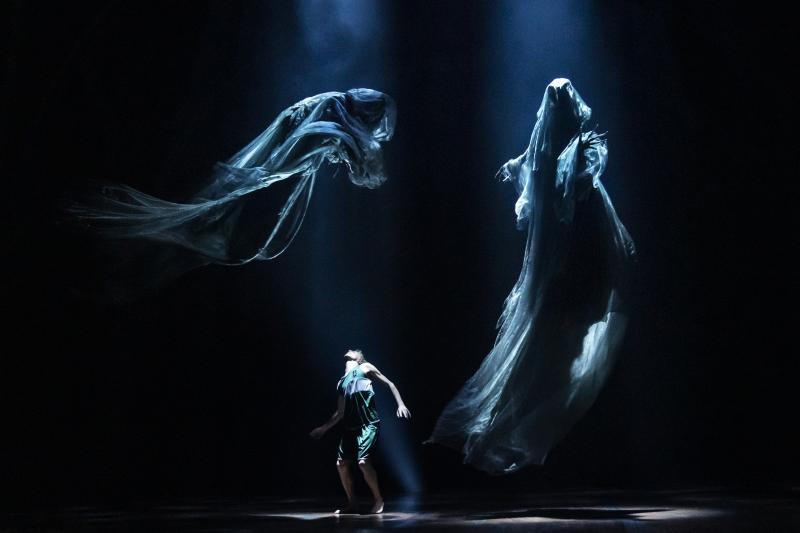 Scorpius Malfoy with the Dementors. Photo by Matthew Murphy.
Herein lies the real magic behind bringing Harry Potter to the stage…the talented people who give it life: creatively, theatrically, professionally…exquisitely. 
Harry Potter and the Cursed Child is playing at Broadway's Lyric Theatre, 214 W. 43rd St. For reservations and show info call 212-305-4100, or visit broadway.harrypottertheplay.com.