For the ultimate dinner-and-a-show experience you can't beat New York City. After all, NYC is the world capital of Broadway shows and there are plenty of theater district restaurants that excel in taste, hospitality, and getting your check squared away with plenty of time before the curtain rises. Or nearby restaurants in Times Square offer ample room and lots of action. A little ways west there's Restaurant Row, with a more local feel, but the smaller venues mean you'll most likely need a reservation. Read on for the best restaurants in the Theater District, Times Square, and on Restaurant Row in NYC.
Click on a category below to jump to that section:
Top Theater District Restaurants in NYC
Cuisine: Italian
The city's strongest suit for cuisine is Italian. Theater District favorite La Masseria serves up authentic versions, with your choice of 11 delectable pastas, a dozen meat and fish dishes (including branzino, Mediterranean sea bream, and grilled t-bone veal chops with fresh herbs), on top of super-fresh salads and daily specials. 
235 W. 48th St., Hell's Kitchen • 212-582-2111
Cuisine: Italian
A nearby spinoff of La Masseria, Masseria dei Vini, brings NYC an updated version of a "Masseria" (in the region of Puglia, in southern Italy, masserias are fortified farmhouses, many now transformed into restaurants and hotels). The menu features beautiful dishes from the region, incorporating fish, shellfish, and fresh, homemade pastas, plus gourmet Neapolitan-style pizza from a Ferrara wood-burning pizza oven. There's an extensive wine by the glass program and a large selection of bottles—mainly from Italy, but without ignoring the rest of the world.
887 Ninth Ave., Hell's Kitchen • 212-315-2888
Cuisine: diner, steak, salads, and more
Image: Anastassios Mentis Photography.
The new Theatre District location of the Carnegie Diner & Cafe pays homage to old New York, with images of icons like Frank Sinatra, and an impressive mural of Carnegie Hall spanning the length of the dining room. Guests can grab a table in the middle of the action, or opt for a cozy booth which overlooks the street view (there's outdoor dining as well). The all-day breakfast is a must, with signatures like a Classic Benedict with optional lobster, avocado Toast, a BLT quinoa bowl, steak and eggs, and a dozen pancake options. Lunch and dinner entrees include rib eye steak, Atlantic salmon, fish 'n' chips, and spaghetti carbonara. Carnegie Diner & Cafe is the first diner in America to serve a full plant-based menu. A pre-theater menu is available, and there's a full complement of decadent desserts.
828 Eighth Ave. Theater District • 212-399-4444
Cuisine: classic diner fare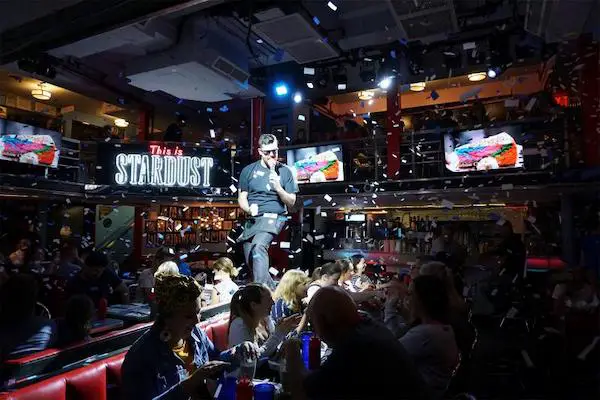 The show goes on at nearby Ellen's Stardust Diner. The 1950s-themed restaurant has been around since 1987 and brings back its retro vibes (founder Ellen Hart Sturm is a native New Yorker who was crowned Miss Subways in 1959). Catch close up performances by staff on their way to joining a long line of Broadway actors who have made Ellen's their launching pad. Classic diner fare will have you fortified before or after Broadway.
1650 Broadway, Theater District • 212-956-5151
5. Cafe Un Deux Trois
Cuisine: French
For a French slant on a pre-theater prix fixe, Cafe Un Deux Trois has been holding down an elegant spot near Times Square since 1977. Dine on French staples, like escargot, nicoise, and croque monsieur. 
123 W. 44th St., Theater District • 212-354-4148
Cuisine: Italian
A little ways uptown is newcomer Cucina 8½, inside a sweeping space in the architecturally stunning Solow Building. Chef Michael D'Armi serves elevated takes on rustic Italian, drawing inspiration from New York and Italian traditions, with many tableside presentations. The pastas and pizzas are all prepared in-house; post-theater this is a great stop for the bar's Negroni variations, with smoking cocktails for aromatics.
9 W. 57th St., Midtown • 212-829-0812
Cuisine: Italian
New York restaurants come and go, but Patsy's Italian Restaurant is forever. The famed eatery—which only has one location, right in the heart of midtown—has been around for nearly 80 years and is only getting better. Chef Sal Scognamillo, owner and operator, is the third generation of Scognamillos to sit at the helm. The family recipes have remained largely unchanged. Dishes like stuffed artichokes, eggplant parmigiana, and spaghetti and meatballs are as rich and flavorful as ever.
236 W. 56th St., Theater District • 212-247-3491
Cuisine: Indian
SAAR, meaning the "essence of something," is a modern Indian bistro in midtown Manhattan helmed by celebrated tandoor master chef Hemant Mathur and his wife, acclaimed pastry chef Surbhi Sahni. The 64-seat restaurant and bar showcases authentic regional comfort food in a cozy, eclectic setting inspired by Chef Mathur's home city of Jaipur.
241 W. 51st St., Theater District • 646-609-2142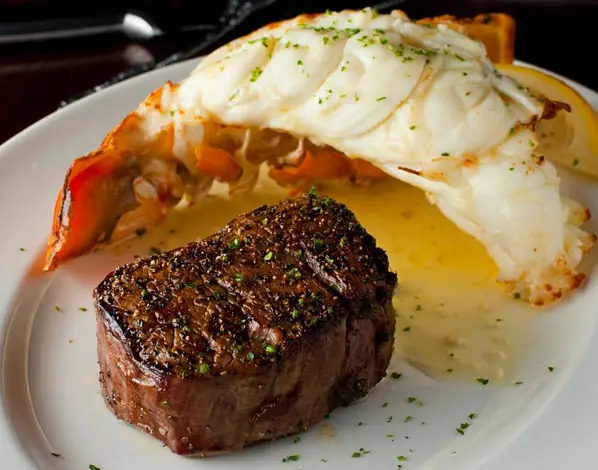 This three-level steakhouse, with its floor-to-ceiling windows, offers an elegant environment and views of the bustling city beyond. Del Frisco's Double Eagle Steakhouse serves USDA Prime and dry-aged steaks like the bone-in ribeye, as well as fine imported wagyu beef. Try their cold-water lobster tails or the popular crab cake from their extensive seafood menu for some surf 'n turf. Top off your feast with a piece of luscious lemon cake, the signature house dessert. 
1221 Sixth Ave., Theater District • 212-575-5129
Cuisine: Japanese/Peruvian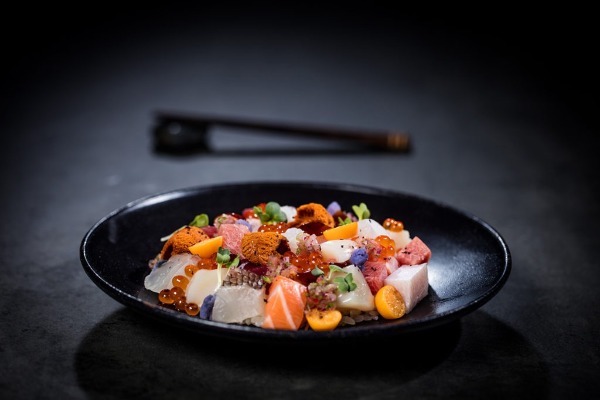 Enjoy what The New Yorker calls "Intercultural Bliss" of Japanese and Peruvian cuisine at Sen Sakana, NYC's first authentic Nikkei restaurant. Dishes range from elegantly crafted sushi and chirashi to ceviche and empanadas. The expansive layout features a bar area, main dining room, and elevated sushi bar. 
28 W. 44th St., Midtown • 212-221-9560
Cuisine: Japanese and Vietnamese
If you're looking for great value on some more exotic fare, head toward An'nam. The menu is neatly divided into Japanese and Vietnamese cuisines. On the Japanese side, you'll find favorites like dumplings, skewers, tempura, plus super-fresh sushi and sashimi. Spring rolls, beef noodle soup, stir-fries, and curries head up the Vietnamese list.. 
234 W. 48th St., Theater District • 212-247-6042
Cuisine: new American
For something a bit more out of the ordinary, indulge in a farm-to-table experience. With ingredients that hail from local farms, The Marshal's menus are always fresh, always changing, and always full of seasonal flavors. On the menu, there are a range of fresh salads, tasty sandwiches, frittatas, and other healthy entrees. The powers behind this culinary destination are proud to report that rather than using gas, they cook with replanted apple and cherry wood from local orchards. Wind power is harnessed for the restaurant's electricity needs. In an effort to reduce carbon emissions from shipping and support local businesses, the wines offered are from local wineries and the liquor from local distilleries. Feel good about eating well. 
628 Tenth Ave., Hell's Kitchen • 212-582-6300
Cuisine: Brazilian steakhouse
Fogo de Chão's first churrascaria (Brazilian steakhouse) in New York City holds down a prime location near Times Square and the Museum of Modern Art. The three-level stunner includes a lounge, private dining, and more. In 1979, Fogo began sharing the gaucho way of preparing meat in Porto Alegre, Brazil. Today, its gaucho chefs still expertly grill each of its 16 cuts of meat and offer continuous tableside service. Meals are rounded out with a gourmet salad bar, authentic Brazilian sides, and an award-winning wine list. 
40 W. 53rd St., Midtown • 212-969-9980
Cuisine: American seafood
Complete with floor-to-ceiling windows, chef's table, and outdoor dining, Oceana features a raw bar and the innovative seafood cuisine, with fresh, whole fish, prime meats, naturally raised fowl, and artful desserts. Plus, the restaurant offers a special Theatre dinner menu on Fridays and Saturdays.
120 W. 49th St., Theater District • 212-759-5941
15. La Pulperia Hell's Kitchen
Cuisine: rustic Latin
Named after general stores found throughout South America, La Pulperia features simple, refined cuisine from Latin America with European influences. And the decor of this restaurant transports you to South America, with tiles from Mexico and reclaimed wood from Brazil. And with happy hour during the week, outdoor seating, and bottomless brunch on weekends, you can't go wrong with dining here before the theater.
623 Ninth Ave., Hell's Kitchen • 646-669-8984
16. The Palm Midtown
Cuisine: Italian / steakhouse
Since its first location opened in 1926, the Palm has been treating guests like family, serving great food, and exceeding expectations. Four generations later, that philosophy still holds true, and guests can find classic steakhouse options, traditional Italian dishes, and more. Think: chicken Parm, gnocchi, New York strips, filets, and lobster.
250 W. 50th St., Midtown • 212-333-7256
The Best Places to Eat on Restaurant Row NYC
One of the most famous spots for pre-theater dining is Restaurant Row, which covers 46th Street between Eighth and Ninth Avenues. 
1. E.A.K. Ramen
Cuisine: ramen
Diners can experience and enjoy sophisticated soups at E.A.K. Ramen, which got its start in Japan in 2008. This ramen shop serves Iekei-style ramen, meaning the broth is made from boiled pork bones and chicken. But if you're vegetarian, don't worry: There are vegan options made with vegetable broth.
360 W. 46th St., Hell's Kitchen • 646-850-8032
Cuisine: French
The long-running bistro Le Rivage offers a cozy, romantic French country atmosphere with traditional French cuisine. As a bonus for theater-goers, Le Rivage offers a three-course pre-theater prix fixe dinner for $60 per person from 4:30-7:30pm.
340 W. 46th St., Hell's Kitchen • 212-765-7374
3. Sushi of Gari 46
Cuisine: sushi
Founded by Masatoshi "Gari" Sugio, sushi-lovers come to Sushi of Gari 46 for the acclaimed omakase. And what sets this sushi apart from other restaurants is Chef Gari's original sauces, which are put on the sushi when it's made rather than having diners dunk pieces in too much soy sauce.
347 W. 46th St., Hell's Kitchen • 212-957-0046
Cuisine: Caribbean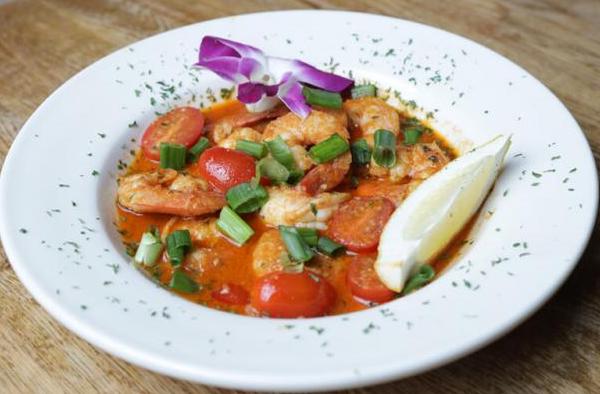 This restaurant is the highlight of Restaurant Row NYC by far. Tastes are inspired by the kitchens of Dominica, Antigua, St. Thomas, Trinidad, and Jamaica, using recipes that have been handed down through the family for generations. Jasmine's Caribbean Cuisine's decor is inspired by the bright colors of the Caribbean, with the vibrations of reggae and soca gently pulsating through the speakers.
371 W. 46th St., Hell's Kitchen • 646-964-5337
5. Becco
Cuisine: Italian
Opened by Lidia Bastianich and her son, Joe, the name Becco is derived from the Italian verb, beccare, which means to peck, nibble, or savor something in a discriminating way. And you'll do just that with any of the pastas of the day on the menu, or try the burrata, calamari, or any of the Italian-inspired entrees.
355 W. 46th St., Hell's Kitchen • 212-397-7597
6. Tito Murphy's
Cuisine: Mexican
This cantina offers fresh, authentic Mexican cuisine, delicious drinks, an impressive list of tequilas, and a great atmosphere. Diners at Tito Murphy's can enjoy their meal al fresco on the restaurant's patio or sidewalk cafe, or dine inside. And don't even think about leaving without trying the churros or flan.
346 W. 46th St., Hell's Kitchen • 212-245-2030
7. Lattanzi Cucina Italiana
Cuisine: Italian
Since 1984, the family-owned Lattanzi has been recognized for its authentic Italian cuisine. Plus, it's renowned for its Roman style specialties, spacious multi-level dining, private event spaces, a patio garden, and an outdoor heated terrace. 
361 W. 46th St., Hell's Kitchen • 212-315-0980
8. Dim Sum Palace
Cuisine: Cantonese
This low-key restaurant offers classic Chinese dishes, along with an array of dim sum favorites (and so many dumpling options that you'll want to come back again!). 
334 W. 46th St., Hell's Kitchen • 646-861-1910
9. Hold Fast
Cuisine: elevated pub fare
This eclectic, low-lit tavern features a full bar and specialty drinks on the menu, plus a variety of elevated pub fare options. Think: fried Brussels sprouts, charcuterie boards, salads, burgers, sandwiches, and wings.
364 W. 46th St., Hell's Kitchen • 917-261-6691
10. Yum Yum Too
Cuisine: Thai
Yum Yum Too offers a variety of unique Thai fusion dishes and an affordable five-course prix fixe meal. And don't forget happy hour if you're looking to dine before the theater.  
662 Ninth Ave., Hell's Kitchen • 212-247-2228
11. Bareburger
Cuisine: burgers
This casual, eco-minded chain offers chef-crafted and build-your-own burgers. Come to Bareburger to choose from a variety of patty meats, including bison, beef, turkey, chicken, and four different vegan burger options.
366 W. 46th St., Hell's Kitchen • 212-673-2273
Restaurants in Times Square NYC 
Cuisine: Cuban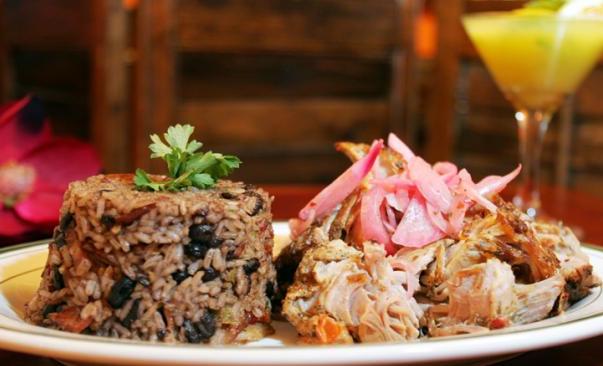 You can also take a Cuban vacation in the middle of Times Square. Havana Central serves home-cooked Cuban food in a lively setting. Before a Broadway show, or after a stop at a Times Square attraction, step into this spacious 1950s eatery for a mojito and some ropa vieja. Weekdays from 4-7pm enjoy Happy Hour drink specials and half-price empanadas at the bar with the purchase of a drink. There's live Latin music as well!
151 W. 46th St., Times Square • 212-398-7440
2. Margaritaville Restaurant
Cuisine: island-inspired burgers, salads, and more
Another touch of the tropics in the middle of the concrete jungle comes from Margaritaville Restaurant at the new hotel Margaritaville Resort Times Square. While looking out over the bustle of midtown, be transported to a vacation state of mind with one bite of a Cheeseburger in Paradise, an order of Volcano Nachos, or any of their signature island-inspired dishes. This two-story tropical oasis also features signature margaritas.
560 Seventh Ave., Times Square • 332-242-4828
Cuisine: seafood and steak
Prime Catch NYC has indoor and outdoor seating options, plus great hospitality at the bar. Entrée highlights include prime USDA dry-aged Pat LaFrieda meat, with house specialty Porterhouse and tomahawk cuts, and seafood picks like grilled salmon or baked shrimp.
140 W. 46th St., Times Square • 646-649-2288
Cuisine: burgers, salads, sandwiches, and more
Hard Rock Cafe New York is the premier rock 'n' roll restaurant with one of the world's largest collections of music memorabilia right in the heart of Times Square. With burgers that are truly legendary, signature cocktails, and live music, there's always something happening here. The 708-seat restaurant boasts a unique outdoor space above the building's historic marquee, which hosts everything from corporate meetings to weddings amid the bright lights of Broadway.
1501 Broadway, Times Square • 212-343-3355
Cuisine: ramen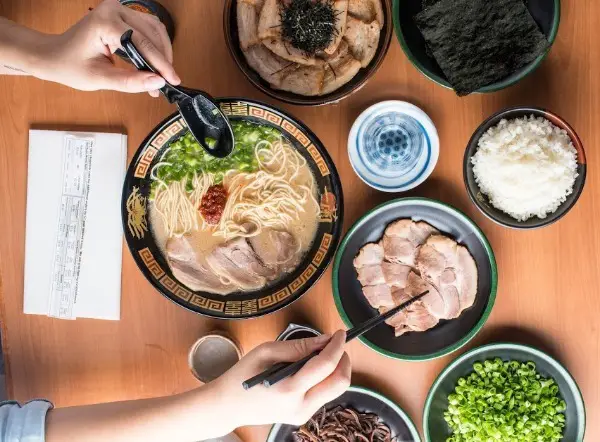 This ramen spot in the heart of NYC has a mission to provide guests with the best tonkotsu ramen, using only the finest ingredients and the most advanced techniques developed by its master artisans. Ichiran's pork-bone soup features house-made noodles and the Original Spicy Red Sauce.
152 W. 49th St., Times Square • 646-964-4294
6. John's of Times Square 
Cuisine: pizza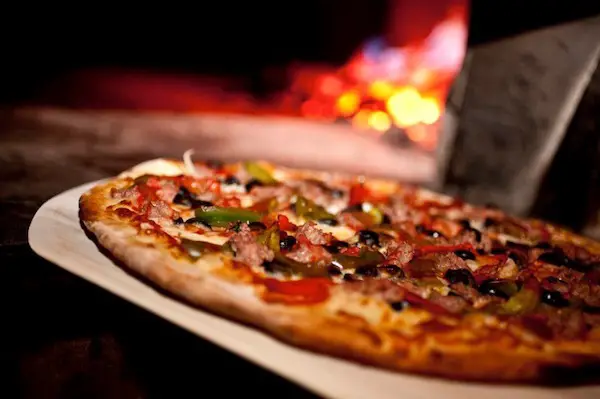 Voted one of Manhattan's best pizzas, John's of Times Square is renowned for its made-to-order pies that are cooked in coal-fired brick ovens. Conveniently located in the Theatre District, its menu boasts everything from appetizers to fresh salads, sandwiches and paninis, pastas, and, of course, pizza. This spacious restaurant, housed in a former church, can easily accommodate crowds or smaller groups. 
260 W. 44th St., Theater District • 212-391-7560 
Cuisine: Southern-style comfort food
Bubba Gump Shrimp Co. takes its name from a character in Forrest Gump. Inside this lively restaurant, the Louisiana shrimp-boat decor recalls the character Benjamin Buford "Bubba" Blue from the 1994 film. Diners sit amid old radios, beer signs, southern license plates, nautical flags, stop signs and bric-a-brac of all sorts, much of which has a connection to Forrest Gump. You'll also find references to the movie's famous catchphrase "Run Forrest, Run!" To eat, there's lots of seafood (shrimp is in the name of the restaurant, after all), like Dumb Luck Coconut Shrimp, and Creole-influenced cuisine like Jambalaya Pasta.
1501 Broadway, Times Square • 212-391-7100
Cuisine: steak, salads, burgers, sandwiches, and more
You can even find an al fresco oasis in Times Square. The 42nd Street Applebee's is one of the largest in the world and boasts quality bites and drinks as well as an appealing outdoor patio setup. Floor-to-ceiling windows offer views of Times Square/Broadway in upstairs dining rooms. 
234 W. 42nd St., Times Square • 212-391-7414
Cuisine: steak and more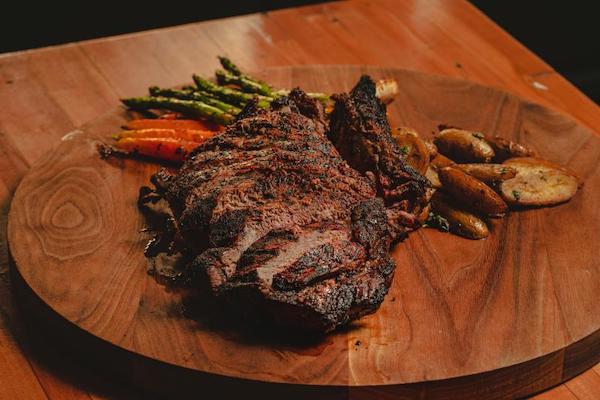 Bacall's brings 1940s NYC and Hollywood glamor to Times Square. This soaring brasserie was inspired by Lauren Bacall, who used to work nearby. From the kitchen, look for NYC specialties like pastrami egg rolls, potato latkes, classic cuts of prime meats, fresh seafood, a kids' menu, and NY cheesecake or 16-layer crepe cake for dessert.
220 W. 44th St., Theater District • 212-944-2474
—Ethan Wolff, Merrill Lee Girardeau, and Regina Molaro contributed to this article.