At this very almost-March moment, the megalopolis known as New York, New York is the most theatrically exciting city on the planet thanks to electrifying new productions, record-breaking musicals, long-awaited revivals, and high-profile celebs who make Broadway and Off-Broadway their home for a limited—or ongoing—run.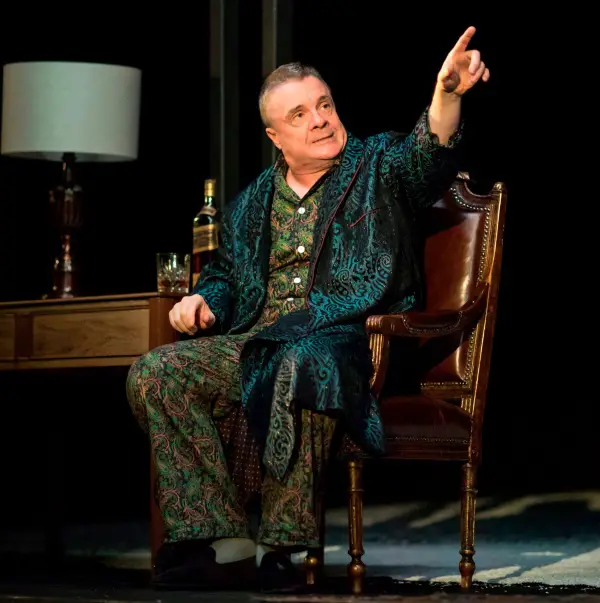 Nathan Lane as former Donald Trump mentor Roy M. Cohn in Angels in America: Millennium Approaches. Photo (c) Helen Maybanks.
Consider such concurrent wonders as Nathan Lane and Andrew Garfield co-starring in the first Broadway revival of Angels in America; Bruce Springsteen choosing the intimacy of the Walter Kerr Theatre over a massive stadium; Jesse Mueller, whose talents launched both Beautiful and Waitress on Broadway going all Rodgers and Hammerstein in Carousel alongside operatic VIP Renée Fleming; Michael Cera, who grew up before our eyes in Arrested Development, sharing the stage with Captain America Chris Evans and Brian Tyree Henry (Atlanta) in Oscar-winner Kenneth Lonergan's Lobby Hero.
Another name high on the season's star attraction list is Oscar nominee Uma Thurman (Pulp Fiction), although her Broadway debut The Parisian Woman will come to an end on March 11th. Should you be hesitating to score tickets to this new play by Beau Willimon (House of Cards), take a look at the rest of the cast: Josh Williams (Sweet Home Alabama), Marton Csokas (The Lord of the Rings), Phillipa Soo (Hamilton), and Blair Brown (Orange Is the New Black; Copenhagen).
Additional March arrivals with prestige casts include:
Edward Albee's Pulitzer Prize-winning play Three Tall Women, in previews with stars Allison Pill (Newsroom), Laurie Metcalf (Lady Bird); and Glenda Jackson (Women in Love), who returns to Broadway after a 30-year absence.
Iconic Eugene O'Neill—The Iceman Cometh—with iconic Denzel Washington in the lead. (Tickets? Previews start March 22nd. Reserve now.)
Lincoln Center's lush revival of Lerner and Loewe's My Fair Lady (previews begin March 15th) with Lauren Ambrose (Six Feet Under) as Eliza Doolittle, Harry Hadden-Paton (Downton Abbey) as Henry Higgins, Diana Rigg (Game of Thrones; Victoria) as Mrs. Higgins, and Norbert Leo Butz (Dirty Rotten Scoundrels; Mercy Street) as Eliza's father, Alfred.
Tony-winning playwright David Rabe's Good for Otto with a company boasting Ed Harris, Amy Madigan, F. Murray Abraham, Rhea Perlman, and Mark Linn-Baker.
IN THE WINNERS' CIRCLE…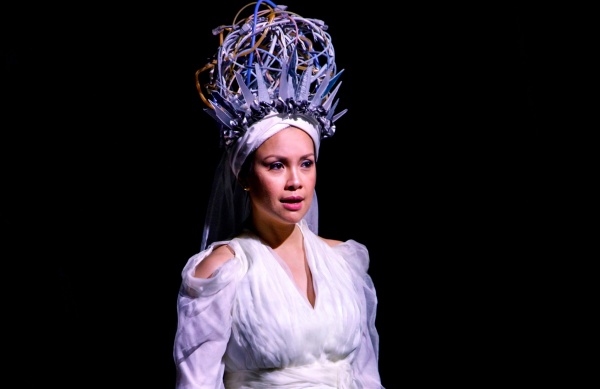 Tony-winner Lea Salonga captivates in Once on This Island. Photo by Joan Marcus.

The collection of Tony and Oscar winners currently gracing New York stages is formidable: a dozen Tony winners and four Academy Award recipients…
TONYS: Blair Brown, Norbert Leo Butz, James Monroe Iglehart (Hamilton's current Thomas Jefferson), Rachel Bay Hansen (in her Tony-winning role in Dear Evan Hansen), Nathan Lane, Laurie Metcalf, Jesse Mueller, Bernadette Peters (luminous in the title role of Hello, Dolly!), Diana Rigg, Mark Rylance (Farinelli and the King), Lea Salonga (Once on This Island), and Denzel Washington.
OSCARS: F. Murray Abraham, Glenda Jackson, Mark Rylance, and Denzel Washington.
EDITOR'S OFF-BROADWAY PICKS
Flight! A beautifully rendered work…theatrical, but far from mainstream. The story—told in visuals with narration coming through individual headsets—tracks the journey of two boys (refugee orphans) with a roadmap mantra of "Kabul-Tehran-Istanbul-Athens-Rome-Paris-London"! (mckittrickhotel.com)
A Letter to Harvey Milk. Already an award-winner, this poignant new musical about a kosher butcher who—surprisingly—fulfills a writing class assignment by penning a letter to groundbreaking gay political leader/activist Harvey Milk. (lettertoharveymilk.com)
KINKY BOOTS & WAYNE BRADY: WELL-HEELED & TOGETHER AGAIN
The stiletto siren that seduces actors to take on the role of Lola in the Tony-winning Harvey Fierstein-Cyndi Lauper hit, Kinky Boots, has evidently lured Emmy winner Wayne Brady back into the crimson thigh-high boots he first filled in 2015. At least temporarily. From March 5th to April 26th, he'll be filling in for J. Harrison Ghee, who's taking a leave of absence. "Lola is a role of a lifetime for an actor, a true tour de force," says Brady, adding: "In this current political and social climate, we need more people to see characters like Lola… unafraid to speak her mind and unabashedly true to herself."
Recently, as I was binging on vintage Whose Line Is It Anyway?, I was struck not only by Brady's versatility, but by his charisma as a performer. Since I missed his first go-round at the Al Hirschfeld Theatre, I'm hoping to catch him now—this time alongside Jake Shears (Scissor Sisters) as Charlie Price and Grammy-winner Kirstin Maldonado (Pentatonix) as Lauren.
"To say that I'm thrilled to step back into Lola's fabulous shoes would be the understatement of the century," says Brady.