New York is really at its best at Christmas—the decorations, the lights, the events…it's a city that just gets the holidays right. With so much to choose from, where do you start? We've taken away some of the guesswork with these 10 holiday must do's in the city. No matter which ones you choose (why not all?) you can't go wrong.
1. Christmas Trees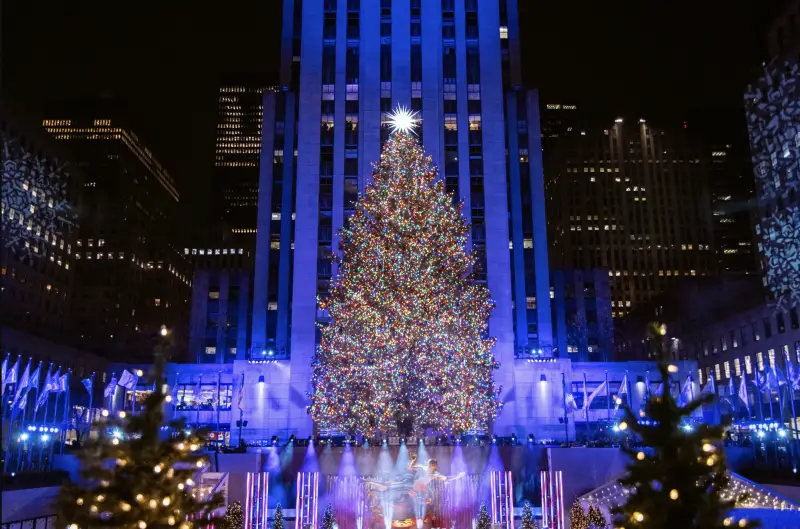 While the indisputable Christmas tree champ is the one at Rockefeller Center, New York has others on display that are well worth a visit. Here's our list:
Rockefeller Center, of course. The tree—82 feet tall and weighing 14 tons—remains lit daily from 6am-midnight. The tree is decked out with 50,000 LED lights strung on five miles of wire.
Further uptown, the Christmas Tree and Neapolitan Crèche at the Metropolitan Museum of Art is a dazzling sight in front of the more-than-50-foot-high choir screen in the Medieval Sculpture Court.
Across the park, the origami tree at The American Museum of Natural History is covered with delicate origami creations: This year's theme is "Beautiful Bugs," and features models inspired by the upcoming Insectarium opening next year.
And at the Cathedral of Saint John the Divine, the annual Peace Tree is decorated with 1,000 paper cranes to celebrate world peace.
Rockefeller Center: 45 Rockefeller Plaza, rockefellercenter.com
The Metropolitan Museum of Art, 1000 Fifth Ave., metmuseum.org
The American Museum of Natural History, 200 Central Park West, amnh.org


The Cathedral of St. John the Divine, 1047 Amsterdam Ave., stjohndivine.org
2. The Bank of America Winter Village at Bryant Park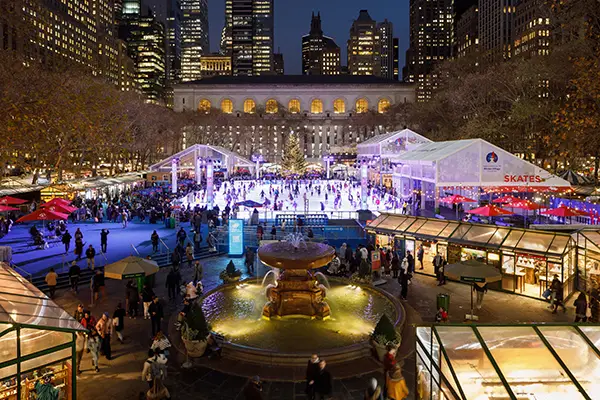 Image: Colin Miller.
If you're looking for a kind of all-inclusive holiday experience, head to the Bank of America Winter Village at Bryant Park. Skate on the 17,000 square-foot rink, or watch an ice show (free admission for both!); grab a snack or a drink at the Lodge Bar + Food Hall; and stock up on gifts at the Holiday Shops, inspired by European open-air markets. There you'll find artisan-made creations ranging from jewelry to vintage finds, glass ornaments to loose-leaf teas. To up the experience even more: Reserve a private igloo to enjoy your meal; or take on curling in the Curling Café & Bar. Bryant Park, bryantpark.org
3. Amaze Light Festival

There's something about twinkling lights that just say "holidays."
With that in mind, the Amaze Light Festival offers a million of them—and no, that's not an exaggeration. As you wander through the Iight-filled display at Citi Field, you can also discover characters Zing and Sparky, who bring all the magic to life, watch a holiday stage show and visit a holiday market, plus grab a sweet treat to snack on as you wander. You'll also find opportunities to write a letter to Santa, zip down an icy slope, and chug along on a special train ride. Citi Field, amazelightfestival.com
4. The Museum of the City of New York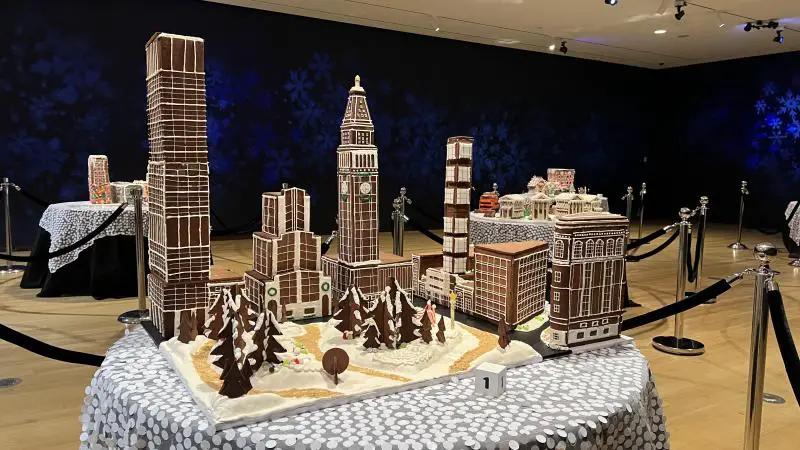 "Gingerbread NYC: The Great Borough Bake-Off" combines the best features of holiday baking competitions and neighborhood pride into one exhibition; it brought both amateur and professional bakers together to create gingerbread displays that represented their own neighborhoods. The result? A plethora of fantastic gingerbread creations inspired by the theme "Winter in New York." The contest boasts an overall winner (shops in Astoria) as well as winners in such categories as "Good Enough to Eat" (a scene inspired by the 7 train) and "Grandest" (a recreation of Madison Square Park, above). On view through January 8th. 1220 Fifth Ave., mcny.org
5. Dyker Heights Holiday Light Display
If you're looking for Christmas décor to the max (and then to the max again) head to Dyker Heights in Brooklyn for the most over-the-top, can't-fit-in-one-more-decoration display around. The iconic display features, well, everything Christmas—Christmas lights and snowmen and Santas and reindeer and candy canes and trees and lights and elves and more lights and carols. You can explore on foot or check out a bus or walking tour; it's like all 12 days of Christmas took root in one neighborhood. Dyker Heights, Brooklyn, dykerheightschristmaslights.com
6. Union Square Holiday Market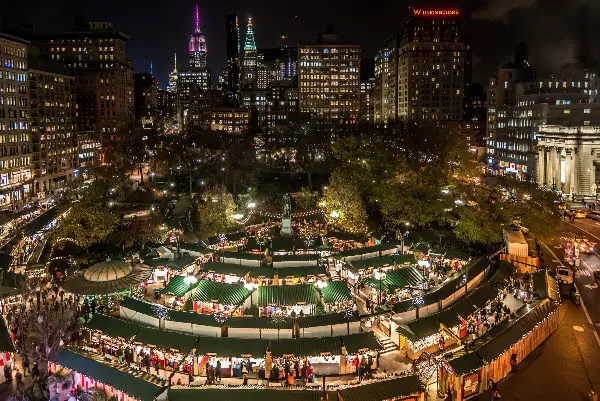 Photo: Javan Ng.
There's no shortage of holiday markets in New York this time of year, and each one adds its own festive flavor to the season. But the Union Square Holiday Market, often voted one the best holiday markets in the country, is worth a trip. The market features more than 180 vendors boasting unique gifts. Some of the offerings: handmade chocolates; socks inspired by the colors and patterns of Japan; all natural bath products; Czech hand-decorated eggs; art made from upcycled books. Don't forget to grab a snack as you walk around—maybe a mochi-stuffed shortbread cookie? Or cider and a donut? (You really can't go wrong.) The market is there until Christmas Eve—but why wait? Union Square, urbanspacenyc.com
7. ARTECHOUSE | Spectacular Factory: The Holiday Multiverse

Photo courtesy ARTECHOUSE.
For a holiday experience of the multisensory kind, head over to ARTECHOUSE, which offers immersive, technology-driven exhibits. For the holiday season, this means a dreamlike escape into the imaginary world of a gift factory. You'll be dazzled by giant floating, swinging bells; thousands of nutcrackers; and spinning candy cane carousels—and that's just for starters. It's an untraditional but mesmerizing approach to the holidays. 439 W. 15th St., artechouse.com
8. PaleyLand Holiday Extravaganza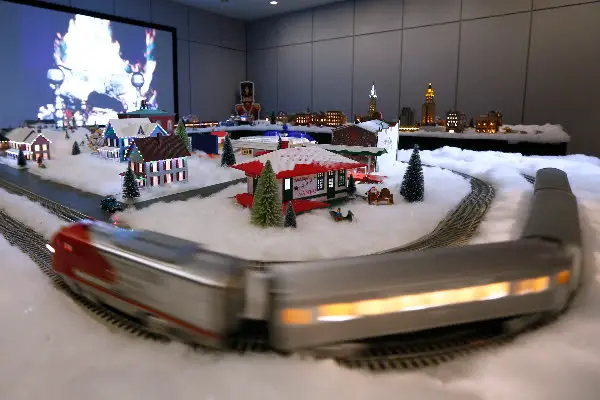 With four floors of holiday fun, the The Paley Center for Media in midtown has entered full-on Christmas mode. You'll find photos ops with Santa and holiday characters, from Bumble the Snow Monster to Rudolph the Red Nosed Reindeer; a classic model railroad display; and free hot chocolate. Plus, you'll be able to watch plenty of screenings of holiday films, including Mickey Saves Christmas, a new Disney stop-motion holiday special and screenings of episodes of the new series The Santa Clauses. 25 W. 52nd St., paleycenter.org
9. Bronx Zoo Holiday Lights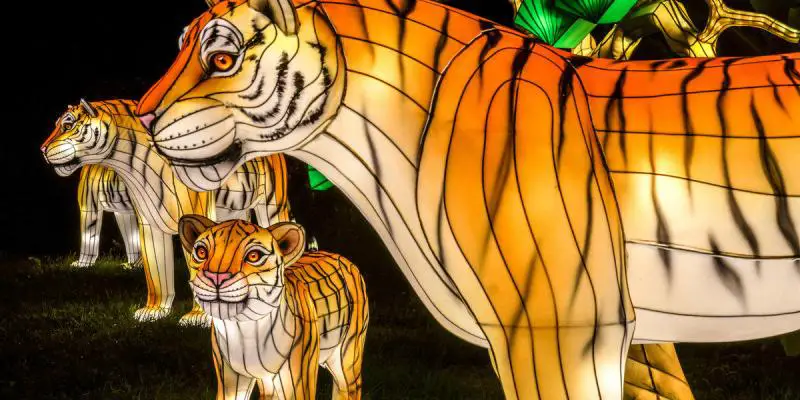 One of New York's best-loved holiday traditions, the holiday lights at the Bronx Zoo entice visitors with a walk-through experience landscape that comes to Iife at night: the star is the immersive light displays, including animal favorites lit up in lights; new this year are vampire squid, anglerfish, and a giant anteater. There are also more than 360 animal and plant lanterns, the Holiday Train, holiday music, and more. Other activities and performances include ice carving, activities for kids, animal trivia, and special performances. And a Light Tunnel provides the perfect photo op. 2300 Southern Blvd., bronxzoo.com
10. New York Botanical Garden Holiday Train Show and NYBG GLOW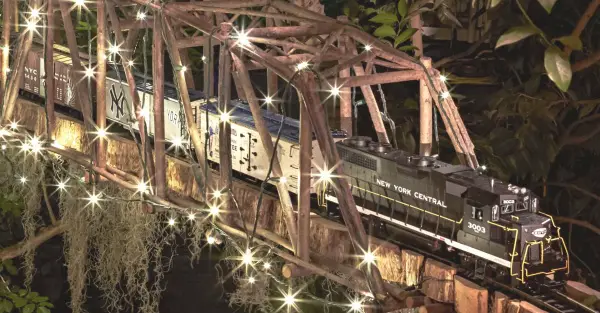 Trains are a popular theme for the holidays, and one of the most anticipated every year is the one at the New York Botanical Garden. In this case, it's not just the trains that are the stars; it's what they zip past—more than 190 replicas of New York landmarks, recreated in natural materials including birch bark, lotus pods, and cinnamon sticks.
While you're there, don't miss GLOW, the outdoor light show that meanders across the 1.5 miles of the gardens, illuminating everything from trees to paths. Special activities like performances and seasonal eats are also part of the fun. 2900 Southern Blvd., nybg.org