Fall is here, and you might be planning a trip to New York for a concert, a play, a game, or just a much-needed getaway. The weather might throw you for a loop in autumn, but there's no need to stress over the packing process. Keep room in your suitcase; Century 21 is one-stop-shopping for all your needs. In business for more than 50 years, they're renowned for connecting shoppers with top designers at up to 65% off retail. Click here for a Mystery Gift Card valued between $5-$500. 
Fall Packing Essentials for NYC: Day Bag
Longchamp bag. Photo: Century 21 Instagram 
Tote bags are great and all, but they'll wear out your shoulder during a day of sightseeing. We'd go with a more ergonomic choice like a small or medium backpack with convenient access to your wallet (because a New Yorker's MetroCard is never far away). You could also get in on the fanny pack trend—also known as belt bags or hip packs. These bags are small and light, and you can grab your essentials with ease. Plus, there are some pretty cute ones out there right now from brands as diverse as Gucci and JanSport.
Fall Packing Essentials for NYC: Shoes 
The first rule of New York packing? It's all about the shoes. You'll rack up thousands of steps on a typical New York day, and your feet need all the help they can get. This fall, fashion is in your favor: sneakers are everywhere, and we're wearing them with everything from casual jeans to pretty silk dresses to wool blazers. Choose a stylish, comfortable pair of sneakers you won't mind walking a few miles in (i.e. expect a few stains, especially on white kicks). Be sure to pack enough socks as well, as the last thing you want is a blister. For a week-long trip, we recommend packing a maximum of 2 pairs of shoes: one for day and another for evening. 
Fall Packing Essentials for NYC: Layers
Century 21 Instagram. Repost from chelseaasoflate
New York weather in the fall can be pretty erratic, with wintry 40-degree days one week and sunny days in the 70s the next. Bring a mid-weight jacket (preferably water-resistant) in a neutral color that pairs well with your other clothing. Sweaters, sweatshirts, and hoodies can't hurt either, although try to pack just 2 or 3 for a week-long trip, as these items can crowd your suitcase. Bring 1 or 2 medium-weight scarves as well. They can roll up to fit in your day bag and provide a little warmth in a hurry. Bring a mix of short-sleeved and long-sleeved tees and button-ups, plus jeans, pants, and skirts that'll look good against the autumnal Central Park Mall in pictures!
Fall Packing Essentials for NYC: Pack Light, Shop More!
Most visitors can't resist a retail store or two when visiting the city. It's not economical to buy an extra suitcase to transport your goodies back home (although it's fairly common to do so). Do yourself a favor on the front end and budget extra room for items you buy while you're here. If you're looking for designer items at outlet prices (maybe a new Coach bag), plan for a day trip to The Mills at Jersey Gardens; they're only a half an hour from Times Square. Bring the bare essentials when you pack, i.e. skip bulky items like extra shoes, hair dryers, and pillows if you can. Bring pants, jeans, and shirts you can wear multiple times during your trip—a bonus if you can mix and match them—so that you don't have to pack one outfit for each day you're here. (If that grosses you out, ask your hotel about laundry services.) Leave room for your shopping: space to accommodate two extra pieces of clothing and another keepsake the size of a coffee mug. If you buy bigger items while you're here, ask the store clerk if they can ship them to your home and save you the trouble of lugging them back yourself.
Fall Packing Essentials for NYC: The Little Things
During the day, you'll probably use your phone to help you navigate, take pictures, book restaurant reservations, and maybe even translate English phrases. These tasks will sap the battery (so does colder weather, PS), so you'll need to bring your phone charger in your day bag every time you leave your hotel. Don't forget to include a small folding umbrella in your suitcase, as well as a camera for the aspiring Bill Cunningham. Reduce plastic waste and save money with a small water bottle, also a great asset to your day pack. If you're in the city on a particularly muggy week, we also recommend travel-size deodorant for your day pack.
Fall Packing Essentials for NYC: Casual vs. Formal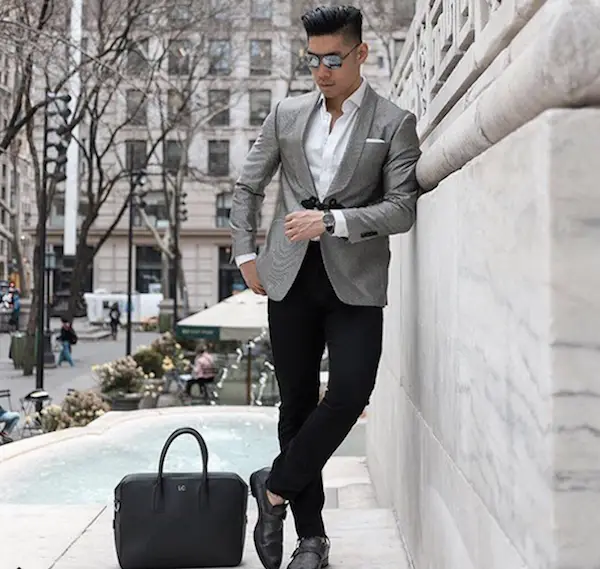 Century 21 Instagram, repost from levitatestyle
Here's the thing about New York fashion: anything goes. On a typical day, no matter the weather, you'll see one person in flip flops and a puffer coat and another in head-to-toe Louis Vuitton. Formality and weather-appropriateness are relative, but you might still be concerned about dressing nicely (we get it!). New York dress codes at restaurants and the theater are largely a thing of the past, but we recommend put your best foot forward regardless. As you make reservations, ask the person on the phone about the typical attire at that establishment. During the day, as you sightsee and shop, wear more casual clothes that you can move in. At a nice restaurant, men might wear a sport coat or blazer with chinos (no tie needed). Women, as always, have many more options, from jumpsuits to dresses to pants to skirts. Aim for a put-together look you feel confident in, whether it's an old favorite or a new purchase from the day's shopping trip. And if you need to wear your day clothes to dinner, that's okay too.