Kings Theatre is a Brooklyn treasure. This event venue, located in the Flatbush neighborhood, was built in the 1920s and modeled after the palace at Versailles. The opulent interiors fell into disuse for decades until an extensive renovation that concluded with the theatre's grand reopening in 2015. Now the venue hosts incredible concerts, dance performances, and comedy shows, as well as tours of its historic facilities. Here's a list of where to eat before or after the big show!
The Farm on Adderley
The definitive upscale pick in the area, The Farm on Adderley sources its ingredients from several regional farms. The results work wonders, as the kitchen turns out delicious dishes season after season. Right now, enjoy crispy sunchokes with fried garlic mayonnaise and pecan followed by fiddlehead ferns with smoked pork jowl and maple cream. You'll also find an enticing cocktail menu made with fresh botanicals and fruit, including the Mount St. Helens with white rum and licorice fern root. 1108 Cortelyou Rd., 718-287-3101, thefarmonadderley.com
Purple Yam
Purple Yam is for the adventurous foodies of the Kings crowd. This Filipino/Asian fusion restaurant received rave reviews when it opened 10 years ago and has remained a local favorite for eaters in the know. You'll find Filipino staples like pancit bihon (rice noodles with chicken, pork, and vegetables), quirky house kimchis, and Latin accents like the leche flan on the dessert menu. 1314 Cortelyou Rd., 718-940-8188, restaurantji.com/ny/brooklyn/purple-yam
Manchego
A charmingly rustic wine bar, Manchego makes an ideal date pick in the area around the theatre. Enjoy some Spanish wine with small plates bearing the restaurant's eponymous cheese and fresh seafood. Go for some mussels in butter-chardonnay broth, pan con tomate, and classic patatas bravas for your Basque feast. The restaurant shares property with a ramen place called Koko in case your date wants a different kind of meal altogether. 1502 Cortelyou Rd., 347-425-8511
Island Express
Walk one block from the Kings Theatre for excellent Caribbean comfort food. A super-casual spot with affordable classics like roti, oxtail, and baked goods like guava tarts, Island Express makes a great pick for a quick meal if you're running late (and hungry) to the show. 998 Flatbush Ave., 718-469-9049, islandexpressgrill.com
Cafe Tibet
A teeny cash-only spot with bright green walls, Cafe Tibet shines with flavorful cuisine from the Himalayan region. Come grab one of the few tables and enjoy momo dumplings as an appetizer (get the Devil variety for extra spice), with curries, biryanis, and fried noodles all on the excellent entree list. Top it all off with a mango lassi drink for dessert. 1510 Cortelyou Rd., 718-941-2725
Parkside
Parkside might be a tad far for some (a 15-minute walk), but if you have your heart set on pizza this is the place. Come here for wood-fired Neapolitan pies like the classic Margherita and white pizza with lamb sausage, crispy onion, and mint. The cheeky names of the craft cocktails deserve a shout-out too, with winners like U Still Up? (scotch with Luxardo Maraschino) and Stage 5 Clinger (tequila, orange, lime, and bell pepper with jalapeno syrup). 705 Flatbush Ave., 718-975-2628, bkparkside.com
Caribbean Social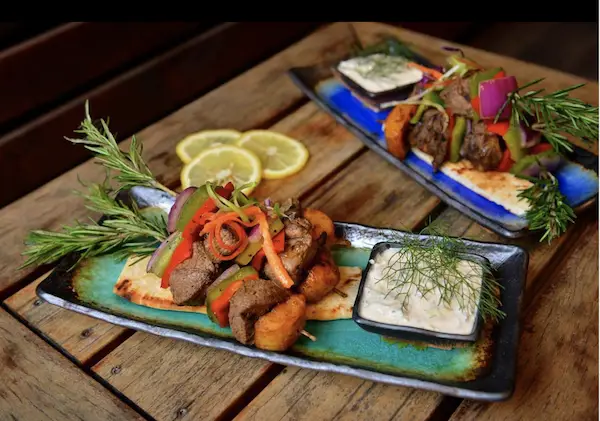 Via Instagram
A self-proclaimed "restaulounge" on Flatbush Avenue, Caribbean Social is a great happy hour option before your show at Kings. Try a passion fruit-flavored Haitian Earth cocktail with apps like jerk wings and entrees like chicken roti and pan-roasted lamb chops. And if you're looking to drink and dance after the show, Caribbean Social's second floor turns more of a club during late-night. 847 Flatbush Ave., 347-474-7328, caribbeansocial.suedenyc.com
---
Kings Theatre is located at 1027 Flatbush Avenue. Look for tickets to Kings shows at Ticketmaster.com. For an updated calendar and more information about the theater, visit kingstheatre.com.