The image of Joel Grey as the Emcee in the original production of Cabaret - slicked-back-hair, Clara Bow lips, rouged cheeks, leering smile, spiffy tux - is, was, and always will be among Broadway's most indelible. And though make-up artists and dressers could undoubtedly get the veteran actor "Willkommen"-ready in under an hour ("There is no age for that character, you know," he says), Grey won't be re-strutting the stage of the Kit Kat Klub anytime soon. He's already booked passage on the S.S. Ameri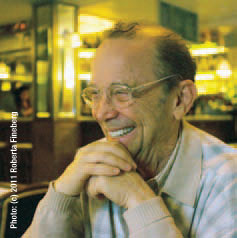 can in the new Broadway revival of Anything Goes at the Stephen Sondheim Theatre, and he couldn't be happier.
"I never thought I was going to do eight shows a week again - never," he says over soup and espresso at one of his favorite Greenwich Village restaurants, "but the show's director [Tony winner Kathleen Marshall] came to me and said, 'There's this part and we want you to do it.' And I said 'no.' And she said, 'I promise you're going to have a good time.'"
A few more persuasive carrots were waved in Grey's direction, including the chance to work with his good friend John McMartin (who plays Wall Street banker Elisha Whitney) and reconnecting with musical director Rob Fisher, with whom he'd worked on Chicago. "To be with somebody you totally trust, somebody who gets you and you get them - that sort of clinched it."
In Anything Goes, Grey plays Moonface Martin (a.k.a. Public Enemy Number 13), a comedic rogue who spends much of the show disguised as a minister - and clearly he's living the "good time" Marshall promised him - and then some - thanks to his on-stage chemistry with Sutton Foster, who plays evangelist-turned-nightclub-singer Reno Sweeney. (In the duet "Friendship, the two are so well-matched, you'd swear - except for the age gap - they were separated at birth.)
Grey first began performing at the age of nine. "I did a couple of children's theatre things at the Cleveland Playhouse and then I auditioned for a part there in a great play called On Borrowed Time that had the most amazing role for a nine-year-old," he recalls. But his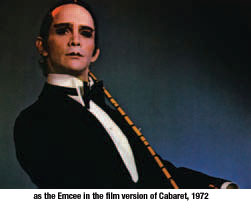 hometown career was cut short when his family moved to Los Angeles, the result of his dad - Mickey Katz, a clarinetist and pioneer Yiddish comic - joining Spike Jones's band.
"My father was a musician and... musicians are a whole other world from actors. They think differently, they live differently, and so I was sort of an oddity to my father. He loved me, but did not know what made me tick," says Grey. "But he was very supportive and loving. He was a great man."
While in L.A., Grey bided his time acting, singing and dancing. He had a brief New York interlude at 11, when his mother (whom he refers to as a "Mama Rose" type), took him East to audition for the Broadway comedy Life With Father. "I never forgot what New York smelled like, what it looked like, and what it felt like," he said, adding that, although he wasn't cast, the time he spent going to theatre here made an impact. "I was stamped - and I kept coming back; I'm still coming back."
Interestingly, the person who finally brought Grey to the Big Apple on a permanent basis was Eddie Cantor. He discovered the 18-year-old Grey in Mickey's legendary English-Yiddish stage revue The Borscht Capades.
After paying his dues at various theatrical venues in New York, Grey made his Broadway debut as a replacement in Neil Simon's Come Blow Your Horn (1961). Other roles followed, but it wasn't until 1966, after Hal Prince offered him what would become his signature role in Cabaret, that the theatre community realized the prize they had in the versatile performer.
And while he's played countless roles on the stage, screen and television, shuttling from one coast to the other, he is adamant about what he considers to be the ultimate compliment: being recognized as a New York actor.
"You couldn't say anything more wonderful to me... seriously," he concludes. "That's all I ever wanted to be."
grey matters

1.Grey tells this story about his "wonderful, divine, dancing daughter" Jennifer's appearance on Dancing with the Stars last year. Someone had Googled asking why he (Grey) hadn't appeared with her on the show. "Are they fighting? Is there something wrong?" they wanted to know. According to Grey, the answer came via the next post: "He's dead." Fortunately there was a follow-up: "Are you crazy? He's going to be in Anything Goes."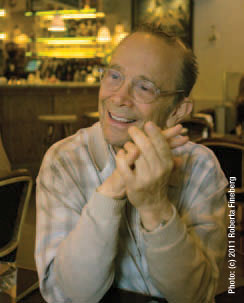 2. In 1984, Grey was inducted into the Theatre Hall of Fame and has received his star on the Hollywood Walk of Fame.

3. In 1993, Jacqueline Kennedy Onassis presented Grey with the Municipal Arts Society medal naming him a Living New York Landmark.

4. As for "the role that got away" - Grey says it was in the film Jaws. "I thought I had the Richard Dreyfuss part but it was one of those things... I never figured out what happened." And then with a smattering of crocodile tears and a rim shot on the table, he adds: "It was horrible - don't talk to me about it."
Gotham a la Grey
Joel Grey/A New York Life is The Museum of the City of New York's exhibition highlighting the art, artistry and passion of the celebrated actor's career trajectory. Through objet d' Grey, the actor, as well as an impressive representation of his original photographs of his "chosen city" of New York, this visual display (ok, homage) has equal appeal to artists, photographers and fans of his iconic stage and screen achievements.
The exhibit, a rare opportunity to track Grey's performing legacy, f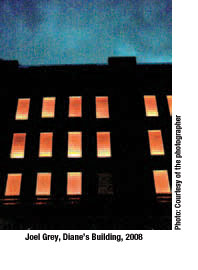 eatures a treasure-trove of personal artifa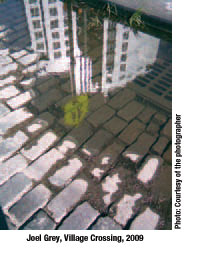 cts, including posters, playbills, original Hirschfeld caricatures, costumes (yes, his seminal Emcee costume from Cabaret), and examples of his proficiency as a photographer that unmask his fascination with Manhattan through such details as life-on-the-street minutiae, graffiti and architectural particulars.
Observes Susan Henshaw Jones, the Ronay Menschel Director of the Museum, "Joel Grey has transformed himself, through his extraordinary talent, into characters that seduce, surprise, and amaze us. This exhibition provides a rare glimpse into the performer's psyche, in which we can see that New York City has seduced, surprised and amazed him. We are thrilled to share this work with our audiences."
Having begun his photographic odyssey in the 1970s, Grey has spent the new millennium sharing his passion for the art form with three monographs: Pictures I Had to Take (2003), Looking Hard at Unexamined Things (2006), and 1.3: Images from My Phone (2009).
On the latter, Grey is quick to point out, "I'm not just a phone photographer, you know. I just happened to forget my camera one time." And while he ingeniously parlayed that lapse into some of his favorite works, he admits, "I can't take any pictures with my phone now because it's broken." Still, the experience ignited a new respect for the latest technology. "I'm finally going digital after 40 years - I'm getting a Nikon." - GM
The Museum of the City of New York
April 12 through August 8th
1220 Fifth Avenue; 212-534-1672; mcny.org
To view the pages in pdf form, click here.

---