There are facials and then there are Facials, with a capital F.Facials where you not merely experience a routine cleansing, exfoliation, extraction, and hydration, but rather undergo a somewhat transformative procedure—whether it's the extent of the pampering; the rigors of boot-camp-like extraction (yes, a fancy word for removing all the imperfections); or the luxury of a super-hydrating final process that leaves your skin positively gorgeous and glowing.We road-tested four types of facial experiences in the city, and the results are in:For the last three months, our dee-vine dermis has been ravishingly radiant.
In Tune with Ajune
Ajune is exactly what a neighborhood day spa should be— convenient, calming, and complete.There is a knowledgeable and caring staff, a selection of retail "goodies" for the face and body (over a dozen brands, rangin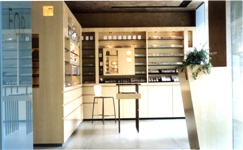 g from popular names like Malin + Goetz and SkinCeuticals to harder-to-find products from Natura Bissé and Neocutis), and a well-equipped arsenal of services. Of course there are all the expected facials, including some not so "regular," like the Ajune Glow for Men.There are also treats and treatments like a "clinical pedicure" ($160) to laser hair removal to the application of "Xtreme" eye lashes.And there are countless body treatments, massages, and wraps, among which is the Godiva Chocolate Body Wrap—mixed with rejuvenating and detoxifying muds—that is an exclusive to the spa.
But most importantly, for harried visitors who want to do one-stop shopping, Ajune is also a medical day spa, with its co-founder and medical director the board-certified plastic surgeon Dr. Mauro C. Romita (whose daughter co-founded the spa over ten years ago) in residence two nights a week.Hence, there are nearly two dozen procedures on the "clinical" roster of services (like injections ofBotox and fillers), as well as procedures that are crossovers, like the "Eyes Wide Open" package that includes brow-shaping, the application of lashes, and Botox around the crow's feet areas.
Ajune has been lauded periodically by New York magazine for specific treatments (the Glow Facial and the Body Facial), and has most significantly been singled out by Day Spa magazine in 2005 as the best medical day spa in the city.
I found the ambience quite soothing and peaceful, and Angela Salerno who administered my "Brighten and Tighten" 90-minute treatment ($250), had a gentle touch.This is a high tech anti-aging facial that combines a light chemical peel and ultrasonic microdermabrasion to exfoliate.Deep cleansing extractions are preceded by a treatment from a GentleWaves LED hand-held light (which emits low-level pulsating lights proven to stimulate collagen production and slow down collagen breakdown).As if that were not enough, there is also a micro-current treatment (stimulating collagen and elastin), that I found a little jolting.Light suction lifted off dead skin and topical collagen serum was applied, using Ultrasound.Salerno ended with a collagen mask that was cooling and beautifying.I relaxed with hot mittens (hands slathered in a rich cream), and during the treatment, Salerno also does a shoulder and neck massage.
Ajune

1294 Third Avenue (74th/75th Streets);
212-628-0044; ajune.com.
I Sing for Ling!
If the folks from Desilu Productions were still around, they'd assuredly be mounting a show called I Love Ling, set in a shrine to beauty, and starring Ling Chan (the name behind Ling Skin Care), who sure knows how to deliver a mighty fine facial."We're not about manicures and pedicures here; we're all about results for the skin, for the face," she tells me when I meet her."We focus on skin care, education, and helping our clients achieve healthy skin."
Indeed, 95% of the services offered here (there are three venues in the city), are facial treatments.In fact, you cannot even get a manicure or pedicure.The Hong Kong-born skin guru has been fascinated by what makes for good skin since she was a teenager.In her youth, in an effort to develop a facial mask, she used to harvest stuck-to-the-bottom-of-the-pot cooked rice, mix it with lemon juice, and then work it into a paste, creating a mask—that she says actually helped to hydrate the skin, kill bacteria, and even out pigmentation!
Emigrating from the Far East to the States in her 20s, she landed a job at an Upper East Side salon and it wasn't long until she was studying and creating potions for the face.She had always been fascinated by Eastern remedies and today uses herbs and botanicals—combined with state-of-the-art science—in her current upscale, sought-after product line, which is stocked in some of the toniest spas and hotels around the country.
By the early 70s, she opened her own salon at the chic intersection of Fifth Avenue and 57th Street and within a short time, Barneys asked her to offer her services in its destination emporium—the first skincare salon/spa at the store.In the mid-80s, she debuted the current Ling Skin Care day spa, where she counts among her clients the likes of super model Agyness Deyn and stars like Helen Hunt.She is maniacal about clean pores, and admonishes, "If you don't have clean pores, no treatment product can get into your skin to perform, to enhance, to hydrate, to actually do something."The salon offers at least a dozen different treatments for the skin, but her most oft requested is the Signature Ginseng Herbal Facial with a Triple Peel ($185; $205 for the first visit).
Her various treatments combine cleansing, exfoliating, hydrating, and what Ling calls "medication" (for example, Vitamin K to treat broken capillaries or hibiscus flowers in a peel that treats acne).I had the Signature Triple Peel Facial with Vitamin K with Ultrasound ($280; $300 for the first visit), which left my skin positively luminous.
My experience was a restful one, cosseted under a vibrant-red Chinese silk quilt, happily reclining on an S-curved table.Ling wanted very much for me to experience her very popular non-invasive Anti-Gravity Face-Lift Facial, which can be performed over a weekend, on three successive days.She maintains it will take ten years (if only temporarily!) off my face, by, among other things, re-educating facial muscles, diminishing fine lines, enhancing collagen and elastin production, and by stimulating blood and lymph circulation.(I will try this procedure in the next month or two, and will report the results.)
"Ling Skin Care is about results," she reminds me, and if, after my treatment with Ling, the admiring compliments I received about my skin are any barometer, I sure got them.Yes, I do love Ling.
Ling Skin Care
12 East 16th Street (Fifth Avenue/Union Square West); 212-989-8833;
also in SoHo and the Upper West Side;
Chin's Up!
"I can see you're going to be a really big project," is how the well-known Malaysia-born and Hong Kong-reared Christine Chin greeted me at her Lower East Side spa, Christine Chin Spa."Yes" she reiterated, when I was her captive on her table under the bright examination light and the 5X magnific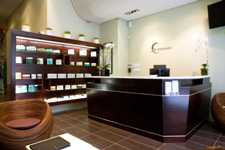 ation lens."A big project, indeed."And so I was.Two hours' worth.
Chin relishes in telling me that some of her clients have dubbed her "Mean Christine," alluding to the gusto with which she attacks skin "situations."Some of those "issues" could be the "plaque and fungus that have settled over time and [which] refuse to budge," according to materials released by the company.After some initial cleansing and prep, the serious part of my facial began with two different glycolic peels, one with a 5-10% solution, and the second one with a 10-15% solution.After that came an intense, but not painful, microdermabrasion with a machine that Chin had fitted with a specially created diamond head.She then asked if I wanted her to attack the extraction of nasty "donuts," as she calls them, and she showed me with a mirror as she went after one.The fee for these types of extractions (Chin uses a lancet for this work) is $50 per "donut."I had no idea what I was in for, but I quickly understood the reasoning behind the adjective "mean."
As she worked on my face (which she said was covered with fairly decent skin), I imagined Hilary Swank, Rachel Weisz, and Penelope Cruz going through this tribulation; their glamorous visages were smiling down on me, from pictures on the wall—all signed and dedicated to Chin, with love, with appreciation, with gratitude.(And her roster of big-time celebs only starts there, with a list that includes Marc Jacobs, Gisele Bundchen, Gwyneth Paltrow, and on and on.)Like a marauding lioness, Chin stalks the savanna of your skin, looking for any "donut" to gobble up.After an hour of her meticulous prodding, I was just about ready to send up a white flag.
I had been warned to expect that my face would be a little "mucked up" if she did these deeper extractions; let's just say I looked like I had the measles.My facial ended with two calming masks, the Soothing Hydrating Mask and the Green Tea Mask. (The basic fees are $250 for the facial and $250 for the microdermabrasion; deployment of "donuts" is additional.)
After a week or so, my chicken pox dried up and my skin was beaming; I received compliments a-plenty.It's easy to understand that, despite being in a not-so-accessible nabe, and shielded behind six-foot-tall bamboo stalks in the windows, this is the chi-chi, go-to spot for the glitterati.This place is all about skin, and as Chin says, "Nothing on your face should protrude, except your nose."
Christine Chin Spa
82 Orchard Street (Grand/Broome Streets);
212-353-0503; christinechin.com
Getting the Gold
If you're looking to unwind and drift off to a dream state during your facial, there is very little that an appletini could do you for you that you won't experience when you undergo a facial treatment at the nine-month-old Guerlain Spa on the 19th floor of the Waldorf-Astoria.The 14,000 square feet handsomely sculpted into an airy aerie, are palatial:The marble walls appear to be flecked with veins of precious metals; opulent sconces adorn the walls and gleaming chandeliers with glittering crystals hang from the ceiling; rich textiles are used to upholster the banquettes and the sedan chairs in the relaxation room (where you begin your Guerlain journey with hot tea) anddiaphanous fabrics cascade from the ceiling, providing textural counterpoint.The décor is a visually peaceful mix of frosty white and grays, with accents of celadon.Harp music whispers in the background.
The 16 treatment rooms are equally extravagant (clothing closets, even safes for valuables), each with its own massive, marble-clad bathroom, stocked with every amenity you could want after a treatment (except for that appletini).The wet rooms (for hydrotherapy and Vichy showers) are gloriously appointed, as well, and for pedicures, there are private nooks as well as a communal room (swell for parties), where the footbaths appear to rise from the floor on hydraulic lifts.
You start your treatment—any treatment—by selecting the fragrance you want for your products. I chose Insolence, a Guerlain scent.Bold or soothing?And what intensity, relaxing or revitalizing?Once you pick, your facialist will custom-scent all the treatment products that are used for you.
My facial was the company's Complete Facial ($385), which actually started out in the Footbath Room.In fact, every treatment here starts out with a 15-minute relaxing footbath…aaaah.Next, it was back to my private suite for the 90-minute procedure, which also includes, should you need/want them: facial waxing, eyebrow tinting, a hand treatment (I had the hot paraffin wraps), lymphatic facial drainage, a neck and shoulder massage, and two masks.
Lauren Grace Williamson, my aesthetician, warned me that she was a gentle "monster" when it comes to extractions, but after "Mean" Christine, any noodling around on my face was child's play.She finished off my facial with emollient treatment creams from the company's Orchidée skincare line, the brand's luxurious and potent anti-aging secret weapon.I looked (and felt)
sublime.
This is the place for the ultimate experience, a wonderful facial flight into another dimension.Guerlain even has a make-up room with almost all its beauty products, so you can do a make-up touch-up before you come down from your celestial perch, just in case you need to be somewhere where glowing skin isn't glamour enough.
Guerlain Spa at the Waldorf-Astoria

301 Park Avenue (49th/50th Streets);
212-872-7200; guerlainspa.com
To view the pages in pdf form, click here.

---