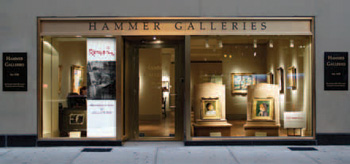 While New York City may be a preeminent treasure trove of museums, galleries and private art collections, Hammer Galleries - which made its official debut in its new Park Avenue home in October, 2010 with a singular exhibit of 25 Renoirs - is articulating and redefining the future of art appreciation and acquisition for the 21st-century. The modus operandi is both simple and savvy: it combines tradition with technology, laying the groundwork for the best of both worlds.
Founded in 1928 by noted industrialist/philanthropist Armand Hammer, the original Hammer Galleries collection was known for its iconic Faberge Easter Eggs, Russian brocades and Imperial porcelains. For the last six decades, however, the gallery has built a global reputation for its stellar offerings from 19th and 20th century European and American Masters, spotlighting works by such groundbreaking artists as Renoir, Picasso, Matisse, Modigliani, Dali and Chagall and, on the American side, Wyeth, Cassatt, Sargent, Henri, Benton and the Folk Artist, Grandma Moses.
This distinguished tradition continues in Hammer Galleries' beautiful new Park Avenue location. The newly renovated street level gallery provides an intimate setting for the public to view and acquire museum-quality works of art. Masterpieces displayed in the gallery's large windows stop pedestrian traffic throughout the day and after hours as well. "People walking by can see 80% of our works when they look into our windows after we've closed," says Howard Shaw, President and Director of Hammer Galleries, who observes that many next-day purchases result from these after dark viewings." In the last year, the gallery has held major exhibitions of Impressionist and Modern Masters, as well as American 19th- & 20th-century paintings. Future exhibitions will expand to Post-War works of art, featuring Masters such as Fernando Botero, Andy Warhol and Tom Wesselmann.
In addition to exquisitely mounted exhibitions, Hammer is also ushering in a new era of onsite and online innovations, from high-profile special events to a strikingly framed iPad at the front of the gallery (custom-made by noted frame designer Eli Wilner) offering a slide show of paintings. A second iPad within the gallery presents photos, both rare and famous, of the artists, documentary-style.
In the 1990s, Hammer became one of one of the first galleries to display its collection via its website hammergalleries.com. Since then, it has upped its own cyberspace impact by designing easy-to-navigate interactive virtual tours of the exhibitions in a format that allows visitors to not only zoom in on an individual piece of art, but to experience it in scale. And, while the gallery has digital catalogues of its shows, a hands-on scholarly catalogue and special-order hardcover books highlighting major individual paintings are also available.
"For whatever reason, people can feel intimidated in some galleries, so we strive to make visiting our gallery a pleasant and comfortable experience," concludes Shaw. "Our knowledgeable staff is happy to assist anyone from a novice collector to a fine art connoisseur in their quest to acquire exquisite works of art."
Closing after Labor Day, the Modern Masters Show will be followed by a European and American Masters show through October. Next up, a new exhibit dedicated to the artistic forces dominating the creative scene in Paris from the turn-of-the-last-century through the 1950s. 475 Park Ave. (between 57th and 58th Sts.); 212-644-4400; hammergalleries.com. - Griffin Miller
To view the pages in pdf form, click here.
---