When I get something new, I tend to keep it in heavy circulation, at least for a while," quips Hampton Carney, a New York City public relations executive, who, at 39-and with nearly two dozen timepieces in his treasure trove-is well on his way to Major Leag
ue Collecting. He has bought 12 new watches and four vintage ones over the years, plus he has serendipitously inherited a few fine specimens. And with every acquisition, he confesses, "I want to really experience it, experiment with it, enjoy it."
Carney, a native of Nashville, has had a passion for watches since high school, and it shows when he begins to talk about them. His jade eyes sparkle, his warm smile dances, his face animates. He says simply, "I'm at my happiest when I'm talking about watches." His first piece, a lovely Longines, was inherited from his grandfather, and bears a touching inscription, "From AH to AHC" and is a prized possession. With its acquisition, he notes slyly, "I caught the bug." It was not long after, when he got his first big paycheck post-college, that a vintage Rolex Oyster Precision crept into his arsenal.
Another inherited piece, a vintage Cartier, left to him by a dear friend (who had to know in his heart that Carney would be the ideal custodian of a precious timepiece) is also cherished. It's a gold dress watch with an enamel dial, delicate Roman numerals, and a handsome sapphire cabochon on the winding stem. "It's sedate and elegant, not showy, just quietly stylish." He also inherited another gold Longines (both Longines are mid-20th century); in addition, the last of the inherited quartet is a gold Omega Seamaster, on a custom-made bracelet, from the '50s.
It's clear Carney has a special affinity for each of his "children" and he speaks lovingly about them all. Unlike man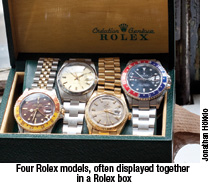 y collectors who keep their watches stored and out of view, he enjoys displaying them, in charming vignettes around his apartment. There is an irony to these studied tableaux, in that they are hardly what a still life is all about, since they all move with grace and precision.
Another treasure is a Patek Philippe, traditionally an aspirational brand for collectors. "Since I acquired this vintage Patek, I find it hard not to wear it," he observes, discussing the Calatrava-style dress watch with a backwind, from about 1970. "I always wear it when I'm in a 'gold mood' and I find that this watch generates the most comments."
While all of Carney's watches are special, he says that his prize is an A. Lange & Söhne. "This is a treasure," he acknowledges, like a proud parent. He allows that it was a pricey splurge at $45,000, but the Lange 1 platinum-with a 39 mm. case, a power reserve indicator, and an especially large date window-is, he revels, "amazing. It's got its own little soul and I think even people who do not know watches, sense that this is something special."
When Carney feels a little sporty, he might reach for a special 42 mm. Girar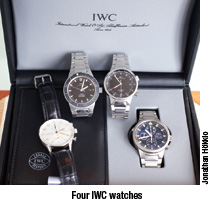 d-Perregaux to wear with a suit; "It's got a sporty feel to it, so I like to wear it that way." He shows this model off, quick to point out that this ww.tc Financial, as it's dubbed, is the first chronograph that shows the business hours of four different stock markets (New York, London, Hong Kong, and Tokyo) and displays 24 different world time zones. It's technically and aesthetically a masterpiece.
Is there anything that would make Carney happier? Well, probably acquiring that elusive tourbillon, and crossing off all the watches on his wish list. But, as every collector knows, the latter never happens; there is always something new to covet, another sought-after timepiece. What else, then, about watches makes him blissful? "Going to the various factories in the mountain and valley towns of Switzerland and Germany. It's like a fairy tale, where I am sure Hansel and Gretel live."
What Collectors Want...
Some thoughts from leading experts in the field.
Bertram Kalisher wears many hats. He is the Executive Director of the American Watch Guild, an organization of watch retailers and manufacturers; he is the executive editor of Chronos magazine, a watch specialty publication; and he is the author of several books, among them Chronograph to Complication.
"Men tend to be fascinated with the inner workings of watches, and the more complicated they are and the more functions they have, the better. They may start with self-winding watches, calendar watches, moon-phase watches, and ultimately collect repeater watches that chime the hour, and the much-sought-after feature, the tourbillon. A highly complicated watch could have over 700 handmade parts to it."
====
Jeff Prine, former executive editor of Modern Jeweler, is a contributing editor to several consumer watch and trade magazines, and a consultant in the industry.
"The most desirable watches are the ones with the most interesting mix of complications. One-of-a-kind and limited editions are always sought after, but given the economy, collectors are seeking more moderately priced, limited editions, at least for the moment, abandoning timepieces in platinum or those with the priciest complications. By "more moderate," I mean watches that sell for $5,000 to $15,000. Up until the last few years, the ultimate complication was the tourbillon, but right now the hot complication is the minute repeater.
"With mechanical watches, the most interesting thing is the mechanics-not whether a watch is diamond-encrusted or even crafted from a precious metal. There are steel watches that are complicated that sell for $20,000."
====
Edward Faber is the founder of the 33-year-old Aaron Faber Gallery, which arguably was the originator of the revival in vintage watch-collecting in New York.
"Within the last five years or so, women have emerged as serious collectors, as they have acquired more independent means. They have discovered that 'the boys' were onto something good in collecting mechanical vintage watches. The smaller, vintage men's watches, say with 32 mm. faces, are ideal for a woman's wrist. Women seem to collect in two veins: One is to seek the 'glamour watches' that were made with an eye toward the Hollywood of the '20s, '30s, '40s, and early '50s.They were invariably rose gold or platinum, and almost always had a great look and real verve. Today, they are trading way below market [value] and below what a new steel-and-diamond modern watch would currently sell for. There is another group who seek watches that were made for men in the mid-20th century, like the Rolex Explorer I, or the simple Rolex Perpetual [automatic] Datejust."
To view the pages in pdf form, click here.
---