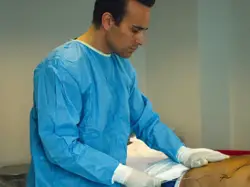 Ever since the advent of so-called lunchtime surgeries (?Get that arthroscopic surgery on your knee at lunchtime and be on the tennis court at 5 p.m.??well, OK, that is pushing it a bit), we?ve all heard about some pretty fantastic?perhaps improbable?medical-marvels-in-minutes. But in the fields of aesthetic dermatology and plastic surgery, there have truly been remarkable advances in both techniques and machinery that contribute to the delivery of faster and better procedures that produce pretty, well, astonishing results?sometimes, truly in less than an hour.
   The dermatologists and plastic surgeons we talked to offered up some of the best minimally invasive procedures?or most common practices, like the use of fillers?that have been refined to perfection and that have been embraced by not only baby boomers, but also (and even) thirty-somethings. These eager patients have all loaded up their beauty arsenals with the newest fillers (like the permanent ArteFill and the temporary Prevelle and Elevess), or the latest generation of lipo or the state-of-the-art laser, in search of that nolonger- elusive fountain of youth.
   These four highly esteemed Manhattan medical practitioners are performing some cutting-edge treatments that will take a few years off your face?in one short visit.

Dr. Paul J. Frank
"Melting Away the Pounds"

?Mother Nature isn?t always fair: Too much fat in some places and not enough in others,? wryly observes Dr. Paul J. Frank, a board-certified dermatologist and dermatologic surgeon and author of Turning Back the Clock Without Losing Time: A Complete Guide to Quick and Easy Cosmetic Rejuvenation (Random House, 2002). ?Liposuction can be a great equalizer,? he adds, ?and in fact, it?s the number one cosmetic surgery in the country. The basic underlying principles for lipo are maybe 20 years old, but technology has gotten increasingly sophisticated,? he continues, ?and I use a process that is a true breakthrough: VASER Liposculpting.? 
   Frank, a Clinical Assistant Professor at New York University Elaine A. and Kenneth G. Langone Medical Center, is also the director of a cosmetic surgical clinic for training dermatologists there and has been ?vacuuming? fat away for 10 years (and has performed some 2,000 lipo procedures). ?While traditional lipo requires a lot of probing and jabbing with a cannula that almost always leaves the targeted areas sore and bruised, the VASER process works with Ultrasound to virtually melt fat, all types of fat?and fat is not created equal. Working through soft hip fat is like cutting butter with a knife. Neck fat is hard and fibrous and getting at it is like poking a pitchfork through straw.?
   Just how does this magic work? The patient receives a local anesthetic and mild sedation. The VASER machinery has three different sizes of cannulas and therefore, for delicate work, Frank uses one that is very tiny, about the size of a pencil, permitting minuscule incisions. The subject area is injected with a saline solution that aids in numbing and helps to shrink blood vessels. The area becomes very wet and full?tumescent, if you will, which is why this process is often referred to as tumescent liposuction. With the area engorged, it?s easier for the sound energy to liquefy the fat.
   Dr. Frank notes that on average, he removes anywhere from 1 to 2.5 liters of fat and works on every body area, from the chin to thighs. Costs could range anywhere from $4,000 to $10,000.
Dr. Paul Jarrod Frank
Fifth Avenue Dermatology
Surgery and Laser Center
1049 Fifth Avenue (entrance on 86th Street), Suite 2B
212-327-2919
www.pfrankmd.com 

Dr. Haideh Hirmand
"The Eyes Have It"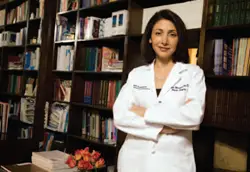 ?The first signs of aging,? warns Harvard-educated, board-certified plastic surgeon, Dr. Haideh Hirmand, ?generally occur around the eyes.? Dr. Hirmand, who is a Clinical Assistant Professor of Surgery at Weill Medical College of Cornell University and on staff at New York-Presbyterian, Lenox Hill, and Manhattan Eye, Ear & Throat Hospitals, continues: ?Aging is all about losing fat under your skin and it?s around the eyes that you usually notice it first? dark circles close to the nose or even a hollowness around the entire eye.?
   One of Hirmand?s subspecialties is aesthetic eyelid surgery and she performs blepharoplasties (eyelid surgery, referred to in common parlance as eyelifts) frequently? as many as several a day. But eyelifts don?t address those darkened areas in the tear troughs (the areas under the eyes), and can, in fact, worsen the condition. Additionally, Hirmand noticed that younger women were coming into the office complaining of ?looking tired.? 
   She knew that fillers (such as a hyaluronic acid like Restylane) could replace that lost volume, alleviate the darkened circles, and could also be ?fine-tuned to perfection.? Not happy with the needles that were available to inject the filler in this tricky area, she set about to develop a more efficient and secure method. ?The skin is super-thin around the eyes and I wanted to deliver the filler more precisely and more safely.? What she created was a tiny cannula, the size of a needle, with a blunt tip that she can slide deeply into that delicate space without cutting, with less bruising, and with superior performance. She follows a meticulous road map that she draws around the eye based on each person?s pattern of volume loss. Her successful results were delivered at a conference of the American Society of Aesthetic Plastic Surgery in 2005 and have since been presented at other scholarly meetings.
   What does this mean for you? A safe under-eye, non-surgical ego-booster?an eye-lift, if you will, that will last about 12 to 18 months?for approximately $2,500 and up.
Dr. Haideh Hirmand
105 East 73rd Street (between Park and Lexington Avenues)
212-744-4400, www.drhirmand.com

Dr. Deborah Sarnoff
"Ironing Out the Wrinkles"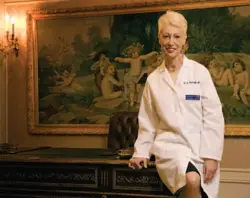 ?You look in the mirror and you see a size 14 face. But somehow you know that your face should be a size 2, that you once had a size 2 face,? comments Dr. Deborah Sarnoff, a board-certified dermatologist. ?But with the loss of volume and fat, your skin sags and here you are with a size 14 face. To restore your face to that size 2, you?d have to undergo a facelift. However, there are other things you can do to reduce some signs of aging.?
   Sarnoff is the author of two books, Instant Beauty, Getting Gorgeous on your Lunch Break and Beauty and the Beam, the latter focused on the use of lasers for cosmetic purposes, a practice in which she is an acknowledged expert. ?The earliest CO2 lasers were a choice for eliminating fine lines and giving your skin a ?pressing.? But they were not a substitute for a facelift. But if your problem was a lot of fine lines and wrinkles, the laser was a viable option.? The problem with these early CO2 lasers was that procedures required a lot of down time and there were also possible complications like infections.
   Enter a new generation of CO2 lasers?the Smart DOT (Dermal Optical Thermolysis) laser. Sarnoff, an Associate Clinical Professor of Dermatology at New York University Elaine A. and Kenneth G. Langone Medical Center, is a champion of this laser, and explains that it has been at the forefront of the techniques she uses for dealing with fine lines and wrinkles. ?The light from the laser comes through to the skin with dots or perforations as if it?s pixilated, and that is key to its excellent performance. You?re inducing thermal changes wherever this ?pointilism? is; it vaporizes the skin, but it spares the skin in between the dots, and from those ?islands,? where there are no dots, new skin is encouraged to form.? Sarnoff says that the patient heals far more rapidly and the results are truly unbelievable.
   Treatments cost approximately $5,000 for a full face and roughly $2,500 to $3,500 for areas around the mouth or eyes.

Dr. Deborah S. Sarnoff
Park Avenue Dermatology & Plastic Surgery,
625 Park Avenue (between 65th and 66th Streets)
212-794-4000
www.cosmetiquemd.com

Dr. Bruce E. Katz
"Filling In the Blanks"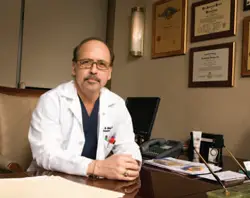 ?Women are more aware now than ever that as they age, their cheeks begin to sag. They lose that sculpted look to their faces,? notes Dr. Bruce E. Katz, the Director of the Cosmetic Surgery & Laser Clinic at Mount Sinai Medial Center. ?This is inevitable as we lose bone structure and muscle, and of course, fat,m too. We used to remedy this with cheek implants, but as with so many procedures, we?ve perfected other ways to achieve a good?if not better?result without invasive surgery.? Katz, a board-certified dermatologist,goes on to explain that there were problems with cheek implants?they were often ill-fitting or unnatural-looking. ?Today I like to use a filler like Radiesse, a natural, malleable, calcium-based product suspended in a water-based gel.?
   Katz is, in fact, a ?master of the needle? and doesn?t merely create freshly sculpted cheeks with Radiesse, but also wields an artful syringe when it comes to pressing into service a mighty arsenal of fillers, much as a painter uses a varied palette to achieve a masterpiece. For Katz, the canvas is the face and the ?paints? are fillers?Restylane, Sculptra, Juvaderm, and ArteFill?and, of course, that standby, Botox (?it?s still very big?), for ?freezing? nasty furrows in the forehead, for example, or crow?s feet around the eyes. 
   The doctor, also a Clinical Professor of Dermatology at The Mount Sinai School of Medicine, likes Radiesse. ?It?s had FDA approval for over a year now, doesn?t require any skin test for sensitivity, and isn?t associated with any bad side effects. The best thing about it is that it lasts twice as long as Restylane and it?s not twice as expensive, so you don?t need to be injected as often.? (It ranges from about $1,050 to $1,300 per area; Botox, from about $650 to $900 per area.) Katz also uses Radiesse for filling in earlobes that have stretched from years of wearing pierced earrings.
   ?We also do a lot of injections of fat in hands that have started to show telltale age signs?tendons and veins that look like roadmaps under the skin. There is so much we can do today, with fillers, Botox, lasers, and our newest equipment?and they?re all minimally invasive treatments that yield pretty dramatic results.?
Dr. Bruce E. Katz
Juva Skin & Laser Center
60 East 56th Street (between Madison and Park Avenues)
212-688-5882
www.juvaskin.com

COLOR ME BRONZE
For those who never got the memo: The sun is bad for your skin. Yes, our brains love the idea of it, but skin does not. Certainly every major beauty company has gotten the message and most have developed extraordinary lines of selftanners, bronzers, and fabulous gilting, shimmering, sun-kissing powders. Some of the best won?t leave your hands tinted orange and your face looking artificially painted.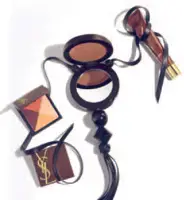 YSL Beauté - Could Rube Goldberg have come up with a more clever way to wear your bronzer? Not only on your face, but also around your neck, as jewelry. Oh, be still our hearts. This is just too clever?and too gorgeous?for words. All the pieces come apart: the beads, the leather tiethongs,the tassel, the Chinese knots. And then you?re left with ?merely? the sensational compact in thathigh-fashion, matte black case. Oh, and did we mention,that the bronzer inside is this season?s perfect cheek-burnisher? www.yslbeautyus.com  

Guerlain has dozens of products in this extension of its luxurious make-up line, from Sun Gold Body Illuminating Gel to a Self-Tanning Spray and a Self-Tanning Emulsion to its more make-up-oriented products, like its near-mythic Méteorites Powder Pearls. Among the many choices, Terracotta Luxurious Self-Tanning Balm and Terracotta Light Sheer Bronzing Powder will give you a complete glowing tan. All the Guerlain products are designed for every aspect of your summer bronzing regime, from pre-game to post-game, keeping your sun experience faux and fab. www.guerlain.com.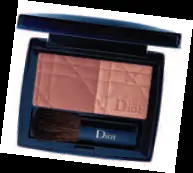 Christian Dior always dreams up a huge line for summer make-up fun?from sunshiny-coral lipsmacking glosses to bright blue mascaras. But it?s the facial powders and the body gleamers that always grab us, improved upon every
year. There are the Dior Auto-Bronzant products for both face and body, Essential Bronzing Powder, and High Protection Matte Bronzing Powder that is water-resistant with a built-in SPF of 20! Hip-hip-hooray for Dior! www.dior.com.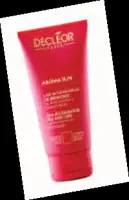 Widely acknowledged as a top-flight skincare company, Decléor?s extensive offerings include pre-sun, post-sun, and under-the-sun pampering products. Underlying each of the 17 inventive formulas is a select cocktail of the essential oils that the company is known for and which might include rose Damascena, Roman chamomile, and geranium. The company tells us that these essential oils strengthen cellular viability during exposure to the sun by improving the cells? natural defense system. There are self-tanning milks, sprays, gels, and tan accelerators for the face and the body; just about all are packed with SPF protection. www.decleor.com.
---