Eight drawings may seem a slender thread from which to weave a museum show, but when they are by Albrecht Dürer, the greatest master of the German Renaissance, quality trumps quantity.
The draw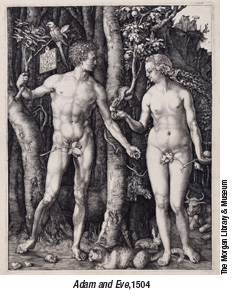 ings are the focus of "Defining Beauty: Albrecht Dürer at the Morgan," which runs through September 12. The exhibition, which displays together the museum's Dürer holdings for the first time in more than two decades, includes engravings, a woodcut and its original woodblock, and a book by the artist that underscores the importance of mathematically derived proportions in his pursuit of human beauty. An exhibition highlight is the 1504 engraving "Adam and Eve," shown with a major preparatory drawing.
Related material includes a letter from Dürer to a patron about the woodcut in the exhibition: "Please let it be as it is," he writes. "No one could improve it because it was done artistically and with care. Those who see it and who understand such matters will tell you so."
The Morgan Library & Museum
225 Madison Avenue; 212-685-0008;
themorgan.org (Closed Mondays)
To view the pages in pdf form, click here.
---