To paraphrase that famous American Express commercial, there are, indeed, privileges that accrue with membership...and that is certainly apparent at the tropical, nirvana-like, but homey, Ocean Reef Club on Key Largo, an hour's drive from Miami International Airport. Yes, physically, it's less than 60 minutes from life as you know it, but yet, it's so far away mentally: Come to Ocean Reef Club and be transported to life as you would always want it to be -- carefree, sunny, easy.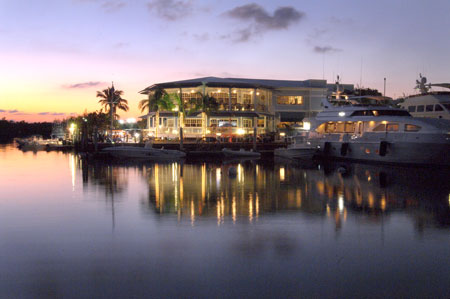 The facility was founded in the 1940s by a Minneapolis entrepreneur, with a very specific idea in mind: to create a haven for like-minded folks, and to offer the best of all possible amenities, with golf, boating, fine dining, and educational and cultural activities all thrown into the mix. (The club's name reflects the fact that this sun-drenched paradise is within "spitting distance" of the only living ocean reef in the waters off the continental U.S.) While countless, private, member-equity communities exist in the States these days, Ocean Reef Club has the distinction of being one of the oldest in the country, solidly grounded and financially sound. Nestled on 2,500 secluded acres on the northernmost tip of Key Largo (the club has its own 900-acre nature preserve), it is surrounded on three sides by water, and on the fourth, by protected lands under federal and state ownership. Heaven, indeed, is on Key Largo.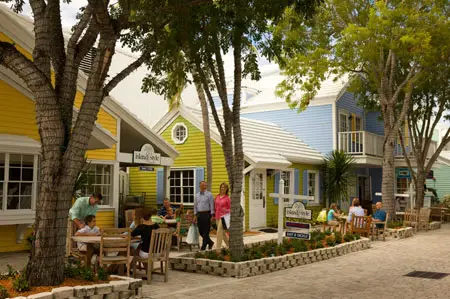 But, you do not have to be a member to savor a sampling of the club. On the premises is an Orvis outfitters' shop and school for all manner of outdoor activities; a stay through the Orvis-endorsed lodge program is open to non-members. There are lessons and classes for everything from stalking bone fish and reel fishing, to deep-sea educational expeditions for "big game" (like sailfish and tuna), to fly-fishing. Not to mention, there are opportunities for other outdoor activities like sporting-clays.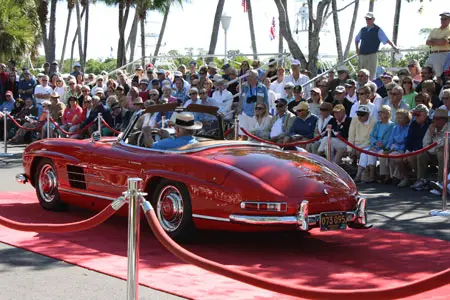 Additionally, non-members are invited to the club for the renowned Vintage Weekend, a highlight in the annual calendar, when the world's finest classic and vintage cars, yachts, and aircraft are showcased on the premises; festive activities and events take place throughout the weekend. (This year, the 17th annual event will be held December 1-4; book early.)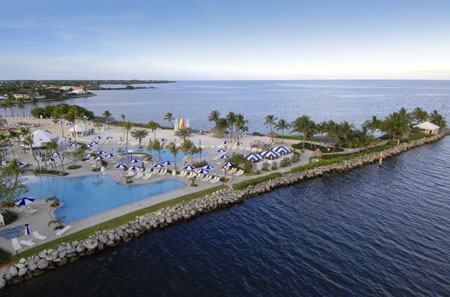 And if you come here as a guest, expect to be busy from morning 'til night, unless you elect to be a serious couch-potato, a goal easily fulfilled at Buccaneer Island, the water-activities heartbeat of the club, complete with two swimming pools overlooking the Atlantic Ocean, a sandy beach, shaded cabanas, whirlpool, and water activities, like paddle boats and kayaks. Should you opt for more physical activity, there are two 18-hole championship golf courses; world-class tennis and lawn sports like croquet; jogging and cycling paths; and countless more active water sports-snorkeling, diving, and skiing. There are numerous other activities centered around various club facilities, all or which will fill in your dance card -- the cooking school, nature center, art league, and the cultural center, where headliners could range from Broadway marquee names to Vegas heavy-hitters. Past performers have included a wide range of celebrities from the Cleveland Orchestra to Michael Bolton, Garrison Keillor, Barbara Cook, Neil Sedaka, to Three Dog Night. And don't forget that there are wonderful sojourns on the water: Chartered boat trips include sunset cruises, fishing trips, and nature tours. Throughout the year, there are special-event weekends with festivals, kids' activities, contests, parades, and the like.
If perchance, you got bored at Ocean Reef (not very likely), there are some stellar destinations not terribly far away; here is just a smattering of nearby attractions: Dolphins Plus, where you can swim with these gentle creatures; Theater of the Sea, where aquatic shows are the order of the day; the Everglades Alligator Farm, not too much need be said about this destination; Coral Castle, where over 1,000 tons of rock have been carved into monuments and structures; the Fairchild Tropical Garden, where an astounding "collection" of tropical plants are on view; and Vizcaya, the baronial manse of the deceased industrialist John Deering, now a National Historic Landmark.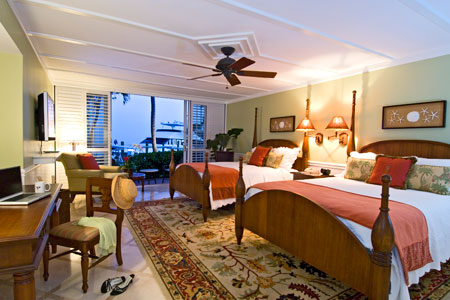 But if you do not plan to leave your chaise longue, you'll be pleased to know that you do not even have to step off the club property in order to secure all the services and necessities you'd ever want: Services at the club include a shopping village (all of life's must-haves are sold here), a spa/salon, a health club/fitness center, a postal center, a veterinary clinic, a medical center (with a roster of physicians on the premises), a fire station, an educational academy for children who live here year-round (20% of the property-owning residents of Ocean Reef Club reside here year-round), a security force, a landing strip, and even a cat-rescue facility on the grounds for island strays. And lest we forget, only about a dozen restaurants which can tempt you with mouth-watering selections -- featuring all manner of seductive fare, from the traditional steak house to a seafood eatery to more casual dining facilities, and even an ice cream parlor.
If you go down to Ocean Reef for a look-see, or for a more extended week of fly-fishing school -- it wouldn't matter how long you spent here -- as you'd want to stay longer. And so be sure to ask about opportunities to buy your own slice of tranquility on the island, or inquire about the Social Membership, which is for non-home-owning members, who opt to stay at the inn or rent other members' homes when they are there (a less costly option and ideal for people who may plan to use the club very minimally, but regularly). And even if you just come for Vintage Weekend, you'll find the magnetic, boomerang pull of the Ocean Reef Club so strong, you'll return. And, the next time it may well be as a member with all those privileges.
•••
Ocean Reef Club
35 Ocean Reef Drive
Key Largo, FL 33037
305-367-2611
www.oceanreef.com
---